|
Daily Newspaper and Travel Guide
for Pecos Country of West Texas
Opinion
Tuesday, March 16, 1999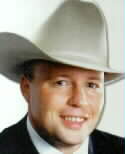 Sage
Views
By Smokey Briggs
<!=====paste copy here==========================>
Politicians' promises don't
add up or make any sense
Hang on tight folks, the politicians have figured out how to make sure we all make enough money.

They are going to pass a new law.

Somebody should have figured this out decades ago. Luckily for Texans, State Representative Lon Burnam has figured it out and has recently proposed a "living wage" bill.

Burnam is a Democrat whose district wanders through Fort Worth.

His bill will tie a state-mandated minimum wage to a "minimum level of housing." As is, the bill is designed to ensure that no one who works a 40 hour week will have to spend more than a third of his paycheck on rent.

Sounds pretty good so far.

The Associated Press story on the bill gave the following example:

In Dallas, the fair market rent for a one-bedroom apartment is $560 a month so the minimum wage would have to be $9.77 an hour.

Now that does sound good. High school kids working at the local burger stand would be making nearly $10.00 an hour.

What does not sound so good to me are the logical consequences of this law. Burnam, and anyone else who touts minimum wage legislation, is either a complete idiot, or is trying to buy the vote of everyone working for the current minimum wage.

Personally, I think he is buying votes.

Even worse, the money he is using to buy the votes with is worthless. He might as well be handing out Monopoly money.

This is nothing more than a lie held out to people at the bottom of the wage scale. The lie is, "We are going to force your employer to raise your pay and you are going to be better off."

The truth is that no one is going to be better off and most of us will probably be worse off.

Well, everyone but the politician who managed to buy himself a few votes by lying to his constituents.

It doesn't take a genius to figure out that when you force employers to pay a certain amount for minimum wage jobs, they are going to pass the costs on to the consumer.

Everything is going to cost more. Everything will probably cost more in direct proportion to the increased costs of the employers' payroll.

At the same time, property owners are probably going to figure out that folks can now afford to pay more for housing. The cost of housing will rise on the coat tails of the new minimum wage.

Soon, we are right back where we started.

Except for everyone who was making a penny more than the old minimum wage.

Everyone in this category just took a pay cut.

Since this brilliant legislation doesn't raise the salary for non-minimum wage earners, the buying power of their paychecks just dropped in proportion to the minimum wage hike.

Eventually, the market will sort this out. Until it does, people will be doing the same job for a paycheck that isn't worth as much.

That doesn't sound like a good result to me.

EDITOR'S NOTE: Smokey Briggs is the editor and publisher of the Pecos Enterprise whose column appears on Tuesdays. He can be e-mailed at: smokey@pecos.net.
Your View
Reader questions need for new post office
Question: How can the Post Office be overcrowded? The population is the same as it was when I was growing up there, some 45 years ago? What is now on the old Safeway site? Couldn't that be used for parking?

Guess I'm just afraid that the last decent old building in Pecos is going to go the way of our little Carnegie Library bldg. The Epis. Church, the depot ticket office, etc. Any plans for the building? It has always been the prettiest structure in Pecos, and I am sorry to see another reason for people to "go to town" removed from "downtown".

Born & bred in Pecos,
JAN (SHIRLEY) KNOX
Critic's Corner
Eyes of Prey
Barry Hoffman capitalizes on a much-publicized New York subway mugging/vigilante story to craft a fictional account of an abused woman's own war against subway muggers.

The second in a planned four-volume series of abuse stories uses so much vulgarity to disguise a vague and uninteresting tale that it turns off the serious reader in the first chapter.

Hoffman has worked with adolescents at Philadelp[hia inner-city schools for 28 years and claims to have met every type of student imaginable.

He had heard their stories of abuse, living in poverty and life in crime ravaged neighborhoods while seeing middle-class kids rebel with multi-colored hair and piercings, running away when not allowed to go on a date.

Kids hold nothing back if they trust you, Hoffman said. "Their stories are the backbone of fictional characters I've created."

The hardback is available at $35 from Gauntlet, 309 Powell Rd., Springfield PA 19064. ISBN 1-8887368-18-3; or at a discount from Amazon.com

—Peggy McCracken
Into the Path of Gods
The first installment of the Macsen's Treasure series is set in the turbulent 25-year period leading to Arthur of Britain's reign. Into the Path of Gods is the story of Marcus ap Iorwerth, Welsh spy and master of disguise, who seeks to prevent the age-old bane of warfare by sabotaging buildups of mercenary invaders and creating ways to unite feuding British political rivals.

If you can get past the strange names like Claerwen, an ethereal woman with the gift of visions who comes to share Iorwerth's dream of a united Celtic Britain, you might enjoy the tale.

The two become ensnared in a dangerous conspiracy involving the priceless sacred symbols of Britain's high kings, known collectively as Macsen's Treasure.

Celtic historian Kathleen Cunningham Guler used her research into Welsh culture and history to spin the novel. She is currently at work on the second novel in the four-part series.

Order from Bardsong Press, P.O. Box 775396, Steamboat Springs, Colo. 80477. Send $22.95 plus $3.95 s&h or call 970-870-1401 with credit card #.

Available in bookstores or online fromamazon.com Hardcover, 416 pages. <!==========end copy==================>
---
---
Pecos Enterprise
York M. "Smokey" Briggs, Publisher
Peggy McCracken, Webmaster
Division of Buckner News Alliance, Inc.
324 S. Cedar St., Pecos, TX 79772
Phone 915-445-5475, FAX 915-445-4321
e-mail news@pecos.net
Associated Press text, photo, graphic, audio and/or video material shall not be published, broadcast, rewritten for broadcast or publication or redistributed directly or indirectly in any medium.
We support Newspapers in Education
Copyright 1999 by Pecos Enterprise
---