|
Daily Newspaper and Travel Guide
for Pecos Country of West Texas
Opinion
Tuesday, Feb. 9, 1999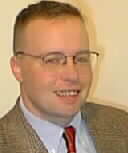 Sage
Views
By Smokey Briggs
<!=====paste copy here==========================>
Confidence needed in
West Texas economy
My high school graduated 18 guys. Most of us played football.

We were a small team of relatively small kids. Our starting guards weighed-in at under 160 pounds. At 175, I was one of the big guys.

More than likely, no one on that team could have made the varsity at a big school. Most of us probably wouldn't have made junior varsity. But at our particular school, we played. Most of us earned two and three letters.

My senior year we scrimmaged a big school in the pre-season. Another team had cancelled and our head coach must have thought it would be a good chance to knock us down a peg. So he set up this scrimmage. And we were a little cocky. Compared to past years we had a pretty good team, we thought.

Why the other coach agreed to the match I will never know. Maybe he thought it would be a good chance to play his scrubs. So one Friday afternoon in the middle of August we got on our rickety school bus and drove to the other team's field.

It was supposed to be a slaughter. But we were too dumb to know it. We were a close knit bunch. For many of us, this was our second or third year as a starter and we had the confidence that only starting can bring. And from the first pop of leather to the last whistle we played like starters.

We were varsity. We believed. We scared the heck out of that team. For four quarters 22 kids who would have never made varsity on that field held their varsity scoreless. Then we got lucky. They fumbled and we kicked a field goal.

It was the sweetest victory of my school-boy career. I learned a lot that day. Mostly, I learned the value of confidence.

Confidence is an essential ingredient in any successful endeavor. It is the absolute essential ingredient in an economy.

Many people in West Texas seem to have lost their confidence in the economy west of Abilene. They have good reason. The West Texas economy has taken a lot of hits in past years. But the game isn't lost. If it were, everybody would have packed their bags and gone on.

Like that football game on a sweltering August day, the deciding factor may be confidence. Confident people invest. They invest in their community and the local economy. When they do, money changes hands and people build for the future.

It is a self-perpetuating cycle.

It is the kind of activity that attracts new business and industry. But we can't expect others to believe in West Texas unless we do. The first step has to be taken here.

If you believe, you can accomplish great things against tremendous odds. But you have to believe, and your actions must echo your confidence.

EDITOR'S NOTE: Smokey Briggs is the editor and publisher of the Pecos Enterprise. He can be e-mailed at: smokey@pecos.net
Our View
Children should be taught about the world
"It's not worth one child being injured."

That was one mother's quote in an Associated Press wire story regarding the cancellation of a middle school rifle marksmanship program.

How can someone argue with it? What could be worth the injury of a child?

Nothing.

Of course, the implication of this mother's statement is that no one will be hurt by canceling the program either. Such reasoning is short sighted.

Last fall, Dorseyville Middle School, located near Pittsburgh, Pennsylvania, canceled its rifle marksmanship program after a parent complained. According to the wire story, school officials said the program was inconsistent with the school district's anti-weapon policy.

In this case, the school district has managed to throw the baby out with the dirty bath water. At the one extreme there is the target of an anti-weapon policy — gun toting, pubescent kids threatening and harming their school mates. At the other end of the spectrum there are a bunch of kids participating in an supervised sport.

To fall back behind the district's anti-weapon policy is simply morale cowardice on the part of the school officials. More important, however, is the sentiment provided by the concerned mother's quote. Implicit in her statement is the idea that no harm will come from ending the marksmanship program.

There is a price to be paid however.

That price can be best described as ignorance and the toll ignorance can take. There is always a price to be paid when the solution is to stick your head in the sand and pretend reality doesn't exist. At some point between birth and high school graduation children are supposed to learn about the world. At different stages they should be taught not to drink poison from beneath the sink, not to play in the street, and hopefully, not to shoot drugs into their veins.

Children begin driver's education at age 15 in most states, and can drive legally at 16. These potential threats we tend to meet head on. The modern trend, however, seems to be to simply lock away any potential harm rather than to address to it.

There are hundred's of "child-proof" gadgets: locks for cabinets, plastic inserts for electric sockets, tops for medicines... Such safety devices are useful. Until the device becomes a substitute for teaching a child about the world.

When that happens, safety devices are simply a way of shirking parental responsibility and leaving a child to address the danger on his own.

As much as parents would like to, they cannot shield children from harm from cradle to grave. At some point a child needs to know not to drink the cleaner under the sink and not to stick bobby pins in electric sockets.

And this is where the concerned mother's statement fails. Because the school canceled the marksmanship program there will be that many more children-soon-to-be-adults in the world who do not know anything about a firearm. They won't know the dangers, the uses, or the rules of firearm safety.

If only ten kids each year would have participated then at the end of the decade there will be 100 such young adults. Add to this figure the number of people these 100 kids might have in turn affected and the potential casualties skyrocket.

Despite parent's best intentions, most of these young people will be exposed to a firearm at some point. Maybe not in the eighth grade. But certainly before they graduate college.

And when they are, the situation will not be controlled. There won't be a supervising adult on hand. The basics of firearm safety will be safely under lock and key, but too far out of reach to save some of these kids.

Unfortunately, the world we live in is an imperfect world. Men still strive to bully and enslave other men. So far we have not managed to banish evil from the hearts of all men. Until we do, firearms will be part of the equation for free societies.

As long as firearms are necessary, firearm safety and training should be an important part of a child's education. In the least such training should be viewed as a good thing and made available.

It certainly shouldn't be casually tossed out the window in a backwards attempt to protect children from the dangers of the world. Whatever peace of mind some parents gain from such logic is not worth the price.

It really isn't worth one child being injured.
Your View
Pecos High graduate enjoys `gab' page
I enjoy your new page. I graduated from PHS in 1963. I coach baseball and football at Coronado High School in El Paso.

I went to our 35 year reunion in July, it was really fun. Everyone should do that.

Thanks again for your new page.

JOHNNY CARPENTER
Chile relleno recipe sought by reader
Was told that at some time in the past, you printed the recipe for Ben's Spanish Inn's chile rellenos. Is there any way you can e-mail or send it to me?

I do read up on the news from Pecos through your web site. Keep up the good work.

BILL MERRITT 4112 Camino
Plano, Tx. 75074.

EDITOR'S NOTE: If any reader has a chile relleno recipe they would like to share with Merritt, they can mail it to him or send it to the Pecos Enterprise. We will print the recipe in the newspaper so that Merritt and others who would also like to use the recipe can clip it out. Mail it to P.O. Box 2057, Pecos, Tx. 79772 or e-mail Rosie Flores at rosie@pecos.net.
Convict and evict for a better president
It is too bad we have men and women in office who refuse to hold the President to the High Moral Standard imposed by the Constitution. The framers of the document obviously intended that the holders of the high offices of the land be of the same highly elevated sense of character displayed in the Founding Fathers themselves.

Still, if the Senate holds the President to the High Ground intended by the founders, then they, themselves, would be culpable to that standard. In the Constitution we see that the holders of high office can be impeached for "misdemeanors"; and while many would try to convince you that this means some sort of high crime, the EXACT OPPOSITE is true. The Founding Fathers literally meant that if the "officer" would show himself to be a bad role model, he should be removed because America deserves better than that kind of man.

If you believe that American truly deserves a criminal for President and better quality cannot be found, then let the criminal go free. If, however, you believe that America needs and deserves better and that better can be found, Convict and Evict should be your cry.

Convict and Evict.

P.S. Please feel free to send this document on to every one in America and anyone on the planet who may push for a more righteous America _ beginning at the top by representation - beginning at the base for and with prayers.

KEITH JENKINS
Little boy touches lives of many people in Pecos
I would like to tell your about a little boy and all the people who loved him. His name was Louis.

He came into my life when he was four months old. He had been very badly abused and was left brain damaged with cerebral palsy. He could not move any part of his body and not have much quality of life. Louis touched everyone who ever came in contact with him.

You know there is never anything so bad that something good can't come out of it, and the people of Pecos showed that. I thank the three nurses that took care of Louis most of his life, Margie Windham, Hilda Rodriguez and Mary Pacheco.

They went beyond their duty. When we lost Louis I could not believe how the people of Pecos helped us. We did not have the money to put Louis away the way he deserved, and the people of Pecos came to our aide. I did not know what to do so I called my friend Ellen at Valley Motors and in thirty minutes she called me back and told that Clay and Ellen Lee, Jim and Elidia Leonard, Noe and Lupe Rodriguez, and Beta Sigma Phi were going to buy the burial plot for Louis.

On top of that they gave money to help with his headstone. Love just came from everywhere. Martinez Funeral Home donated the casket. Birdie Slack and Gail Box brought food to our house every night.

Monty Huffman and the Church of Christ membership prepared and served lunch and the Church of Christ singers sang so beautifully. How can I ever thank you? To the city police and county sheriff's deputies that came to help us load Louis every time we had to put his stretcher in the car, and to the ambulance people who took him so many times when he was too sick to go by car, Thank You.

So you can see how one little can touch so many people. There is a shining star in Pecos and without its help I don't know how I would have gotten through this time. Thank you, Gary Taylor, especially for the beautiful service that you gave Louie. Louis had a very hard life, but through his life came so much LOVE. June 17, 1992-January 27, 1999.

VICKY THORP
Immediate action needed to save energy industry
The state of our nation's energy industry is troubling, and its future looks bleak unless immediate action is taken. Much has been written on Senator Hutchison's domestic energy policy plans.

I applaud Senator Hutchison's "U.S. Energy Economic Growth Act" as an important component of what must be a comprehensive effort to strengthen our domestic energy policy. Senator Hutchison first filed her legislation early last year. Now, with the industry facing some of its toughest times, the wisdom of her actions are apparent. I'm hopeful her colleagues in the 106th Congress wil now join her in support of the proposal. With oil prices dropping and rig counts reaching an all-time low, something must be done and quickly.

In Texas, our State Legislature is focused on providing emergency assistance to our state's producers. Just this weeek, Representatives Tom Craddick, Rob Junnell, Judy Hawley, Buddy West and Warren Chisum, as well as Senator Buster Brown and 19 co-authors filed bills to address the current crisis.

The two, state-level bills offer a temporary exemption from the severance tax for oil and gas produced from certain low-producing, marginal wells when prices fall below $15 per barrel or $1.80 per cubic feet of gas. These proposals, along with efforts at the federal level, are a good first step and draw attention to the crisis now facing our nation's oil and gas producers.

As Chairman of the Railroad Commission of Texas, I'm committed to reducing the regulatory burden and advocating the sort of tax incentives that will help our state's energy producers weather their current troubles. It's not just about helping oil and gas producers, it's dollars for Texas schoolchildren and greater security for our nation.

Sincerely,
TONY GARZA
Chairman
Railroad Commission of Texas
1701 N. Congress
Austin, Tx. 78701
512/463-7131 or tony.garza@onr.com <!==========end copy==================>
---
---
Pecos Enterprise
York M. "Smokey" Briggs, Publisher
Peggy McCracken, Webmaster
Division of Buckner News Alliance, Inc.
324 S. Cedar St., Pecos, TX 79772
Phone 915-445-5475, FAX 915-445-4321
e-mail news@pecos.net
Associated Press text, photo, graphic, audio and/or video material shall not be published, broadcast, rewritten for broadcast or publication or redistributed directly or indirectly in any medium.
We support Newspapers in Education
Copyright 1999 by Pecos Enterprise
---