PECOS ENTERPRISE
Daily Newspaper and Tourism Guide
for Trans Pecos, Big Bend, Far West Texas
Tourism|__|News|__|Sports|__|Scores|__|Lifestyles|
Golden Years|__|Living off the Land|__|Subscribe Enterprise|
Advertising|__|Alpine Avalanche|__|Monahans News|__|E-Forum|__|Lotto
Links|__|Photos|__|Archives|__|Classified|__|ENTERPRISE HOME PAGE
OPINION
July 1, 1997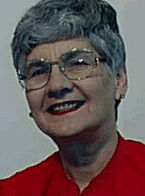 SQUARELY
PEGGED

By Peggy McCracken
Villain misses mark
in fun mellerdrammer

Skip to next item
Stop that villain!
Roy Prewit makes the best villain I have ever seen. He and all the cast
of this year's melodrama outdid themselves at the Sunday matinee
performance of "Stop That Villain!" or "Have You No Shame, Rip
Roquefort?" As Roquefort, Prewit kept the audience in stitches. And in
an olio after the main performance, Prewit as the "still alive" (just
barely) Elvis Presley made us roll in the aisles.
It was my first time to see the "mellerdrammer," but it won't be my
last. For a measley $4, I was treated to two hours of side-splitting
comedy expertly performed by amateurs I know.
Jeff Perkins as the angelic sheriff Merton Manley made my chest swell
with pride. Jeff is a member of my church and a leader in the youth
group - as well as a singer and usher and whatever he is called on to do.
Cindy and Dickie Jones, also active West Parkers, played supporting
roles (pianist and heckler), then starred in a cute olio.
Reita Prewit directed this year while Roy played the lead. She
introduced the two acts with wit and a bright smile.
Betty Smith, Kathy Hurley, Terri Spence, Tommy Jackson, Karen
Hornberger, Jay Spence, Darla Blackstock, Robin Felts, Tabatha Montanez
and Matt Metler played their parts to the hilt.
Matt, a used-camel dealer, added a touch of color in his red and yellow
costume as Tin Pan Ali. He drew chuckles with his references to the
Republic of Texas.
Tabatha Montanez was lovely as Little Jane Dovetonsil, our heroine. No
wonder Merton fell head over spurs in love with her.
As funny as the melodrama is, the olios almost steal the show. I didn't
recognize the three naked male torsos that masquerede as faces in one
skit (Jeff, Matt & Tommy?). I could barely see them, anyway, for the
tears in my eyes as I laughed myself silly.
Some of the jokes have been around awhile, but the actors put fresh
faces on them (literally).
Senior citizens were honored guests at the matinee, and I noticed
smiles on every face as the curtains closed for the afternoon. Kids
lined along the front, throwing popcorn at the villain, also had a good
time.
You've gotta see Jeff in his white hat and chaps! Pay the $4, and take
an extra buck or two for popcorn and cold drinks. You'll be glad you
did. It's at 8 p.m. today and again at 3 p.m. Friday, July 4. In the
Pecos Learning Center, 2024 S. Eddy St.
Editor's Note: Peggy McCracken is an Enterprise writer and website manager whose column appears each Tuesday.
OTHER VIEWS
Nation's gateway falling off hinges

Return to top
The National Trust for Historic Preservation issued a ``wake-up call to
all Americans'' recently. Ellis Island, the portal through which an
estimated 12 million immigrants entered the excitement and promise of
the U.S., is falling into ruins.

The Trust placed the island on its list of ``America's 11 Most
Endangered Historic Places'' because buildings have fallen into decay
and maintenance of grounds has been put off.

The Trust blames underfunding of the National Park Service which
oversees the island. ...

It is estimated that some 40 percent of all Americans have been touched
or had family members touched in some way by the events that took place
at Ellis Island between 1892 and 1954. ...

It is hard to believe that money can't be found - privately or publicly
- to keep the ``rich tapestry of our nation's history,'' as the National
Trust calls it, from being patched and torn.

Cape Cod Times, Hyannis, Mass.

Pecos Enterprise
Mac McKinnon, Publisher
Division of Buckner News Alliance, Inc.
324 S. Cedar St., Pecos, TX 79772
Phone 915-445-5475, FAX 915-445-4321
e-mail: news@bitstreet.com
Associated Press text, photo, graphic, audio and/or video material shall not be published, broadcast, rewritten for broadcast or publication or redistributed directly or indirectly in any medium. Neither these AP Materials nor any portion thereof may be stored in a computer except for personal and non-commercial use. The AP will not be held liable for any delays, inaccuracies, errors or omissions therefrom or in the transmission or delivery of all or any part thereof or for any damages arising from any of the foregoing.

Copyright 1997 by Pecos Enterprise
We support Newspapers in Education