PECOS ENTERPRISE
Daily Newspaper and Tourism Guide
for Trans Pecos, Big Bend, Far West Texas
Tourism|__|News|__|Sports|__|Scores|__|Opinion|
Golden Years|__|Living off the Land|__|Subscribe Enterprise|
Advertising|__|Alpine Avalanche|__|Monahans News|__|E-Forum|__|Lotto
Links|__|Photos|__|Archives|__|Classified|__|ENTERPRISE HOME PAGE
Lifestyles
Thursday, June 19, 1997
Golden Girls Nominees
Stephanie Sherrin

Skip to next story
Stephanie Sherrin is the 17-year-old daughter of Hovis and Margie
Windham of Pecos.
Miss Sherrin is sponsored by Cellular One, Luz Ortiz Insurance and
Cattleman's Restaurant.
She is active in Pecos High School activities including the Eagle Band,
colorguard, speech, theater arts and Spanish.
Her other interests include volleyball, cheerleading, spending time with
family and friends, reading nursing and computers. She is an active
member of the North Temple Baptist Church where she is involved with Acteens.
Gail Taylor

Skip to next story
Gail Taylor is the 17-year-old daughter of Gary and Debbie Taylor of
Pecos.

Miss Taylor is sponsored by Pecos Valley Grain of Pecos.

Gail is active in school activities such as volleyball and Latin Club.
Her interests are all kind of sports including roping, volleyball,
basketball and golf.

She has been a member of the Varsity Volleyball Team her sophomore and
junior year and also played Junior Olympic Volleyball this past season.

She was awarded the Academic Volleyball All-District honor.

Gail was nominated and selected to go to Wshington, D.C. in November for
the Youth Leaders Advisory Committee for those students interested in
law procedures.

"I plan on going into the medical profession but will look at our
nation's law," said Taylor.

Gail is a "people person," loves meeting new people and making friends.Gail is an active member of the Church of Christ.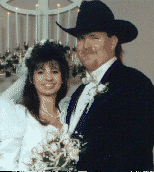 Hardwick, Thorp have
March church wedding

Return to top
Melissa Ann Hardwick and Jonathan Lewis Thorp exchanged wedding vows on March 8 at Cornerstone Fellowship Church in Midland.

The bride is the daughter of Mr. and Mrs. Cecil Brown of Midland and he is the son of Mr. and Mrs. Richard Thorp of Pecos.

The groom is employed by Downing Wellead Equipment Inc., in Midland and she is employed at the Courtyard Care Nursing Home in Midland as a nurse.

After spending their honeymoon in Ruidoso, N.M. the couple have made
their home in Midland.

Pecos Enterprise
Mac McKinnon, Publisher
Division of Buckner News Alliance, Inc.
324 S. Cedar St., Pecos, TX 79772
Phone 915-445-5475, FAX 915-445-4321
e-mail: news@bitstreet.com
Associated Press text, photo, graphic, audio and/or video material shall not be published, broadcast, rewritten for broadcast or publication or redistributed directly or indirectly in any medium. Neither these AP Materials nor any portion thereof may be stored in a computer except for personal and non-commercial use. The AP will not be held liable for any delays, inaccuracies, errors or omissions therefrom or in the transmission or delivery of all or any part thereof or for any damages arising from any of the foregoing.

Copyright 1997 by Pecos Enterprise
We support Newspapers in Education