|
Daily Newspaper and Travel Guide
for Pecos Country of West Texas
Opinion
Tuesday, November 23, 1999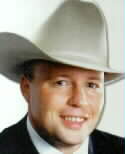 Sage
Views
By Smokey Briggs
<!=====paste copy here==========================>
Compare blessings
this Thanksgiving
My grandmother used to say, "Whenever you start feeling sorry for yourself just look around and you'll see plenty of folks who don't have it as good as you do." That might be a pretty worn out statement but it still carries a lot of weight.

Some things in life are relative. How something looks often depends on what you're comparing it to. This time of year, most of us take a little extra time to reflect on the many blessings in our lives. It's a good thing to do. And it's good that we officially set a day aside for it.

But a little reflection on our blessings really ought to be a daily practice. If more of us did it, we might be a little more sane, and a lot happier. It is awfully easy to get wrapped up in, and blinded by, the whirlwind that most of us live everyday.

The car is making the cough, cough sound again. The bank account is empty again. The five-pound addition you started over your belt last Christmas has turned into a major construction project. The boss doesn't have the common sense God gave a sheep and can't even define "considerate." The mail bag on Wednesday morning is filled with the comments of armchair-editors who are sure a first-grader with a crayon could do better. (Well, maybe that last one is a little personal, but you get the idea).

In the midst of it all it really is easy to forget the true blessings many of us enjoy. Health. A good friend who likes you even when canaries and dead fish are the only ones who read your column.

Children.

Family.

Freedom.

Life itself.

The list could go on and on I suppose. But it comes down to the basics. Those things that can almost become background in our lives as all of the details clamor for attention. And when the details become the important part, life looses its luster.

So Happy Thanksgiving everyone. Here's my hope for all of us that this year we are all blessed and that we manage to see our true blessings through the hectic fog of everyday life.

EDITOR'S NOTE: Smokey Briggs is the Editor and Publisher of the Pecos Enterprise whose column appears on Tuesdays. He can be e-mailed at:smokey@pecos.net
Our View
Nuke waste supporters need to do better job
If Envirocare and other supporters of the proposed nuclear waste dump near Barstow can't do a better job of educating and convincing than this, then they shouldn't be allowed to play with nuclear waste in Pecos' back yard.

So far, attempts to educate and/or persuade folks as to the safety of the site have appeared half-hearted or just haven't taken place at all.

Legitimate questions as to safety and long-term effects remain unanswered.

These are questions that residents deserve to have answered before they consider supporting the site.

Let's face it - nuclear waste is frightening. One mistake and you can write off a lot of real estate and water for a very long time.

Not to mention the very real possibility of people being hurt as well.

Which leaves us with two possible scenarios.

One, there really are aspects to this project that Envirocare et al. do not want everyone to know about. Two, Envirocare isn't smart enough to formulate a decent public education program to convince residents that the project really is safe.

Either way it leaves you wondering if they ought to be trusted with nuclear waste in our back yard.
Your View
Parents need to show good sportmanship
I heard on the radio that they needed coaches for youth soccer. Since I wasn't working at the time and I used to coach for my own children about 15 years ago, I volunteered to coach the 5 & 6 yr. olds. My grandson was playing on the 5 & 6 yr. old team.

I've heard of moral decay, but I was not prepared for what I encountered. One of the players on the other team (5 & 6 yr. olds) said something to one of the players on my team using very foul language. My assistant coach told that player to watch his language. The person coaching that player told my assistant to shut up!

Mrs. Geron herself, who is the director, told the parents they needed to sit on the bleachers instead of standing on the sidelines. They told her no, that they had a right to stand on the sidelines and cheer their kids on. I find it very hard to teach kids good sportsmanship and respect for authority when the parents don't display it. Kids are not going to do what you say. They are going to do what you do.

My older grandson played on the 7 & 8 yr. old team. His coach practiced them for 2 hrs. at a time on school nights and Wed. night (which is church night). He got to play 1 min. of the game.

This happened 3 weeks in a row. Finally, his Dad told him he wasn't wasting 2 hrs. a day twice a week to play for 1 min. He had homework and animals to take care of. He's in F.F.A. I witnessed my grandson ask his coach if he could go in 3 times and his coach said no 3 times.

The coaches actions spoke louder that words. His actions told my grandson, "You are not important. This team doesn't need you." I think this is wrong. I thought sports was suppose to be a good experience for kids.

I guarantee you when these kids are adults whether they won in soccer or not isn't going to make one hill of beans difference in their lives. But whether they learned good sportsmanship, respect for authority, and common courtesy might. I know it's a cliche but it's so true. It's not whether you win or lose but how you play the game!

To top everything off, the kids didn't get trophies. They got certificates. I worked hard for over 6 weeks with these kids. As their coach, I felt like I deserved the honor of handing them their certificates. Someone who had never worked with these kids came a starting passing out the certificates.

Sincerely,
BETTY DANIELS
Reeves County hospital receives special recognition
I am writing this letter because I believe that our community should give more credit where credit is due. There is always talk about going to Odessa, Midland or some other hospital out-of-town because people refuse to use our facility here presumably because of better care or whatever reason or excuse that they can think of.

I think I am speaking up mostly because I have managed to be so accident prone or unlucky that I've landed in hospitals so often. But, one thing that I know for sure is that if it had not been for our hospital, I would have died a long time ago. I have never been refused service and have had some of the best care comparable to any other hospital in the surrounding area and even better than some.

If you come to think about it and you or a loved one happen to have an accident that is life-threatening; you may not have time, nor the chance to take them to an out-of-town hospital of your choice. The EMT units are as professional as can be. I know that for a fact because I have had to call 911 several times. The administration and programs offered when you are down and out on finances is something that you don't even have to worry about because they will work with you.

Sometimes, people in general are so quick to judge and bad opinions are given, which cause bad reputations are given to innocent victims such as hospitals and doctors. This goes on the teaching profession as well and in different other professions which causes people to condemn or label or stereotype.

Reeves County Hospital and all its staff, to include every different area in its entirely do a very professional job. If I had to rate this hospital on its service and care, I would have to give it the highest rating, because I took a special interest when I noticed just how well they did what they had to do. I was especially proud of the nursing staff (both male and female), because they did their best to make my stay as comfortable and pain-free as possible. Their attention to needs of the patient and clockwork expertise caught me off guard. Sometimes, just their sitting down to talk to me and giving me moral support and smiling faces raised my expectations of getting well sooner than expected.

I am not trying to kiss up to anyone, I just wish that we can all give them the credit due. A handshake or pat on the back will do, because they are true professional and not enough can be said for them. I hope I don't happen to land in another hospital again, but if I do, I know that I have friends here and they are willing to do the best for me as in the past.

Sincerely,
ISRAEL MATTA
Critic's Corner
Book fails to loosen up mind of reader
Mental Laxatives For A Constipated Mind failed to loosen up my cogitation in 75 pages, so I stopped reading.

Rev. Donald E. Pederson believesx the mind needs a variety of stimuli to ensure its functioning in the most fluid manner possible. That's what he attempts to do with this 262-page paperback.

Humor, inspiration and positive thinking are attempted in the 34 chapters with topics like "Redeemed Lives," "Humor's Healing Power" and "Yabuts."

We all know Yabuts. They are the people who meet every new idea with a "Yeah, but," detailing reasons why the plan won't work.

I don't know what happens in "Rattlesnake Canyon," because I didn't get that far.

Available from Galactic Enterprises, 11012 Ventura Boulevard, Ste. 1254, Studio City, Calif. 91604, at $14.95 or from your favorite bookstore.

_ Peggy McCracken <!==========end copy==================>
---
---
Pecos Enterprise
York M. "Smokey" Briggs, Publisher
Peggy McCracken, Webmaster
Division of Buckner News Alliance, Inc.
324 S. Cedar St., Pecos, TX 79772
Phone 915-445-5475, FAX 915-445-4321
e-mail news@pecos.net
Associated Press text, photo, graphic, audio and/or video material shall not be published, broadcast, rewritten for broadcast or publication or redistributed directly or indirectly in any medium.
We support Newspapers in Education
Copyright 1999 by Pecos Enterprise
---