NEWS PAGES
News
Sports
Lifestyle
Pecos Gab
SPECIAL SECTIONS
Monthly
Living off the Land
Annual
Women in Business

ADVERTISING
Commerce
Bookstore
Classified
TRAVEL
Area Papers
West Texas
ARCHIVES
News Archive
Photo Archive
STAFF
Smokey Briggs
Jon Fulbright
Peggy McCracken
Rosie Flores

LINKS
Other Sites
|
Daily Newspaper and Travel Guide
for Pecos Country of West Texas
Opinion
Tuesday, October 26, 1999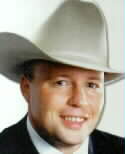 Sage
Views
By Smokey Briggs
<!=====paste copy here==========================>
How Yellow Dog became
part of the family
It was a cool South Carolina fall morning when my mother walked into the kitchen and announced that there was a mangy stray dog outside that wouldn't be run off and needed to be shot.
She had tried to run him off but he had just continued to eat the catfood and milk she'd put out for the barn cats and then he had slunk under the house when he was finished.
I was pushing six then. We lived in a neat old farmhouse a mile down a red clay road in the heart of southern South Carolina, near Lumberton. It was a beautiful place surrounded by old forest and cut by creeks and swamps. For an almost six-year-old boy it was heaven.
It was Saturday morning and when Papa looked up from his coffee you could tell he really didn't feel like shooting a dog. To be honest I don't think he liked shooting anything.
"Okay, I'll take care of it," he said. (Or something like that. I was much to excited about the dog outside to remember, and it was a few years back).
The house was built on big piers cut from tree trunks and was open under the porch so a boy or a dog could crawl under the house.
I followed my dad out the back door and down the steps into the coolness of the morning. From there we hunkered down in grass drenched with dew and then we saw him - about half illuminated by the sunlight that seeps through cracks in a properly made porch.
Even in the semi-dark he was ugly. There were only a few tufts of yellowish hair clinging to his pinkish hide that was a virtual roadmap of white puckered scars. One ear didn't hang right from a head that was too wide, and you could count every rib.
He had curled up in the dry soft dirt and stared out at us with mournful brown eyes that spoke of wisdom and life. Overall, he looked mean and sick, except for those eyes.
After a few minutes of coaxing and then yelling, the old man gave up on trying to get the dog out from under the house without force.
There was work to do and we didn't have time to fool with a cur dog so we went back inside and got a rifle.
"Are you going to shoot him," I asked.
"If I have too. I can't have a stray dog around the house. Not with you and your sister playing in the yard," Papa said.
A minute later we were back at the edge of the porch. Some more yelling and coaxing and a plate of food for bait failed to do the trick. The old yellow dog just lay there and thumped up the dust with his nearly naked tail as if to say, "I'll just stay here for awhile. It's comfortable and I'm full and a little tired."
Finally my dad hunkered down crosslegged and drew a bead on the dog. His right hand worked the bot on the rifle, and I backed up a little and waited with my fingers in my ears.
It was a long wait. Suddenly the stillness of the morning was broken with a word I wasn't supposed to repeat and Papa lowered the rifle. This was the first time I remember consciously realizing that my old man was a soft touch.
"I can't shoot him," he said. "Let's go find some rope."
This time the old man crawled under the house with a length of rope and a branch to brush away the spider webs that I was sure were filled with blackwidows and the like.
The old dog just kept thumping the dust with his tail and let my dad put the rope on him. A little coaxing later they were both out from under the house - Papa covered in dust and the dog looking like he was perfectly at home. I lost control and stepped right up to the dog just like I'd been taught never to do with a stray. Before the old man could get between us the dog licked me.
Plans for fixing fence that morning got put aside. Instead we fed the dog till he couldn't eat another bite and that took some time. He worked on that bowl of dog food and scraps like it was a job. Then he got a bath. Then he got drenched in used motor oil and sulfur. The EPA probably wouldn't like it, but it is a good cure for the mange.
And I had a dog. My first dog, a collie named Fang had been hit by a car when we moved to South Carolina and for six months I had been dogless and lonesome.
Monday he went to the vet and got vaccinated for everything under the sun, and wormed. The vet said he was very old and probably wouldn't live long - that probably he was just hunting a place to die when he crawled under our porch, as animals do when they sense it's close to their time.
Being almost six and having seen Walt Disney's "Old Yeller," he promptly got named Old Yeller, but mostly he was Yellow Dog, or just Yellow, (pronounced yelllaaa in those parts of the country).
In three months he had all his hair back and even a little fat covering his ribs - and we were steadfast friends separated only during school hours and the occasional three or four days when love was in the air and Yellow Dog had to go courting.
I learned somethings that day - about my dad and about life.
But mostly this is just a story about how an old dog came into my life. A dog that is the protagonist in numerous family stories many years after his death and whose picture hangs alongside the family pictures on the wall.
No great moral, just a good story with a happy ending in a world that seems to be a little shy of such things.

EDITOR'S NOTE: Smokey Briggs is the editor and publisher of the Pecos Enterprise whose column appears on Tuesdays. He can be e-mailed at: smokey@pecos.net
Our View
Unsigned letter brings up good points
Last week there were several letters to the editor concerning the recent public meeting between the management for La Tienda and Bob Thriftway and a group of concerned citizens.

This week the Enterprise received one letter taking issue with our reporting of the event. Obviously the writer was upset with our report and with the citizens at the meeting. Unfortunately, the letter was unsigned and so will not be printed.

However, the points addressed by the anonymous writer are worth addressing.

First, the writer asked, "What right does the Enterprise have to criticize the grocery stores?"

Folks, the Enterprise never criticized anyone. We simply reported what happened at a public meeting. We reported what both sides said and that was all. It is our job.

In pointing out that the grocery stores are an important part of the local economy the writer also pointed out that they give the Enterprise business with advertisements.

That is true and we appreciate the business. But the day a newspaper makes decisions on what to run based on whether someone is an advertiser or not, is the day it ceases to be a newspaper.

Credibility is then lost and credibility is the only thing a newspaper has to sell. It is also unethical and just plain wrong. Not covering this meeting would have been the easy way out for the Enterprise, but it would have been unethical.

The writer also mentions that La Tienda and Bob's both are very community minded.

This point is true and well taken. It is also easily forgotten. Both stores show a regular and deep commitment to Pecos and the surrounding area through donations and other types of involvement and deserve a "thank you" from our community along those lines.

Along that vein, we'll lead off. "Thank you La Tienda and Bob's for continuing to support Pecos."
Your View
Parents' disciplinary actions limited
To The Editor:
We have been reading many articles about this BPG and how the parents need to be held responsible for their children's actions. We felt compelled to come forth on the parent's behalf, because we know that there are many parents who have tried to discipline their children with reasonable measures and in doing so have been confronted by Child Protective Services. We are sure that many of these parents would love to be able to tell their child that what they are doing is wrong and have the child stop and say, "your right mom and dad," but lets be realistic that just doesn't happen.

Parents have become so afraid of getting reprimanded themselves that our youths seem to be taking control of this town. We, the parents have known for some time now that when it comes to our children, our hands are tied. I have heard many people say that CPS would have to take their children before they would allow them to control their families. When you love your children as much as we love ours, this of course, is easier said than done! How are we as parents expected to control our children when someone else can come into your home and literally tell you that they have more authority over you, than you do over your own child?

We know that there really are children being abused who need help, but parents such as ourselves who would do anything in our power to keep our kids from ending up in prison or dead are being unjustly mistreated and wrongly accused of abuse. They take away your rights as a parent to discipline your children, but let your child stray and whom do they call instantly? The parents! We agree totally that parents need to do more when it comes down to their children's actions, but please keep in mind that the parents actions are being limited to what the state believes is reasonable discipline.

We must remember that what we sow today we will reap tomorrow and if things do not change anytime soon, what kind of future will our children have?

Sincerely,

MR. AND MRS. HECTOR GUTIERREZ
Voters urged to adopt Proposition No. 9
Dear Editor:
In 1995, the Texas Legislature authorized the creation of a Blue Ribbon Commission, the Texas Commission on Judicial Efficiency, to study issues and concerns relating to the Texas judiciary and the Judicial Branch of government. Chief Justice Thomas Phillips of the Supreme Court of Texas appointed sixteen members to the Commission and charged them to conduct public hearings, study the needs of the Judiciary and report recommendations to the next legislature.

After months of hearings, study and deliberations, the Commission, of which I was the Chair, made its first recommendations to the Legislature in November in 1996. Among other suggestions, the Commission recommended creation of a Judicial Compensation Commission. Voters must approve Proposition No. 9 to amend the Texas Constitution and authorize the Legislature to establish this Commission.

In speaking for the Commission, I advised the Legislature, "It is our belief that we have made sound recommendations and we shall anticipate that highly tangible support will be forthcoming to improve the lot of the Texas Judiciary, our third branch of government. Concomitantly, we anticipate greater independence and accountability on the part of the Texas Judiciary to the considerable benefit of all Texans."

Based upon the Commission's recommendations, earlier this year the Legislature passed Senate Joint Resolution 10, calling for creation of the Judicial Compensation Commission. On November 2, 1999, Texas voters will have the opportunity to adopt Proposition No. 9.

Our system of justice is founded upon the principle of judicial independence. Inadequate funding threatens the integrity of the courts and the impartial administration of justice. The Judicial Efficiency Commission recognized that the State must assure the citizens of Texas that the judiciary will remain strong, qualified and independent. It determined that Texas judges should be adequately compensated independent of political considerations and commensurate with private attorneys. Only then can the State attract and retain qualified judges. Services on the bench is an honor, but many experienced judges leave the bench for financial reasons. Historically, judicial compensation has received infrequent review, often only after salaries have become dramatically low and the Legislature must make the difficult decision to enact a substantial increase.

The Judicial Compensation Commission would independently review and examine judicial salaries on a periodic and regular basis, using objective criteria, toward the goal of setting fair judicial compensation, free of political pressures. The Commission would establish accountability for the judiciary and monitor its performance, important factors in determining appropriate compensation.

Under the proposed plan, the Commission would recommend salaries to the Legislature, but either the House or Senate would reject the recommendation. Thus, the elected legislative representatives retain the financial responsibility for setting appropriate compensation for judicial officers.

This is a sound proposal and a responsible solution. Please vote on November 2nd. Vote for a strong, qualified, and independent judiciary. Vote for Proposition No. 9.
Sincerely,
HERBERT H. REYNOLDS
Former Chair,
Texas Commission on Judicial Efficiency <!==========end copy==================>
---
---
Pecos Enterprise
York M. "Smokey" Briggs, Publisher
Peggy McCracken, Webmaster
Division of Buckner News Alliance, Inc.
324 S. Cedar St., Pecos, TX 79772
Phone 915-445-5475, FAX 915-445-4321
e-mail news@pecos.net
Associated Press text, photo, graphic, audio and/or video material shall not be published, broadcast, rewritten for broadcast or publication or redistributed directly or indirectly in any medium.
We support Newspapers in Education
Copyright 1999 by Pecos Enterprise
---