|
Daily Newspaper and Travel Guide
for Pecos Country of West Texas
Opinion
Tuesday, August 31, 1999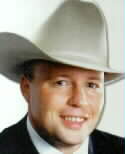 Sage
Views
By Smokey Briggs
<!=====paste copy here==========================>
18 to vote, 21
to own a gun?

Some things don't make much sense to me. Maybe I'm dense.
For instance, our esteemed Gov. Bush, looking for votes for his presidential run, has declared that he supports raising the legal age for firearm ownership from 18 to 21.
"These are reasonable measures," he said, referring to several "gun control" measures that included the 21 year benchmark.
Speaking for the 18 to 21 set, this is a bunch of malarkey. It is also a clear violation of the Second Amendment.
Our United States Supreme Court has pointed out many times that the full protections of the Constitution do not apply to minors. The First Amendment right to free speech and press doesn't apply to the high school newspaper. I don't necessarily agree with that, but I'll accept it for now.
But 18-year-old citizens are just that — citizens. They are no longer minors. They are old enough to sign contracts, drive motor vehicles without restriction, and get drafted and killed fighting our wars. They enjoy the full protection of the Constitution and the accompanying Bill of Rights.
So Gov. Bush's statement is stupid in reference to restricting fire arm ownership to the 21-and-over set. Eventually, if such a law were passed, it would be struck down as unconstitutional.
I hope. Such a clear violation should be.
What bothers me most is how easily we infringe on our fellow citizens liberty and rights when it is convenient. Even more bothersome is the lack of common sense behind most such manners.
The 18-to-21 crowd gets the short end of the stick on a regular basis. Our current prohibition of alcohol until the magic age of 21 falls into this category. In our infinite wisdom as a society, we have declared that 18-year-old citizens are responsible enough to vote for the president of the United States, and yet to irresponsible to decide if they should have a cold beer or a glass of wine with their supper.
Folks, that doesn't make sense. There is no responsibility greater than that thrust upon a voter in a system based on democracy. Personally, nothing was more insulting, than strutting into the lounge at the Los Angeles airport as a newly minted Marine and being unable to order anything stronger than a soda pop.
There was an old former Marine in the place however who bought me a glass and we toasted the Corps together. I still owe him. That was 1984. Back then at least, when I got home to Texas I could order a beer.
Today, we have young men commanding M-1 main battle tanks and Apache attack helicopters — vehicles that cost in the millions and that pack enough fire power to level a decent sized town — who we have declared incompetent to handle the question of alcohol.
That is stupid. If you are old enough to die for your country, you ought to be old enough to order a beer.
It may not be a constitutionally protected right, like owning a firearm, but common sense ought to protect it.

EDITOR'S NOTE: Smokey Briggs is the editor and publisher of the Pecos Enterprise whose column appears on Tuesdays. He can be e-mailed at: smokey@pecos.net
Your View
Visiting judge thanks everyone for hospitality
This is a fan letter to the town of Pecos and the surrounding community. I had the privilege and pleasure this past week of coming to Pecos to preside over criminal trials for several days. It was my first visit to west Texas. I had been told by both Judges Royal Furgeson and Lucius Bunton that the people of Pecos were wonderfully friendly. How right they are! My husband and I felt welcome from the start, not just by the courthouse personnel but by all the people we met in the community. And needless to say it was quite an honor to sit in the Lucius Bunton courthouse... and even wear his robe!

Thanks especially to Peggy McCracken of the paper for her exvellent coverage of the trials. A special story should be written someday about the dedication and good will of your citizens as jurors - many of whom came from well over 100 miles away, without complaints. They were true public servants.

Your museum is marvelous. So are the rodeo grounds and that wonderful boardwalk near the interstate - I'm a walker and that was part of my early morning route. By happy coincidence, the gold and purple of Pecos High are the same as my law school alma mater, LSU, so I picked up a T-shirt. Last but not least, the ribs on Friday at Leroy's are worth the trip from New Orleans.

I hope to return.

Sincerely,

GINGER BERRIGAN
Back to school bash is huge success
The "Back to school youth bash 99" proved to be a huge success.

This event was held on Saturday, August 21, 1999 at the Santa Rosa Catholic Hall and it was a great success. Our goal was to motivate students to finish school and a get an education. Many door prizes were given away and the food was great!!!

On behalf of the Reeves County Sheriff's Dept. and Reeves County Explorers Post we would like to thank the following businesses for their support and donations: Pecos Fire Dept., Pecos Welding Supply, Town & Country, Bob's Thriftway, La Tienda Thriftway, Walmart, Beall's, Roadmaster, Santa Rosa Church - Father Ben, White Swan, Ben E. Keith Food Co., Pecos Insurance, Physical Therapy Office, Dr. David F. & Marcella Lovett and Dr. Darpolor & Fatu Darpolor.

Also, Bill Weinacht, Attorney, Oilfield Phone Service Co., Cattleman's Restaurant, Allcomm Long Distance, Tonne Grocery & Suppy, Sonic Drive-In, NAPA Auto Parts, The First National Bank, Spencer & Associates, Guadalupe Regalado, American Home Health Agency, Industrial Communications of Pecos, Dr. James Cam, M.D., Aztec Contractors, Inc., Valley Motor Co., Inc., Reeves County Law Enforcement Administration and Adan Machuca.

Once again Thank you for supporting our local youth.

DEPUTY HILDA WOODS,
Juvenile Officer
Reeves County
Field house facelift done by many great volunteers
I am writing this letter to commend several members and organizations of the community. I am referring to the work that is being conducted at the Pecos High School field house. The field house is getting a facelift and it is being done by volunteers of our town. If you have not had a chance to go by the field house, please go by and take a look at it and you will see a difference.

I would first like to thank Mr. Don Love. Mr. Danny Rodriquez and Mr. Joe Coody for all their efforts put forth in this project. I would also like to thank Mr. Russ Salcido, Mr. John Armstrong, Mr. Jim Riley, Mr. Johnny Terrazas, Mr. Calvin Duke, Mr. Roy Alvarez, Mr. Monty Huffman and Mr. Roy Pena.

Also without the help of the following organizations our endeavors would have been a lot more difficult, Terrazas Restaurant, Pecos Volunteer Fire Department, 143rd District Probation Dept. and the Pecos Athletic Booster Club.

Hopefully this project will be completed by the first home football game. The above named persons have put a lot of time into this project and if you happen to see them give them a pat on the back. If anyone is interested in helping with this project, please contact Paul Deishler at the Pecos Police Department.

PAUL S. DEISHLER <!==========end copy==================>
---
---
Pecos Enterprise
York M. "Smokey" Briggs, Publisher
Peggy McCracken, Webmaster
Division of Buckner News Alliance, Inc.
324 S. Cedar St., Pecos, TX 79772
Phone 915-445-5475, FAX 915-445-4321
e-mail news@pecos.net
Associated Press text, photo, graphic, audio and/or video material shall not be published, broadcast, rewritten for broadcast or publication or redistributed directly or indirectly in any medium.
We support Newspapers in Education
Copyright 1999 by Pecos Enterprise
---