|
Daily Newspaper and Travel Guide
for Pecos Country of West Texas
Opinion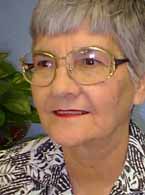 Squarely
Pegged
By Peggy McCracken
<!=====paste copy here==========================>
Tuesday, August 17, 1999
Bunton's memoirs include
letters from the family

When the phone page came for me at mid-afternoon Friday, I was struggling with a topic for today's column.
"I thought you would meet me at the city limits," said a raspy, though familiar, voice that I couldn't quite place.
"I don't know," I said, stalling for time. "Why didn't I?"
"This is Lucius Bunton," said my favorite judge, who was calling from his chambers across the street from the newspaper office. He was filling in for Ginger Berrigan, the first woman district judge ever to preside in the Pecos Division. She had to catch a return flight to New Orleans, and her fourth jury trial of the week was running a little long, so Judge Bunton got the nod.
While the jury was deliberating, we talked about the Bunton memoirs and research he is doing for another book about the Western District of Texas.
Judge Bunton is a trivia buff, and he gave me colorful details about some of the judges who have served the district that once stretched from Brownsville to El Paso and covered 92,000 square miles in 68 counties — larger than Utah.
Galveston was the first site of a federal court in Texas - 1945. Presumably that is because Galveston was the largest city in Texas at the time and was on the coast where federal cases were filed over maritime matters.
"We just had one judge authorized until 1917," Bunton said. Most of the time court was held in the post office or another federal building. In Brownsville, it was the Customs building that hosted court.
Judges during that time had their quirks, as I suppose they still do. One judge had been superintendent of a lunatic asylum. That was probably good training for federal court.
One judge was born outside the continental United States. His parents, U.S. citizens, were in Canada when their son was born, so he was a U.S. citizen.
Another was nominated twice by the Republicans for governor of Texas, but he didn't get elected. He was appointed to the federal bench by Republican President Herbert Hoover.
Three judges were former congressmen. Two were 68 years old when they were appointed. One lived only three years, but the other, Ewing Thomasson, lived to be 90-plus and served a long time.
Judge Bunton was appointed to the Pecos Division in 1979 by President Jimmy Carter. He took senior status while the new courthouse was under construction, and everything went downhill for awhile after a new judge was appointed.
Some of that controversy is mentioned in his memoirs, along with interesting trials he has held here and elsewhere. But I think the most fascinating part of the judge's memoirs is about his travels all over the world, usually with wife Mary Jane and often with the children, Cay and Buddy.
I don't care much about travel myself, but enjoy reading about different parts of Texas, the United States and other countries. I spent most of the weekend reading the memoirs and accompanying letters the judge, then known as "Cater," wrote to his family, and those they wrote to him while he was a student at the University of Texas and serving in the Army during World War II.
Those memoirs and letters are not for sale, but the history of the Western District of Texas will be. At least enough copies will be made for all the judges and the lawyers who want one, and I am hoping it will be made available to the public. A lot goes on in federal court, and few people are there to see it first-hand.
Unfortunately, Judge Bunton's return to the bench was only temporary. He says he will not take any more criminal cases, but will do some civil work later. He still is pretty weak from extensive surgery. It was good to have him back, even for a little while.

EDITOR'S NOTE: Peggy McCracken is a reporter and webmaster whose column appears once a month in this space. Her e-mail address is: news@pecos.net, and her web page is www.pecos.net/news/staff/peg.htm
Your View
Community center could be used by everyone
I would like to respond to Herman Tarin, the Reeves County Commissioners Court, and to the Concerned Citizens Of Balmorhea about the article in the Enterprise on August 10, 1999. Without the help of the Well Kept Community Club, there would never have been a Balmorhea Senior Center.

Due to the aging of their active members, they were responsible for the organizing of the Senior Center. They have given us the free use of their building and sponsored us for twenty-two years. It was Community Club money that the center began operation on. They were always there for us, helping with our fund raisers, and giving us support any way they could, even the club itself was inactive. It is being said in Balmorhea that the Senior Citizens have been `kicked' out of the WKCC building. This is not true.

Two years ago, I contacted the WKCC and suggested that we become active as a Community Club again. The number of people attending the Center and riding the Center Van were declining rapidly. Many of our Seniors had died, some went into nursing homes, and others moved because of the death of their spouse, or to be closer to their families. This past two years, we have lost many more.

In 1998, we barely met our budget requirements to continue to draw full federal funding from the Permian Basin Regional Planning Commission. This year, we have not met the requirements and are now receiving less than half the money that was alloted us. Each year we are supposed to earn $2,500 as program income toward our part in the support of the Center. As of August 1st, we have only been able to raise $1050.

With only two months left on our year, we are still short $1425.

Florence Mooney and Judge Bill Pigman got our first grant from Permian Basin in 1984. The first seven years the center operated, it was under the support of the Well Kept Community Club. We owe the WKCC a big "THANK YOU", for their support and the use of their building for twenty-two years.

Herman, I keep being told that you are saying "The money is there, all we have to do is ask for it." I keep telling them, "The money is there, but, we have to earn it. There is a `big' difference between the words `ask' and `earn'.

When a person rides the Van, they are asked to fill out a form with their name, address, Social Security Number, and birthdate. This information is put into the computer and daily records are kept, which also goes into the computer. Each month these computer print-out's along with back up records are sent to Permian Basin.

We receive funding only on persons riding t he van over the age of 60. Younger persons are allowed to ride if space is available, but we do not receive funding on them. Approximately 75% of our federal funding is for the van participation.

If the `need' for the Center is so great, why don't persons come on days when we are not having a luncheon. The coffee pot is always on - why not just stop in for a cup of coffee, a visit, and sign the register? This, would show your support. The van goes to Toyah on Tuesdays and Thursdays for a nice lunch and visit with the persons living there. It is a good lunch and a pleasant trip. Also, how are the many needy persons over 60 in our community going to Pecos for the past two years? We have a nice van, contributions are voluntary, but they don't ride the van and help us to keep it operating. The truth is that at the age of 60+, the all day trip is too hard on them. We leave at 9:00 in the morning and seldom get home until 4:00 or 5:00 p.m. In our summer heat, that's too long a day. They either have to stand in the stores or sit in a hot van for the seniors that shop slowly. Since we only have four persons who need the use of the van, Donna Woodard has offered to send the van to Balmorhea and take them to Pecos twice a month. I believe it is very foolish to tie up a building for only four daily participants to play cards when the whole community could use it as a Community Club again. I believe it is a crime to spend $18,000 a year, even though some people say "It's only government money." It is also `our' money, whether it comes from Federal, State, County or Program Income. We don't need a Senior Citizen Center, the lack of participation in this one has proven that.

What we do need is a building where not only people over 60 could use, but people of all ages could use. It needs to have floors that can be danced on, that even our teenagers could use. A building where a child could attend, and if it spilled a tray of food or a red soda, it wouldn't be a disaster.

Herman, since most of the `concerned citizens' are under the age 60, the whole community could work toward this and pull together instead of pulling apart. This issue is becoming very political and is causing a lot of hard feelings in our town. You are going to have to earn $2500 this next year to qualify for federal funding for a Center. Use this as matching funds and apply for grants, and build a center that everyone can use. This would be a `real vote getter'. Let's stop the fighting and work together.

Thank you,

FRANCES JONES
Center Director
(15 years)
<!==========end copy==================>
---
---
Pecos Enterprise
York M. "Smokey" Briggs, Publisher
Peggy McCracken, Webmaster
Division of Buckner News Alliance, Inc.
324 S. Cedar St., Pecos, TX 79772
Phone 915-445-5475, FAX 915-445-4321
e-mail news@pecos.net
Associated Press text, photo, graphic, audio and/or video material shall not be published, broadcast, rewritten for broadcast or publication or redistributed directly or indirectly in any medium.
We support Newspapers in Education
Copyright 1999 by Pecos Enterprise
---