|
Daily Newspaper and Travel Guide
for Pecos Country of West Texas
Opinion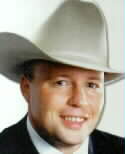 Sage
Views
By Smokey Briggs
<!=====paste copy here==========================>
Tuesday, August 3, 1999
Guard and Reserves
equals honorable service
Well, the democrat/liberal types (and a few others) have apparently decided that answering the call to duty matters.

After eight long years of Bill "the draft dodger" Clinton, democrats are pointing accusing fingers at Republican presidential hopeful George Bush.

"See, he's no better than Bill," they say in self-riteous tones. "Bush only served in the National Guard," they say with a smugness that illustrates their ignorance.

They are correct in only one statement — George Bush, like Bill Clinton, did not see combat in Viet Nam.

The reason he didn't, however, is wildly different than Mr. Clinton's.

Bush answered his nation's call to duty. He joined the Air National Guard. He became a fighter pilot and stood ready.

That is honorable.

Had the United States ever gotten serious about winning Viet Nam, George and his airplane would have found themselves delivering ordinance over Hanoi.

But the United States was never serious about winning in Viet Nam.

Unlike any other major conflict in this nation's history, almost no combat arms reserve units were committed to action.

President's Johnson and Nixon both understood that if they committed reserve units, a different demographic group would be coming home in body bags.

A group much stronger politically than the 18-year-old kids swept up by the draft.

Reservists tend to be an older crowd. A crowd more apt to have families, and decent paying jobs.

A crowd that would and could scream much louder about getting killed in such a poorly orchestrated war.

So the reserves weren't sent in. Not because they weren't standing ready. Just because the political price was too high for the politicians making the call.

For the liberals to accuse reservists of dodging Viet Nam is pathetic.

By the same standards anyone who was on active duty but didn't volunteer for duty with an infantry platoon deep in the jungle "dodged" Viet Nam.

Of course, most of the men on active-duty during the Viet Nam war didn't serve in line-units. Most, served in support units and in combat arms units stationed in other parts of the world.

Their service was no less honorable than those that won the lottery to travel to South East Asia.

Unlike Bill Clinton, who never bothered to stand up and say, "I'm ready. Call me if you need me."

EDITOR'S NOTE: Smokey Briggs is the editor and publisher of the Pecos Enterprise whose column appears each Tuesday. He can be e-mailed at: smokey@pecos.net
Our View
New weapon systems keep the peace
The F-22 fighter aircraft, the Theater High-Altitude Area Defense missile system and other developing weapon systems have been taking fire lately as being too expensive and unnecessary.

It is an old story replayed many times in this nation's history — politicians itching to scrap weapons development to save money for domestic programs.

As it has been every time in the past, such "budget-saving" measures are short sighted.

Whether the research and development of the F-22 and the THAD system have been over-priced is worth investigation.

Historically, research and development of weapon systems is very expensive.

Some of that expense is no doubt the product of defense contractors milking the government cow for every last dollar.

Often, however, the price tag reflects the quality of the product being purchased.

When American troops go into combat, they shouldn't be armed with weapons built by the lowest bidder.

As for new systems being unnecessary — such statements are foolish.

New weapon systems are of vital importance to maintaining a strong military.

History has shown that a strong military capability is by far the best deterrent for would-be aggressors.

Just as importantly, when aggression cannot be deterred through a show of force, troops armed with modern weapons and properly trained in their use, have taken the first steps to securing victory.
Your views
Student enjoys reading news on internet

I love to read our newspaper on the net. It's nice knowing what is going on in our friendly little town! Keep up the good work!!
ALVA ALVAREZ
Stonewalk journey going according to plans
Hi! My name is Bliss and I am Earl's (Standberry) sister. I am writing to update you on the Stonewalk journey.

Earl is great and truly motivated for this cause. They were in New York City the weekend of July 17th where they were camped all weekend and staged a prayer vidal outside the U.N.

Everything is going according to plan and although it has been hard, they have been blessed with people who have stepped up to help along the way. They are in Pennsylvania now and due to arrive in Washington, DC the weekend of Aug. 8th.

As of this time, they have not been granted access into Arlington Cemetery to place the headstone, but have been contacted for negotiations. They are hopeful that everything will work out.

For more information, you can check out the website at http://peaceabbey.com or contact me at bliss@dpmicro.com. I have been in contact with Earl several times and I am sure that your prayers and support mean the world to him. He should be in contact with you at the end of this journey.

God Bless!

BLISS STANDBERRY
America not made up of losers or quitters
In reference to the editorial on why drugs should be legalized:

Unbelievable. The words, "integrity," "indomitable spirit," and "perseverance" contract sharply with "drug use," "giving up," and "whining." My father was a paratrooper with the 101st Airborne Division in World War II. They were taught never to give up a fight. Considering what he and others have gone through I can only imagine the indignation he would feel about the politically correct concept that we've lost the war on drugs so we should give up now. America is not made up of losers or quitters.

China once gave up and legalized drug use. Soon too much of their population was more concerned about being high than every day life. No one worked, no one went to school, no one felt like being a doctor, or a carpenter and everything went to...well you know. Considering the pain and suffering many have gone through due to alcohol, I don't think we should be patting ourselves on the backs on that one at all.

And for those moms and dads who have watched a child grow tall and envisioned that wonderful child of theirs giving them happiness and grandchildren, and then lose all that to drugs, do you really think it matters whether someone gave their child heroin or someone sold their child heroin? And if their child feels that two doses of heroin the government gives them is not enough will they go to an illegal drug pusher to get more, or will the government simply give till a fatal does is received. A drug user won't stop, you know.

And what about rape? We haven't been able to win that war either. Why not win again and make rape legal also. Hey what about stealing...

KELLY DAVIS <!==========end copy==================>
---
---
Pecos Enterprise
York M. "Smokey" Briggs, Publisher
Peggy McCracken, Webmaster
Division of Buckner News Alliance, Inc.
324 S. Cedar St., Pecos, TX 79772
Phone 915-445-5475, FAX 915-445-4321
e-mail news@pecos.net
Associated Press text, photo, graphic, audio and/or video material shall not be published, broadcast, rewritten for broadcast or publication or redistributed directly or indirectly in any medium.
We support Newspapers in Education
Copyright 1999 by Pecos Enterprise
---