|
Daily Newspaper and Travel Guide
for Pecos Country of West Texas
Opinion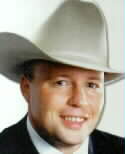 Sage
Views
By Smokey Briggs
<!=====paste copy here==========================>
Tuesday, July 6, 1999
Time — the only
gift that counts
There is only one gift that we can give to another person that amounts to a hill of beans — the gift of time.

Nothing else measures up. Not a new car, or tuition for college, or a Nintendo. Not even central air conditioning when you live in Pecos, Texas.

Kids understand this.

I think we are born into this world with a perfect understanding of what is important and what is not.

And as kids we understand that nothing is more important than time spent with those that we love and care for.

We then spend a lifetime learning to ignore this understanding.

We accept the bill of goods that seems to come with a modern, technological society.

We work hard to succeed. Our motivations vary. Some of us do it for recognition. Some for the money. Some strive for a sense of security. Some do it just because it seems to be the right thing to do.

As old age, and our own mortality, approaches, we begin to regain some of that youthful understanding we lost.

Grandparents seem to regain it completely. Put them with their grandchildren and watch. They know how to spend their time.

If you ask an eight-year-old if he would rather have air conditioned comfort this summer or his dad home from work an hour earlier each day for a game of catch, he would probably pick the game of catch.

Kids know what is important.

It is easy for mom and dad to forget though. The rat race does that to you. You've got to put food on the table. There are necessities that no one can deny.

But life is an unforgiving poker game and you never know when the dealer is going to cash in your chips.

It is a simple game. Every day you have to spend 24 hours of your time.

How you spend it is up to you.

The hard part is drawing the line. When have you worked enough? How much money do you really need? When have you attained "security?"

These are tough questions.

Obviously, you have to draw the line at some point.

The question is where?

Unfortunately, I don't think that there is a generic, one-size-fits-all answer.

But I do know that it is awfully easy to get wrapped around the axle chasing success — however you measure it — and wind up spending too much time on something that looked important but wasn't.

Now I'm not arguing that work and ambition are evil.

Work is good. But it has to be kept in perspective. It is the perspective that sometimes eludes us.

In the long run, most of what we count as success will turn to dust.

Forty years from now, it really won't matter how successful I was past putting bread on the table and keeping the roof patched. It won't matter if I ended my career a famous writer or a hired hand on a roofing crew.

What will matter is whether I was a good father, a good husband, a good friend, and a decent person. And these endeavors take time. Time that can't be spent at work.

In these endeavors there is a chance to influence the next generations. A chance at greatness and immortality far outlasting any material monument you might build to yourself.

A chance to make a difference in someone's life. A chance to make someone happy by giving a gift that is truly worthy.

And a chance at happiness.

EDITOR'S NOTE: Smokey Briggs is the editor and publisher of hte Pecos Enterprise. His e-mail address is: smokey@pecos.net
Our View
July 4th — courage celebrated
The 4th of July is a grand holiday.

It is possibly the most universally celebrated holiday in America.

Americans from coast to coast mark the day with every type of festivity a person can imagine. Parades, foot races, picnics and even rodeos are held as part of the festivities.

And you can't forget the fireworks, family get-togethers and the food.

It is good that Americans mark this day with such enthusiasm.

No single day is more significant in the history of our country.

But in the middle of all the celebration, it is important to remember just what we are celebrating.

It was a somber mood that hung in the air on that first July 4th.

Men were committing treason. It was a hanging offense as it is today.

And yet, on the firmness of their beliefs, they clearly signed their names to the Declaration of Independence.

Considering the success rate of most rebellions, the signers had to believe that they would loose the coming war with Britain.

And that when they lost they would probably be hanged as traitors.

They signed the document anyway.

Their signatures are mute testimony to their courage.

Courage worthy of a nation's gratitude and of a grand celebration.
Your View
Golf operations net very little income
I have been reading, with much interest, the ongoing proceedings regarding the golf operations at the county golf course. I was a member of the Professional Golfers Association for almost 20 years. I think this gives me enough expertise to comment on the situation, even though I haven't been around the local course there for a long time.

To the Reeves County Commissioners: Gentlemen, "If it ain't broke, don't fix it." In my opinion, you have completely ignored the wants and wishes of the citizens that support the golf course. Wasn't there an advisory committee formed to tell you what they felt was in the best interests of the course regarding Royce Cassell and the golf shop concessions? Did you ever listen to what they were trying to tell you? To, basically, oust Mr. Cassell from the golf shop can be described as a travesty, even though Mrs.. Cassell will, most likely, privately admit you did him a huge favor. Just think about it. His finances are no longer tied up in an investment that, probably, netted him very little income.

Gentlemen, it is obvious you know absolutely nothing about running a golf course operation. Remember, sometimes the cheapest isn't the best. Did you not renew Mr. Cassell's contract because of beaurocratic favoritism? I think there should be a number of people watching this "bidding process" with great interest. I honestly can't think of any qualified golf professionals that would want the job, should they have to work for a commissioner's court as shortsighted as you seem to be.

BILL MERRITT

Plano, Texas
East side highways also need repaving and repairs
I am writing this letter because I feel that myself, along with many people that live on the East side of town, which is considered the "Barrio", agree that a lot of emphasis is put into the 4th of July holiday. Of course, this is one of our national holidays and I am an American and I honor this tradition with great devotion. Since I am also Hispanic, I believe that we who live in the barrio also expect the same attention to our part of the city as the west side.

To get to my point, is that every year, the departments of the city, county and state go to great extremes to beautify the city of Pecos look inviting to all who come from near far to participate in the activities that go with the West of the Pecos Rodeo tradition.

I noticed that there were people actually out there on Hwy 80 (Third Street) cleaning up and doing what they do once a year when 4th of July comes around. Many times have I addressed this in letters to the editors before, but never has anything been done to remedy the situation. How long has it been since Hwy 80 been repaved all the way to Hwy 17, (Balmorhea Hwy)? And also, how long has it been since Hwy 285 (Carlsbad Hwy — Cedar Street) been paved all the way to Interstate Hwy? Oh! Did I forget to mention also the paving of Eddy Street all the way form one end to the other?

If you catch my drift, then you'll also ask yourself the question, "Don't we who live on the East Side pay highway taxes also?" Also, "Aren't we entitled to have our streets and highways on our side of town, leveled and paved also, as are the ones on the West Side?"

Please don't think that I am trying to be prejudice, nor that I want to stir up any trouble, but all I am asking is that we should be considered as part of the city (equally) and that we are entitled by law to the same conditions for repair and maintenance of our streets and highways as the rest of the city. I didn't mention Second Street, but it, in itself is due for major repairs and maintenance as a lot of big trucks use it as a truck route and the speeds obtained on that streets is very badly abused. Some time, ago, very recently a man got killed on that street and a stop sign had to be put to slow down the traffic.

In closing, I would like to say, that I am not pointing any fingers at any one or any ones department, but if indeed someone could take the time to look into the situation and come up with some acceptable resolutions to remedy the problem, please do so, as it is about time something was done. To all our politicians who run for office and those who are in office, let's not forget that you have a duty to this city and need to take action on it, because the same way that you got that position, is the same way that the people can get you out. Remember, "We The People, For The People". Thank you for your time and for the freedom to say what I had on my mind. I am just trying to help, my people, my Barrio! Peace!

ISRAEL MATTA
<!==========end copy==================>
---
---
Pecos Enterprise
York M. "Smokey" Briggs, Publisher
Peggy McCracken, Webmaster
Division of Buckner News Alliance, Inc.
324 S. Cedar St., Pecos, TX 79772
Phone 915-445-5475, FAX 915-445-4321
e-mail news@pecos.net
Associated Press text, photo, graphic, audio and/or video material shall not be published, broadcast, rewritten for broadcast or publication or redistributed directly or indirectly in any medium.
We support Newspapers in Education
Copyright 1999 by Pecos Enterprise
---