|
Daily Newspaper and Travel Guide
for Pecos Country of West Texas
Opinion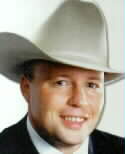 Sage
Views
By Smokey Briggs
<!=====paste copy here==========================>
Tuesday, June 29, 1999
Never commit when you're
not willing to follow through
We have set a dangerous precedent in Kosovo. A precedent that threatens to undermine our future foreign policy and make us hypocrites in the eyes of the world.

What we have asserted is that we have the moral authority to dictate to free people in sovereign nations who they can elect to be their head of state.

With Kosovo we did just that.

We stated that we did not approve of President Slobodan Milosevic and told him to cease and desist the policies that insulted our sensibilities.

He did not.

We then spent billions of dollars trying to bomb Yugoslavia into the stone age.

Now, while we have to some degree had our way — the Yugoslavs have pulled out of Kosovo— we have put a bounty on Milosevic's head.

It is payable when he is removed from office, tried, and convicted as a war criminal. (Our own Department of Justice instituted this KGB-like act of terrorism. )

For the I'm-okay-you're-okay crowd, it is a great, almost bloodless victory (We don't count the nasty ol' Yugoslavians that got blasted.)

I really don't have a problem with the tactics involved here. I am a firm believer in the use of force to accomplish objectives.

The problem is the precedent we've set as to when we will use force and risk American lives.

The sole basis for the United State's actions was our moral outrage.

No American assets were in danger. American defenses were not threatened. Allies were not calling for help.

This bad actor wasn't messing around in our sphere of influence (North and South America). We just didn't approve of what he was doing.

Milosevic is bad, we said. He is hurting people. Killing them, we said.

Okay.

So now we are Super Uncle Sam, savior of those oppressed. Helper to those without democracy . Destroyer of those with democracy with the bad taste to elect the wrong guy.

Especially if we don't approve of his methods of putting down a rebellion waged by a guerrilla army that tore a couple of pages out of the Viet Cong manual on waging a clean war.

So where do we go from here? We have made a very strong statement.

President Clinton himself proclaimed to the world that this type of brutality would not be tolerated by the United States.

So watch out al l you petty dictators in Africa. Same goes for you guys in Viet Nam. North Korea has to be on this list. Same with China. We all remember Tien'anmen square. Nothing has changed in China since then. People are dying. And Ireland. Ah, the Emerald Isle. Long the oppressed slave of Great Britain. Somebody call the IRA. As soon as we're finished helping the KLA, we'll be sending a few million tons of ordinance their way to help them in their struggle.

Surely Prime Minister Tony Blair (of England) will understand. We're only following the precedent Mr. Blair argued to create in Kosovo.

Of course none of this will happen. The price in money and lives would be too high.

The American people would squeal like the proverbial stuck pig.

Heck, we would have to re-institute the draft. (Not that the draft is a bad idea though.)

What will happen is that Kosovo will become another Bosnia. A shell of country with a simmering problem kept under control by contingents of foreign troops.

And another rat-hole to toss tax money down and the occasional American soldier's life or limb.

Economic recovery will be a joke. Who is going to risk their money in country so unstable as to require a NATO peace-keeping force.

Last time I checked, venture capital wasn't flowing into Bosnia.

Worse, America's image is tarnished. Our word is not as good as it used to be.

We are left in the position of moral cowards only willing to intervene and "do the right thing" when the cost looks low enough.

That is why historically, foreign policy decisions were not made according to touchy-feely, it makes me feel good, criteria.

Or even on the basis of morality.

Instead, the cold, hard facts were weighed in terms of America's interests (financial and military) and our previous commitments with our allies.

With this tried and true method you have a consistent, sound set of rules that define when American lives and assets will be risked and when they will not.

And America is not put in the position of making boasts that we have no intention of fulfilling.

EDITOR'S NOTE: Smokey Briggs is the editor and publisher of the Pecos Enterprise whose column appears each Tuesday. He can be e-mailed at: smokey@pecos.net
Your View
Responsibility needed
throughout the holiday
The Fourth of July weekend is a great time to get together with family and friends and celebrate American's birthday. But when it comes to drinking, Independence Day does not mean independence from responsibility.
Million of adults enjoy a cold beer at family barbecues. It is part of the July 4th tradition. Rio Pecos Sales Company and Anheuser-Busch encourage adults who choose to drink to also choose a designated driver for the ride home.
We all want this holiday weekend to be a fun and safe one. Part of good times means remembering to "Know When to Say When."
Sincerely,
MIKE DUNAGAN
President
Rio Pecos Sales Company
Critic's Corner
Rags to riches on the Internet

They weren't really in rags, but fraternal twins Jason and Matthew Olim started one of the early Internet successes in their parents' basement, selling music on compact disks online.
Frustration with his search for a specific type of song by a favorite performer and a store where he could listen to a clip of the CD, Jason Olim considered several sales methods before turning to the Internet.
In the days before Internet was cool, Olim decided to set up a computer that anyone could access and search for music by title, author or performer in a variety of categories.
Brother Matthew spent hours at the computer writing programs that would be user friendly, making it easy to locate and purchase CDs online.
Taking turns at the computer, the twins worked around the clock to build the business they named Cdnow. When it outgrew the basement, they moved to an old house and added a few friends as employees.
Today, CDnow is the most successful music store in the world, grossing $20 million in sales the first half of 1998. Jason Olim tells how they did it in a new book, "The CDnow Story: Rags to Riches on the Internet."
Peter Kent, author of 36 computer and business books, worked with the Olims to get their story in print. Published by Top Floor Publishing, the paperback sells for $19.95. Visit http://TopFloor.com/cdnow for more information. ISBN: 0-9661032-6-2.
—Peggy McCracken

<!==========end copy==================>
---
---
Pecos Enterprise
York M. "Smokey" Briggs, Publisher
Peggy McCracken, Webmaster
Division of Buckner News Alliance, Inc.
324 S. Cedar St., Pecos, TX 79772
Phone 915-445-5475, FAX 915-445-4321
e-mail news@pecos.net
Associated Press text, photo, graphic, audio and/or video material shall not be published, broadcast, rewritten for broadcast or publication or redistributed directly or indirectly in any medium.
We support Newspapers in Education
Copyright 1999 by Pecos Enterprise
---