|
Daily Newspaper and Travel Guide
for Pecos Country of West Texas
Opinion
Tuesday, June 15, 1999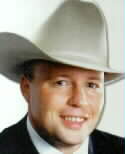 Sage
Views
By Smokey Briggs
<!=====paste copy here==========================>
Republicans and Democrats
— same false promises
I don't understand.

Why is it, that with two major political parties, we can't come up with a better solution to our social problems than a direct attack on the very liberties we profess to hold dearest to our hearts?

In the wake of the Littleton, Colorado high school shootings Washington is in a frenzy.

The Democrats are ready to start melting all the guns down in a furnace and the Republicans are ready to start throwing books in the same fire.

The Democrats jumped on the band wagon first. Guns are the problem. Get rid of the guns and we will be safe.

The Republicans didn't waste any time either.

They're playing the same tune with different lyrics — violence in books, movies, video games and on the Internet is the culprit.

Break out the censors and the world will be safe.

Perfect.

Washington has found the solution to all of our public safety concerns.

All we need to do is scrap the First and Second Amendments to the Constitution.

Of course, both of these camps are operating under the theory that you can sacrifice a little freedom and gain a little public safety.

Too bad this idea is nothing more than fool's gold glittering at the bottom of a dangerous cliff.

You cannot trade freedom for safety. Such a trade is a dangerous illusion.

Humans are ingenious little creatures with a tremendous ability to hurt each other.

Gun bans don't produce a decrease in crime. Witness Great Britain and New Zealand.

Both have virtually banned the private ownership of firearms. Violent crime in both countries has soared since the bans went into effect.

Crooks like unarmed victims. So do dictators. Duh!

Attacking books, video games and movies is just as flawed. The main problem of course, is who gets to decide what is too violent.

The author's of the First Amendment knew too well that such decisions were best left to the individual if freedom was to flourish.

Even if you could purchase a degree of public safety with the sacrifice of basic freedom, the trade is a poor one.

History is full of the tales of people who understood what it was like to be deprived of freedom, and who were willing to risk everything, including their lives, to obtain what we take for granted everyday.

Freedom is a rare and precious gem. And once lost, it is not easily recovered.

Americans of generations past knew this.

They also knew that freedom had a price. Unfortunately for us, that price cannot be paid in a single lump.

Freedom demands installment payments. We will have to pay our share as a society and a generation. Every generation will. Our fathers and grand father fought Nazis and Communists. We may have to fight a less tangible enemy — our own fear.

Or, we can decide the cost is too high and trade our freedom in on the hope of a little more safety.

A hope of safety that history and common sense tells us is as false as the shine on the apple in the Garden of Eden.

A hope that could only be appealing to people who take their freedom for granted and who cannot imagine the indignity of life without it.

Editor's Note: Smokey Briggs is editor-publisher of the Pecos Enterprise. His e-mail address is smokey@pecos.net
Our View
Gung ho!
This Chinese saying is deeply embedded in the history of the United States Marine Corps.

Picked up by Marines stationed in China during the 1920s and 30s, it translates roughly as, "pull together."

Of course, some the meaning is lost in the translation. The phrase is more than the Chinese version of "heave."

There is an emotion expressed in, "gung ho." There is a spirit of teamwork — of community.

The Marines adopted the saying into their vocabulary as a fitting expression of their own esprit de corps and brotherhood — the Marine tradition of always, "pulling together."

Since then it has become a permanent part of the American vocabulary. Usually the word expresses a sense of team work and motivation.

Struggling communities all across the nation would do well to adopt this phrase and more importantly, the attitude that it communicates.

The interlocal agreement between Pecos City, Reeves County and the school district is a good example of just what can be accomplished when we all pull together.

The high school needs a new track desperately. The school district doesn't have enough money to cover the cost.

Under the agreement, the city and county will donate equipment, material and man power to help remove the old track and lay the new one.

With this help, the school district can afford the rest of the cost.

Pecos High should have a new track in the near future.

Each of these three entities need to be congratulated for pulling together in the interest of Pecos.

So gung ho Pecos. Gung ho.
Your Views
H. S. reunion proves to be success in Pecos
Last weekend the "49'ers" came to town for our 50th reunion. Didn't see a word about it in the Enterprise! Anyway - thanks to Betty Sue Payne Toone, Betty Daniel Cook, Eddie Daniel, Valera Teague Gatewood, Jim Ed Miller and all the others I may have missed who worked so hard to make this a success.

We have had several reunions in the past, but this one was really special. I tried to analyze why this class, and the others around it are so close; I finally decided it's because we not only went to high school together - we grew up together! I can't remember when some of these friends weren't there!

From some of my oldest memories these guys were around. We felt more like brothers and sisters. Sure we got mad at each other, and sometimes fought, but who didn't? We don't get mad now! All we felt toward each other now is love.

Thanks to all who put this on.

TOMMY BEAUCHAMP,
San Angelo
Critic's Corner
African American artists educate young people
A Drawing In The Sand: The Story of African American Art

Jerry Butler's king-size book about African American art is an attractive work for the coffee table. While it is meant for children, the story of Butler's artistic evolution is interesting for all ages.

My disappointment with the book is that it shows little of Butler's work, but includes many stories about other Black artists and their works.

Butler grew up in the segregated South in the 1950s, drawing pictures in the sand behind his house and dreaming of being the first African American artist. Only later did he learn about the long and beautiful tradition of black art that preceded him. His book tells both stories.

Part of Butler's mission in writing "A Drawing In The Sand" is to educate children and adults about the important contributions of African American artists. This he has done well.

Hardback, 9"x12", full-color illustrations, photographs, $24.95. ISBN 1-55933-216-6. Published by Zino Press Children's Books, P.O. Box 52, Madison WI 53701. email jmowris@zinopress.com. Available online from amazon.com

—Peggy McCracken
Into the path of Gods
The first installment of the Macsen's Treasure series is set in the turbulent 25-year period leading to Arthur of Britain's reign. Into the Path of Gods is the story of Marcus ap Iorwerth, Welsh spy and master of disguise, who seeks to prevent the age-old bane of warfare by sabotaging buildups of mercenary invaders and creating ways to unite feuding British political rivals.

If you can get past the strange names like Claerwen, an ethereal woman with the gift of visions who comes to share Iorwerth's dream of a united Celtic Britain, you might enjoy the tale.

The two become ensnared in a dangerous conspiracy involving the priceless sacred symbols of Britain's high kings, known collectively as Macsen's Treasure.

Celtic historian Kathleen Cunningham Guler used her research into Welsh culture and history to spin the novel. She is currently at work on the second novel in the four-part series.

Order from Bardsong Press, P.O. Box 775396, Steamboat Springs, Colo. 80477. Send $22.95 plus $3.95 s&h or call 970-870-1401 with credit card #.

Available in bookstores or online from amazon.com. ISBN 0-9660371-0-3. Hardcover, 416 pages.
Eyes of Prey
Barry Hoffman capitalizes on a much-publicized New York subway mugging/vigilante story to craft a fictional account of an abused woman's own war against subway muggers.

The second in a planned four-volume series of abuse stories uses so much vulgarity to disguise a vague and uninteresting tale that it turns off the serious reader in the first chapter.

Hoffman has worked with adolescents at Philadelp[hia inner-city schools for 28 years and claims to have met every type of student imaginable.

He had heard their stories of abuse, living in poverty and life in crime ravaged neighborhoods while seeing middle-class kids rebel with multi-colored hair and piercings, running away when not allowed to go on a date.

Kids hold nothing back if they trust you, Hoffman said. "Their stories are the backbone of fictional characters I've created."

The hardback is available at $35 from Gauntlet, 309 Powell Rd., Springfield PA 19064. ISBN 1-8887368-18-3.

—Peggy McCracken
Selling is not all that hard
Harry Frish uses the art of friendly persuasion to describe "How to Be a Super Salesman...and Still Respect Yourself in the Morning."

In his 12-chapter paperback, Frisch lays out in simple terms how anyone can develop into a salesman. In the first chapter, he debunks eight myths that most of us have heard about salesman: "they are born that way," "are pushy," "ability to speak well," "always in control," etc.

Then he outlines what a sale is, gives the five steps and tells how to follow through. Each chapter closes with a summary page that cements the information into the reader's mind.

In his conclusion, Frisch says "You can do it," and "The sky's the limit."

Available in bookstores nationwide, online via Amazon.com, or directly from the publisher. Call 888-0727-9992 or send $24.95 to STI Publishing, P.O. Box 4125R, Glendale CA 91222-0125. <!==========end copy==================>
---
---
Pecos Enterprise
York M. "Smokey" Briggs, Publisher
Peggy McCracken, Webmaster
Division of Buckner News Alliance, Inc.
324 S. Cedar St., Pecos, TX 79772
Phone 915-445-5475, FAX 915-445-4321
e-mail news@pecos.net
Associated Press text, photo, graphic, audio and/or video material shall not be published, broadcast, rewritten for broadcast or publication or redistributed directly or indirectly in any medium.
We support Newspapers in Education
Copyright 1999 by Pecos Enterprise
---