|
Daily Newspaper and Travel Guide
for Pecos Country of West Texas
Opinion
Tuesday, June 1, 1999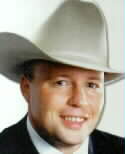 Sage
Views
By Smokey Briggs
<!=====paste copy here==========================>
Watching TV requires
no social interaction

Television is the anti-christ.
Well maybe not the anti-christ, but I bet it ranks close.
Over the last few years we have been given many reasons to ponder the current state of our culture.
From politics to grade school we are being bombarded with signals that our culture is evolving into something we do not know or like.
The grossly embarassing antics of our current president and the recent rash of school shootings are just the tip of the ice berg.
Turn on the television or pick up the newspaper and it is hard not to find someone searching for answers.
Well, I have one.
Turn off the television.
I know this seems like an overly-simplistic, technology-fearing, back-woods solution.
And it isn't a cure-all. But I bet it would make a big difference.
I came across a statistic the other day that Americans now watch an average of seven hours of television a day.
Seven hours! How do you do that and still work, eat and sleep?
Eight hours for work or school and eight hours of sleep and there are only eight hours left in the day.
Seven hours plugged into the tube and that leaves an hour for hygene and chores. Not to mention driving, going to the store....
Apparently, all we do other than work and sleep is watch television.
Television has replaced every other activity.
Now it would be impossible to list every social activity falling victim to this disease, but think about the almost institutional activities that are suffering from lack of support these days.
Church attendance. VFW meetings. Masonic Lodge meetings. Quiet evenings listening to your grandfather tell stories. Reading anything. Conversations with your neighbor over the fence. Evening walks. Kids playing anything other than Nintendo. Families talking to each other. Porch sitting.
And television has replaced these social activities with the ultimate anti-social activity.
Watching TV requires no social interaction. Unless you count fighting over the remote.
And look at we replaced all of these activities with — Oprah, Jerry Springer, endless one-dimensional news coverage, situation comedies that mock traditional values beneath a cloak of humor, and sports coverage of athletes that should have been academically disqualified in the eighth grade and now need to be in prison.
It is a poor trade for a culture.
Now I won't argue that every social activity is good. But somewhere we have to learn about who we are as a people — where we came from and what we want to be — both on a personal level and as a society.
We used to learn this from our family, our community, our church, and our neighbors. We used to learn it from people.
Now, we as a society, an especially our children, are learning all of this from a black box with a picture in it.
And we wonder why our children don't seem to have been raised in the same world we were, and why our fellow Americans act like hooligans with no sense of respect for themselves, their heritage or their neighbors.
The answer is simple — because they were raised and live in a different world.
A world were Oprah has more influence than Grandma and interacting with your fellow human beings is not necessary or convenient.
I won't even start on the anti-American, history re-writing, money-worshipping, athiest, psychos in charge of creating that world.
EDITOR'S NOTE: Smokey Briggs is the editor and publisher of the Pecos Enterprise whose column appears on Tuesdays. He can be e-mailed at: smokey@pecos.net
Your View
Unrestrained children face greater risks

To The Editor:
I have to agree with you on your comment that the government sometimes makes laws trying to regulate common sense. That, however, is the limit of my agreement on your Sage Views article in the May 25th's paper.
I've been in Law Enforcement for 25 years and teach officers how to drive in Emergency situations. Part of that training covers some interesting aspects on the dynamics of moving vehicles, kinetic energy, and the limitations of both the driver and the vehicle. If a person, either grown or a child, is involved in a wreck and they are not wearing a seat belt they can not simply grab the dash and stop their forward motion. At even low speeds they would have just as much luck jumping off a three story building and putting their arms out to stop themselves when they reach the ground.
I also do not agree that this law was arbitrary. Statistics show that six out of ten children killed in accidents were not restrained. In what category of numbers would you like your child to be in? In my personal experience, I have held too may bleeding and broken little bodies.
And as far as depending on parents to take care of their children just read the newspaper if you want to read about every conceivable example of parents not taking care of their offspring's. We see parents driving around wearing seat belts for their safety, yet will not provide the same protect to their children by placing their child in a seat belt or child seat. You said it is too hard to keep the child in a child seat for long drives. Who's in charge, the child or the parent? My wife drove 70 miles round trips to work every day when our kids were babies and they were in the car seat every second.
And finally, yes, it would be safer to leave the kids at home and never let them in the car. But really along those lines of thought it would be much safer not to have any kids at all
KELLY DAVIS
Reader praises tire business in Pecos

To The Editor:
I have written this letter to commend a business in Pecos.
Several months ago, I was experiencing trouble with the brakes in my car. Thinking it would be cheaper to have them repaired in a big city such as Odessa. I drove the 100 miles to Sears to have them give me an estimate. I was astounded to learn that it would cost me approximately $700.00 to have them repaired. Since my car is only two years old, I was reluctant to pay this. So, I drove back to Pecos and had Eagle Tire Take a look at my car and I was happy to learn they could do the work for $93.00. The staff at Eagle Tire was great, and they got the job done is less than an hour. I've learned my lesson, Bigger is not always better." Keep up the Good Work Eagle Tire!
SUSIE CARRASCO
Company teams up to combat drinking, driving
To The Editor:
Spring has sprung and the end of school year events are wrapping up. Young people here in Pecos will be enjoying this exciting time with family and friends. We and their parents can all take part in encouraging safe, enjoyable festivities this year by working together to help prevent underage drinking and drunk driving.
Rio Pecos Sales Company, a distributor of Anheuser-Busch, has teamed up with parents, educators, community groups, law enforcement officials and others to help prevent underage drinking and drunk driving. Parents can receive free guidebooks with tips on how to talk to kids about drinking. "Family Talk About Drinking" is a program that encourages communication about drinking between parents and their children. It is free simply by calling 915-336-5274. In conjunction with the guide, videos are available for anyone wishing to check one out on loan. Rio Pecos Sales Company has also provided our area retailers with materials that help servers identify a fake ID.
We have made tremendous progress as a nation in addressing the issue of underage drinking. According to the National Household Survey on Drug Abuse, drinking among teens (ages 12-17) has decreased 37% since 1990. Likewise, drunk driving fatalities have dropped 63% since 1982, according to the U.S. Department of Transportation. By working together as a team, we can continue these positive trends.
Underage drinking is a concern for us at Rio Pecos Sales Company. We, as parents and community members, share society's concerns on this issue and are doing our part to combat it and work for the safety of our customers and our children.
Sincerely,
MIKE DUNAGAN
President _ Rio Pecos Sales Co. <!==========end copy==================>
---
---
Pecos Enterprise
York M. "Smokey" Briggs, Publisher
Peggy McCracken, Webmaster
Division of Buckner News Alliance, Inc.
324 S. Cedar St., Pecos, TX 79772
Phone 915-445-5475, FAX 915-445-4321
e-mail news@pecos.net
Associated Press text, photo, graphic, audio and/or video material shall not be published, broadcast, rewritten for broadcast or publication or redistributed directly or indirectly in any medium.
We support Newspapers in Education
Copyright 1999 by Pecos Enterprise
---