|
Daily Newspaper and Travel Guide
for Pecos Country of West Texas
Opinion
Tuesday, May 11, 1999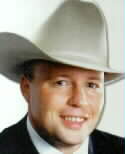 Sage
Views
By Smokey Briggs
<!=====paste copy here==========================>
Life is in
the doing
We put in the garden this weekend. The experience affirmed the fact that if I die an untimely death my beautiful bride will have no trouble finding work — as a teamster.

She can work a man like a rented mule.

Worse, she is teaching my beautiful daughter to follow in her footsteps and young Ruby dutifully runs to fetch mama when dad leans on his hoe for too long.

Now there are plenty of writings that extol the virtues of a simple life and manual labor. This is not intended as such. Although well intentioned, such works often verge on being hypocritical — usually written by guys like me who don't lift heavy things for a living.

But this weekend affirmed a few things for me.

Most are ideas that I've thought about before but that came home to roost one more time.

First, as the sweat dripped into my eyes and stung my blisters, and I found myself enjoying most of it, it occurred to me that the best parts of life occur when we are doing something and not when we are receiving the reward for doing it.

Although I like to eat purple hull peas and fresh tomatoes, the planting is better than the eating.

There are lessons to be learned in all kinds of doing. There are lessons in the dirt you turn and seeds you plant.

Every year the act of planting a seed reawakens the awe I felt the first time somebody explained to me how plants came about.

One seed + dirt + water = a living plant. What an equation.

Life is like that. Terribly simple at first glance but perhaps complicated past understanding.

Which brings me back to "the doing" part.

I don't understand why, but happiness seems to a byproduct of doing. Not of success or wealth, but the simple act of doing something.

The happiest and best people I've ever known were doers. They were people who always were up to something.

It doesn't seem to matter what, as long as there is an importance for the doer.

Which brings me to my second realization. As I pointed out the spots for Ruby to dig, I realized that in the grand scale of things, most of the things we do are about equal in importance.

Long term, helping a near two-year-old plant a corn seed probably ranks equal to presiding over a $2 billion business deal.

Okay, maybe planting the corn is a lot more important but you get what I mean.

These days it seems like many of us spend a lot of time pondering the importance of what we do — and often coming up short in our own minds.

I think it leads to a lot of depression.

It boils down to one question — why am I here?

And when you boil it down to that, planting seeds or hoeing weeds suddenly seems to gain in importance.

No one has ever satisfactorily answered that question for me. I'm not even sure I'm supposed to know the answer.

Which brings me to my third realization — it came to me right after I stuck a sliver of wire into my thumb.

What we are doing today is probably a lot more important than what we accomplished yesterday.

Not that yesterday wasn't important, but it is gone. Our success or failure is nothing more than a memory.

But today is a new opportunity. An opportunity to do something.

In the end, whatever we do will probably be as important as anything else.

The only thing of real importance being that we did something.

That we were active participants in this world and not spectators.

And in participating, I think we find the unexplainable joy of life.
EDITOR'S NOTE: Smokey Briggs is the editor and publisher of the Pecos Enterprise whose column appears on Tuesday. He can be e-mailed at: smokey@pecos.net.
Our View
Congratulations to the Pecos Eagles teams
Winning certainly isn't the most important thing kids learn playing sports.

The most important lessons athletics teach can be learned on teams that go undefeated — and teams that go winless.

But, it is good to see hard work and effort pay off. It doesn't always happen, but when it does, it deserves mention.

That said, a hearty round of congratulations are due the Pecos Eagle varsity softball and baseball teams.

The girls' softball team made the playoffs this year for the first time in their two-year history — no small feat for so young a program.

The varsity baseball team will start the playoffs with a record-setting 12 straight victories Friday night.

Success is not always a measure of hard work and dedication. There are a lot of teams that work hard and sacrifice and don't win and don't make the playoffs.

But most teams that are successful certainly have put in the hard work and dedication necessary to win.

It is good to see it pay off.

So congratulations Eagles.

And beat Plainview!
Your Views
The good, the bad and the ugly about Pecos
The good things about Pecos are that there is hardly any violence here and you don't have to be scared while you walk home. I know if I lived in a bigger city than Pecos I probably would have been killed by now. It is a small town but this is also the town where I was born and raised, this is what I call my home town. Whenever I leave out of town I am glad to leave because there is hardly anything to do here. But whenever I get back it feels like I haven't been in Pecos forever. We also have the best cantaloupes in the world, the cantaloupes are so sweet and juicy that it is bought all around the world. The cantaloupe packing company packs and ships all over the world. Prince Charles is among one of the customers of our famous cantaloupes. The museum also has a lot of old ancient things from the past. The West of the Pecos Rodeo is a big event in our town. It lasts for a week. This event takes place during the fourth of July holiday. We have an Annual Health Fair at the Reeves County Hospital, local doctors are available for consultation and advice. Trained medical personnel will give tests for reduced prices, things like blood pressure, blood sugar level, cholesterol, eye exam, hearing exam and dental exam.

The bad things about Pecos are that whenever something wrong happens to anybody or you mess up the whole town will know about it the next day. Dialy newspaper, radio or gossip, by the time it goes around the town, it's been exaggerated ten times or more. There is nothing to do here anymore because the economy has gone down and because of this a lot of things have closed down. Another bad thing is the use of drugs that are on the streets. There are no jobs available and people have to leave to find work and to support themselves.

The ugly thing about Pecos are that the weather is very hot and dry. It hardly ever rains, and all we have is dust storms. Abandoned buildings and houses are sore eyes for our community. People here are such litter bugs, they are so lazy that they can't even use a trash can, they just litter on the streets or wherever. The heat keeps the trees, flowers, grass and other foliage from being abundant or green, so it gives our town a dusty and dull look about it.

So in conclusion the good things about Pecos are that we have the best cantaloupes in the world, also it is a small town where I know everybody, we have a terrific museum which gives the history of our city and we have the World's First Rodeo. The bad things about Pecos are that you can't keep a secret because the next day the whole town will know about it, also the drug problems are really bad. The ugly things about Pecos are the weather, heat and the abandoned buildings, litter and last of all dust.

Thank you for listening to my speech, I hope you enjoyed it as much as I enjoyed doing it.

CATARINO ORONA
8th Period Speech
Dairy Queen staff thanks all who helped
We, the staff at Dairy Queen would like to say thank you to everybody who donated their money to the Children's Miracle Network on Saturday.

Our goal was to collect $350. well, with the generousity of the people, we collected $550.

We would especially like to say thank you to Edward Palomino, Victor Reyes, Gigi and Manda Jaramillo and Frido Najar in taking your time to help us to get this project inderway. God bless each and everyone.

Thank you
THE STAFF OF DAIRY QUEEN
Book depicts horrendous story about prisoners
As you no doubt recall, World War II ended in Eupore on the 8th of May 1945. One month prior the end of life began for many German soldiers. A totally new kind of war erupted which was deliberately and secretly carried out by the French and United States Forces in Europe. A war so reprehensible, so cruel and so inhumane that had the atrocities been made known to us as Americans and Christians we would have stopped them immediately. As it turned out it was nothing short of murder.

Looking back, the American Forces under the command of General Dwight D. Eisenhower had approximately two hundred encampments in Germany, holding some three to four million captured enemy soldiers, including a few civilians.

Normally when soldiers are captured they are placed, under guard, in prisoner of war camps, given prisoner of war status and are treated according to the rules of The Geneva Convention which was adopted way back at the time of World War I. Eisenhower however, in his utter hatred of the Germans wrote his own rules and labeled the prisoners of war as "Disarmed Enemy Forces (DEF)." In doing so he took away their rightful status as "Prisoners of War (POW)".

General Eisenhower deliberately ordered the reduction of their rations several times until the amounts were so low as to be insufficient to sustain human life, even though there was a huge surplus readily available for this exact purpose. He also put a stop to the aid that the Red Cross was trying to give. He also withheld medicines and medical aid for the wounded. Although there were many tents in warehouses he did not allow them to be distributed for shelter.

Many thousands of these men were handed over to the French Forces so they could be used as laborers in reconstructing their war damaged country. Untold thousands of these prisoners were already so starved and near death that they could not work.

All of the above actions were approved by President Roosevelt, Prime Minister Churchill and the Combined Chiefs of Staff which consisted of the American and British military and government hierarchy (the Canadians being represented by the British).

This horrendous story, which some are still trying to cover up, is told in a book entitled "Other Losses" by author James Bacque. All incidents and accounts are very well verified and documented.

I cannot give you in this short letter all of the incidents given in the book showing how the Americans and French so casually annihilated about one million human beings. The book is readily available at your book store and is quite inexpensive.. so read for yourself.

Let me make it very clear that I in no way endorse what the Germans did in their numerous concentration camps... I have been in Dachau so I have seen what they did... that is an entirely different subject than what I have just written above.

I feel however, that I should add... perhaps we ended the nuremberg trials too soon!

SINCERELY,
AL TILLMAN, SR.
Dayton, Tx.
What is wrong with our killer kids?
Ask all 270 million American the ever-pressing question "What is wrong with our killer kids?" and you would get 270 million answers, all of which would be right to a certain extent. Here is mine, backed up my some proof. What is wrong with our killer kids?

Too many bad dads. One case is point: One 12-year-old Texas boy a few years back: "My daddy is in the penitentiary and I want to be down there with him".

This goes to show that everybody is a roll model for somebody, for good or for ill. Not only so but half of America's children have only half a home. (check it out.)

Not only so but it is not their fault tat daddy and mommy split. I fit was their fault it was because daddy and mama did not raise them right. And say like daddy or mommy or both are not fit to be around. Even then kids are more than willing to give them a chance. Another case in point: Cal Farley of the Boys' Home near Amarillo tells of how many boys (especially the smaller ones) would sneak back home hoping that things would someday improve.

Speaking of role model sit took me almost 40 years teaching to learn that the very finest kind of role models were sitting out in front of me. Kids. The younger the better, preferably the fifth grade. (This not to say high schoolers are not great too. It's just that they have to run through the gauntlet of sixth, seventh and eighth grade.)

As regards the little ones that do not hate people they have never seen. Not only so but they will forgive you so quick it will make your head swim. (So you see, Jesus had a point when he said "Unless we can become as little children our chances of winding up there with him are slim.)

Finally, three short, simple standards for us to live and die by were written by Edgar A. Guest, a country boy type poet whom the big boys looked down on:

I shall have failed today
If I should leave behind
A single soul to say
That I have been unkind
A failure I shall be
Past help beyond repair
If one can say of me
That I have been unfair
Though fame may come my way
And great things I may do
I will have failed today
If I have been true.

It conclusion, say like every person on earth was to make one true friend. Just one. That would make for 270 million friends, accounting for 270 million role models. Role models true friends do not lie, steal, betray or double cross one another (Check it out. Friend. It takes one to make one.)

PAUL PATTERSON <!==========end copy==================>
---
---
Pecos Enterprise
York M. "Smokey" Briggs, Publisher
Peggy McCracken, Webmaster
Division of Buckner News Alliance, Inc.
324 S. Cedar St., Pecos, TX 79772
Phone 915-445-5475, FAX 915-445-4321
e-mail news@pecos.net
Associated Press text, photo, graphic, audio and/or video material shall not be published, broadcast, rewritten for broadcast or publication or redistributed directly or indirectly in any medium.
We support Newspapers in Education
Copyright 1999 by Pecos Enterprise
---