|
Daily Newspaper and Travel Guide
for Pecos Country of West Texas
Opinion
Tuesday, April 20, 1999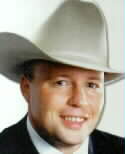 Sage
Views
By Smokey Briggs
<!=====paste copy here==========================>
Marines know how
to teach respect
Whoever is supposed to be standing guard duty fell asleep and a bunch of morons have slipped past the gate.

These infiltrators have apparently disguised themselves as competent human beings and infiltrated many positions of bureaucratic importance.

Some of these infiltrators apparently have some influence over our armed forces.

I received proof of this in the mail yesterday in the form of a military press release.

Newspapers receive a lot of press releases. Many are from the military announcing the enlistment of a local youngster just out of high school, or announcing a local boy's promotion and transfer in duty station.

We print every such release we get — with pride.

Most of these releases are simply short briefs that detail the new enlistee's name, home town, where he will attend boot camp, and often a short recital of the main topics of boot camp instruction — military courtesy, physical fitness, first aid, marksmanship, history and traditions, special training in human relations...

What?

Special training in human relations?

I had to reread the release three times to make sure my eyes weren't playing tricks on me.

Much to my dismay, the old eyeballs were relaying the words back perfectly.

One course of instruction this young warrior is going to receive is, "special training in human relations."

There is an email address for the service that provides these press releases so I dropped them a line asking for an explanation of, "special training in human relations."

I got a prompt reply:

"Human relations is essentially teaching everyone to survive in an atmosphere of mutual respect in a world where everyone comes from different cultural backgrounds. Or, in the words of Rodney King, `Can't we all just get along?'"

I had to reread this response a couple of times as well. I really thought it might be a joke.

It was not.

Now the basic theme here is hard to argue with. Respect for our fellow man is an admirable goal.

It is the probable methods of teaching that I have the most heartburn over.

Some how, I don't think that the course of instruction instituted by the Army does anything more than pay politically correct lip service to this goal.

I would bet that the entire program was created by a slump-shouldered, weenie of a guy with the mental fortitude of a field mouse. The kind of guy that couldn't earn the respect of a girl scout troop, much less that of a bunch of 18-year-old kids training to kill this nation's enemies.

Hence, I doubt he knows much about what it takes to instill respect in these same young men. (I am intentionally leaving out reference to women serving our country simply because they do not serve in the combat arms.)

From the reply I received to my email, I imagine that the whole program consists of a politically correct chanting of, "I'm okay, you're okay, we're all okay," or something like that.

From what I've seen of the world, this is nothing more than a waste of valuable training time.

Respect is a concept that can be taught to some degree, but generally must be earned. There are different types of respect, some teachable if the student is interested or if the teacher has a big enough stick, and some not.

My wife earned my respect as a person early in our relationship although I was taught to respect women at an early age. It was one of the things that drew me to her.

My father earned my respect early in my life and continues to do so.

Senior Drill Instructor Staff Sergeant Wilson earned my respect early in our relationship as well. As did most of my fellow boots at the Marine Corps Recruit Depot in San Diego.

Staff Sergeant Wilson and his brother drill instructors were very knowledgeable in the earning of respect. I do not doubt that within one hour of their introduction to our platoon that every boot in the platoon held them as deserving of the greatest degree of respect.

Over the next three months I was privy to their teaching techniques on a daily, and nightly, basis. In the end, they had instilled a hearty degree of respect in all of us, not only for themselves, but for ourselves, our brother marines, our Corps, and our nation.

And yet, not once did we receive instruction on "human relations."

Rather, we received instruction on how to be good marines. We learned to shoot with a degree of accuracy envied by every other conventional fighting force on the face of the planet. We learned about the history of the Marine Corps. We learned how to maintain our equipment. We learned how to be marines.

In the end, we learned that there were really only three ingredients to leadership and respect — know your job, take care of the people you are in charge of, and act like a man.

Hardly a politically correct list of goals. But a very effective one. I have never seen it fail.

No matter the culture or race of other marines, when they accomplished these three, simple objectives, the respect of their comrades was always forthcoming.

The same principles seem to work just as well outside of the military.

Whatever the principles taught in "special training in human relations," I doubt it will be nearly as effective.

If it is simply a whining chant of, "Can't we all just get along?" — with no basis except an appeal to their humanity, it will be an abject failure. Because human beings don't come pre-programmed with an innate since of respect for each other.

And those most needing to have respect ingrained in their bodies will only sneer at such a weak appeal.

For the rest, it will be an exercise in preaching to the choir and a waste of training time.

In the end, it will simply be a waste.

Waste is not something the military can afford.

When the enemy is charging up the hill in such numbers that there are not enough bullets to kill them all, and the platoon sergeant screams, "Fix bayonets," over the din of the battle, I don't think that our soldiers will get any service from their "special training in human relations."

However, their confidence in their comrades, created during hours of practice with bayonets, may prove its worth.

Come to think of it, maybe Staff Sergeant Wilson did give us a couple of classes in "human relations," — my memory is a little foggy but I think it went something like this:

"Private Briggs, step into the ring, pick up that pugil stick and try to kill me." (Pugil sticks are semi-padded sticks used to practice bayonet fighting).

I learned a lot about human relations that day and a few things about respect as well.
Our View
Not in my backyard
Many times the choices offered up in life are not perfect. Usually when confronted with a less than perfect choice, we look for a better one. Sometimes there just isn't a better choice.

After 25 years of conflict, the Waste Isolation Pilot Plant in Carlsbad, New Mexico officially opened for business this weekend.

The plant is designed to take delivery of radioactive waste products that were contaminated during everyday operations at nuclear facilities.

Once delivered, the waste is to be stored underground — virtually forever.

WIPP is probably the best solution we've got to a problem that demands a solution.

Everyone agrees that this sort of waste has to go somewhere. The problem is always where?

The usual consensus is that such a facility is great, but nobody wants it in their backyard.

After 25 years of research and development, the residents of the region can rightfully hope that WIPP is a safe facility.

If it is, and it should be, then the WIPP site is a good solution to a serious problem.
Your View
Military officers intimidate people at meetings
Peggy McCracken's characterization of the interruption of my testimony by the presiding Air Force Officer at the low-level bomber public hearing was one-sided. I had opened the third time at the podium by stating that I was going to read a letter signed by the Reeves County Commissioners' Court and mailed certified on April 1, 1998 in response to the request in the scoping process for statements relating to environmental concern. The letter stated that the "Council on Environmental Quality Regulations state that local governments and the public have equal authority in the decision making process relative to all government actions relative to the natural and human environment. Therefore, we ask and require that you respond to the following requests for information and take account of our requirements stated in this letter regarding methodologies and perspectives on issues to be developed in the Draft Environmental Impact Statement and in the Final Environmental Impact Statement. We are, by this letter, notifying you that we require you to let us participate in approving methodologies, selection of studies, selection of organizations doing the studies, development of the DEIS, and approval of the FEIS." The Air Force has ignored this letter and our Reeves County government.

The presiding military officer disrupted my statement because he did not want further statements in the verbal testimony or in the hearing of the public clarifying that the Air Force is required by law to follow all the requirements of the Council on Environmental Quality Regulations and not narrow the interpretation of them to get the result they want. The presiding officer used a number of ploys to try to intimidate me: primarily the statement is too long, some of the audience had previously left, and the letter could be filed rather than read. Nine minutes in response to the inadequacies of several hundred page draft written by the Air Force is not "too long." Limiting the public to three minutes is a means of controlling what the public can say in response to the Draft regarding environmental issues. Mrs. McCracken's characterization that the officer "allowed" me to speak misses the point. Had he tried to prevent my speaking subsequent judicial review would have found he had compromised the process.

At the subsequent hearing at Alpine, an attorney challenged the rules the presiding Air Force officer tried to impose on the hearing. The presiding officer began to shout at the attorney over the microphone, and she continued to refuse to concede to his "rules." She told him that he knew less about the process required for these hearings than she did. An Air Force colonel tried to have her arrested, but after she told the police officer the facts, he did not choose to arrest her. It was a strategy of intimidation on the part of the presiding officer. It is difficult to have a fair process where the Air Force has both the role of advocate for its goals and judge over the outcome.

Some of the comments made to me by local people asking about the issue imply that "since it doesn't directly affect me, why should I care about the people under the noise and pollution?" The people of the Trans-Pecos are a part of each other. The well-being of the people of Saragosa, Balmorhea, Toyah, Orla, and Mentone in some measure affects you. Some may look at the well-being of these people as a sense of fairness and community, Others can view what is happening with a sense of self interest. These people have historically shopped and obtained services in Pecos. Loyalty runs both ways.

I urge those who are able to state issues of concern regarding environmental impacts should do so in writing to the Realistic Bomber Training Initiative office at Dyess Air Force base.

CLARK LINDLEY
Trucks are important part of the Pecos community
I would like to comment on the last city council meeting regarding the parking of cantaloupe trucks on private property.

There are twenty-one family families which own produce hauling trucks in Pecos. That's twenty-one families that live, work, vote, and pay property taxes here.

We also pay property taxes on those trucks. We also provide jobs during the harvest season to a few drivers. Now we have two City Council members who voted against letting us keep these trucks on private property.

Thankfully we still have three council members serving the whole community. Randy and Danny, did you ever ask any of us truck owners or drivers about this? Did you ever think about how your decision would affect us? Did you base your decision on one person's complaint? Do you serve the whole community or just a selected few?

Not all of us can afford a place out in the country just to park our trucks. Pecos is a farming, ranching and oil field service community. Trucks are one of many essential pieces of equipment needed to live and work here for some of us.

What eye sore is somebody going to complain about next? Housetrailers, utility trailers, tractors, oilfield roustabout trucks, etc...

JAIME SALGADO
Air Force keeps citizens confused and in the dark
Well, they did it again. The Air Force used their "open house" format for the public hearings to continue to keep the impacted citizens confused and in the dark on what the military has planned for West Texas. By not holding a real meeting where everybody can ask questions and hear everyone else's opinions, knowledge and experiences, the attendees only source of information is the smiling, charming public relations personnel whose job is to sell these proposals to an uneducated public.

The Trans-Pecos Protection Group attended the hearings in Snyder, Big Lake, Pecos and Alpine. The only areas that had sufficient notice that the hearings were even going to be held were where there was an active group of citizens in opposition to the flights that got the word out — the job the Air Force is required to do by the National Environmental Policy Act.

There were about 450 of us in Snyder, 41 in Big Lake (unorganized), 51 in Pecos (unorganized), and about 60 folks trickled in and out in Alpine where there was no advance notice of the format other than it was from 10 a.m. to 12 p.m. and 1 p.m. to 5 p.m. Some people came all the way from Sierra Blanca to attend only to find the Air Force had packed up, changed clothes and were loaded up to leave at 3 p.m. Over 700 people attended the Angelfire and Taos hearings.

Congressman Stenholm spoke at the Snyder hearing and a representative from Congressman Bonilla's office attended the Big Lake and Pecos hearings. Impacted counties were well represented by comments from county officials in Snyder, Big Lake and Pecos.

By the way... on April 19, a B-1B Bomber caused a sonic boom that "rattled windows from Idalou to far South Lubbock County, startling residents and prompting a flood of calls to emergency agencies." "...a few buildings sustained broken glass and dislodged signs." The boom shook cars and nearly knocked people out of their chairs.

We urge everyone to submit written comments to: Maj. Brent Adams, RBTI EIS Project Manager, HQ ACC/CEVPP, 129 Andrews Street, Suite 102, Langley AFB. VA 23665-2769. Your comments will become part of the Final Environmental Impact Statement and will greatly help future litigations to stop these unreasonable Low Level Realistic Combat Training Flights over the human environment.

For more information, please contact the Trans-Pecos Protection Group at (915) 364-2323.

KAY KELLEY
Alpine, Tx. 79831
Eyesores in Pecos need to be cleaned up
It is so sad that once again the City Council has disilusioned me with their vote to reject ban on parking.

We need to take pride in our community where does it start? I think it should begin with our town leaders. Does anyone really think that these big rigs parked around our community enhance the beauty of Pecos? This is definitely not the only eye sore in our town. We as a community should begin to look around and start trying to make a difference. I have heard many comments being made by people who have come back to Pecos after being gone for awhile. They wonder what has happened to our town. You look around and see broken beer bottles and trash thrown on our streets, play-grounds and parks. You see yards with weeds and trash.

It's a shame to see good leaders leave office because they cannot get the support they need to make a difference which would benefit our community. We wonder why no one wants to run for office. I wonder why anyone would want to.

Many good citizens are leaving Pecos. What can we do to bring people here and to keep good people. What happened to the plans to bring industry to Pecos?

Trying to have a town to be proud of is not only for one person or one group but, for the whole community.

I do think we should show appreciation and recognition to those groups who came together to clean up certain parts of our town. These are people who care and are willing to make an effort. If enough of us would follow their example we would have a community to be proud of.

NAME WITHHELD BY REQUEST <!==========end copy==================>
---
---
Pecos Enterprise
York M. "Smokey" Briggs, Publisher
Peggy McCracken, Webmaster
Division of Buckner News Alliance, Inc.
324 S. Cedar St., Pecos, TX 79772
Phone 915-445-5475, FAX 915-445-4321
e-mail news@pecos.net
Associated Press text, photo, graphic, audio and/or video material shall not be published, broadcast, rewritten for broadcast or publication or redistributed directly or indirectly in any medium.
We support Newspapers in Education
Copyright 1999 by Pecos Enterprise
---