|
Daily Newspaper and Travel Guide
for Pecos Country of West Texas
Opinion
Tuesday, March 30, 1999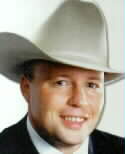 Sage
Views
By Smokey Briggs
<!=====paste copy here==========================>
"You've got to know
when to hold `em."
Life is a consequence. It is a consequence of the thousands of little and big decisions we make every hour of every day.

No one can anticipate every possible consequence to every minor decision. However, for the big decisions, the foreseeable consequences need to be weighed against the foreseeable gains.

Sometimes the possible gains just aren't good enough to justify the risk.

If you read my column last week you know that I think our military involvement in Kosovo is a foolish waste, among other things. If you didn't read last week's column, that pretty much sums it up.

So far we've been pretty lucky. I haven't heard of any American casualties. We can only hope that this trend will continue, but the numbers are against us.

Even without casualties, however, there have been consequences. Only a prophet could tell us what some of these consequences are.

Others may not be so difficult. One obvious consequence is that we have probably handed Russia and the rest of the old Soviet Union at least some of the technology that makes our "stealth" aircraft one of our best military hole cards.

To date, the United States is the only country in the world with this technology. And it is amazing technology. The aircraft are supposed to be nearly invisible both to radar and heat -based tracking systems.

All that probably changed last week when we crashed an F-117A stealth fighter in the Kosovo region. The Serbs claim to have shot it down. Our own officials aren't saying what brought the aircraft down. Thankfully, the pilot wasn't badly injured and a quick rescue operation brought him home.

But the wreckage of his secret jet remains in Kosovo — a country we have declared war on, and a country with very close ties to Russia.

The Russians may have had their share of economic troubles these last years, but they are not stupid. They are not slow to recognize a potential opportunity either.

I would bet my eye teeth that there were Russian teams standing by in Serbia or nearby, just in case we lost a stealth aircraft.

Of course, I'm assuming that the stealth technology really is a secret and the Russians haven't already figured it out.

Since they haven't fielded a stealth aircraft of their own, it seems likely that they haven't figured out what makes a stealth aircraft so stealthy.

I don't know what information could have been gleaned from the wreckage of the aircraft. I do know that with modern scientific techniques, an incredible amount of knowledge can be milked from seemingly destroyed objects.

At best, we have probably given the Russians important clues to the secrets of stealth technology.

At worst, the Russian Economic Development Corporation announced the grand opening of a new aircraft factory this week.

Either consequence is a poor result.

Considering — the risks involved, the proximity and relation of Serbia to Russia, the terrain and abilities of the Serbians, not to mention the political "objectives" of the war — risking the stealth technology may not have been worth the potential gain.

The long-term consequence of all of this is that we may have sacrificed one of our best hole cards on a penny-ante game.

History promises that one day, the stakes will be higher than they are in Serbia. When that day comes, me may regret that we already played our stealth card.

EDITOR'S NOTE: Smokey Briggs is the editor and publisher of the Pecos Enterprise whose column appears on Tuesday. He can be e-mailed at: smokey@pecos.net
Our View
College opportunity is good for Pecos
Pecos scored an important victory last week when the board of directors for Odessa College voted to bring a satellite campus to Pecos.

In the economic development battle this was a key victory for Pecos

With this campus, Pecosans will have easy access to quality educational opportunities that can open the doors to better employment.

Local businesses will also feel the impact as residents improve their job skills through courses offered at the campus.

For continuing economic development, the campus is an ace in the hole.

The presence of the campus will be an important selling point as prospective businesses look Pecos over.

Unfortunately, a Pecos campus isn't a reality yet. Although Dr. Norman Harris has donated the old White's building for the site, money still has to be raised to renovate the building.

Finding the money for this project should be a priority for all levels of local government, and for all citizens of Pecos and Reeves County.

In the mean-time, congratulations are due to everyone whose efforts have contributed to this project.
Your View
Kosovo air-strikes raise many questions
It would seem as though our president's standard of unguided knee-jerk reaction foreign policy has once again led us into yet another ill-defined military campaign.

As has become the Clinton Regime standard response to not getting his way with other world leaders he has once again pulled out his Aerial Campaign SOP.

With an initial attack by 100 Tomahawk cruise missiles closely followed by 400 attack aircraft, all aimed at the standard target package of air defense facilities, barracks, factories and communication sites, we will bomb another country into submission.

I wonder how these attacks are hampering the 45,000 Serbian troops deployed on the Kosovo and Macedonia borders? What will happen if even a portion of those troops initiate offense operations against our limited number of troops in Macedonia? What will the ramifications be if Serbian supporters in Bosnia begin guerilla operations against our ground forces on peace keeping duty?

Although Serbia's military has a limited number of M-84 (T-72) tanks, somewhere around 250 of them, those tanks are a formidable force in the region. They could inflict serious casualties on our forces before they were halted.
How long will the bordering nations allow hundreds of thousands of refugees to cross their borders, adding more stress to the neighboring populations already coping with weak economies and ethnic problems of their own?

The Yugoslavs are a proud people and as history has shown may not roll over easily. What action will we take if the bombing campaign fails to bring about compliance with NATO demands? Although Russia has said they will take no military action to aid the Serbians at this point how many times will the Russians allow us to disregard their opinions and wishes in dealing with problems so near their borders. If Boris Yeltsin is defeated by the rising nationalist hard-liner will the Russian Bear still remain silent?

If ever Clinton's foreign policy has landed us in the Briar Patch, this is it. In the event of any prolonged operation in the Balkan region a massive amount of our air power and logistical support is tied up. If Sadam should take this opportunity to create a little mischief we would be instantly faced with a two front conflict. Add to that a little China-Tiawan conflict and the situation would be completely beyond control. In the days of our ever shrinking military, and ever increasing deployments, could this turn into the straw that broke the Eagles back? Once again we have entered into another campaign of hostile action without a clear objective but merely a goal — hoping the other side will bend to pressure and meet our terms.

Will this be another campaign where we declare victory by saying we have sufficiently downgraded another countries offensive capabilities and really accomplished nothing or will ground forces be committed? NATO is already preparing a 23,000 man force for a ground contingency. In an already unstable region filled with ethnic and religious conflict, how much outside intervention can be taken before the whole region burst into flames. A push here and a shove there, followed by the dispersion of assets needed to protect the peace could provide a weakened force that might tempt any of the groups to initiate new hostilities.

If any of these possible scenarios come about, America will feel first-hand the effects of this ill-thought campaign.
Submitted by an active duty officer in the United States Army - name witheld on request.
Former resident enjoys gab page, web site
Have really enjoyed reading the paper and all the info in the Exes section since I found it a few weeks ago. My mother, who lives here in San Angelo now, usually gets a big batch of papers about 2 or 3 months after the fact, from Judy Weinacht, who gets them from some other friend.

By the time they get to me, they are well read! Since I found the Web site, I read most of the news daily, and print up part of it to take to her. I especially enjoy the Exes section, even tho most of the writeins are of a much later graduation date than we are.

Thank you,
Tommy Beauchamp
San Angelo <!==========end copy==================>
---
---
Pecos Enterprise
York M. "Smokey" Briggs, Publisher
Peggy McCracken, Webmaster
Division of Buckner News Alliance, Inc.
324 S. Cedar St., Pecos, TX 79772
Phone 915-445-5475, FAX 915-445-4321
e-mail news@pecos.net
Associated Press text, photo, graphic, audio and/or video material shall not be published, broadcast, rewritten for broadcast or publication or redistributed directly or indirectly in any medium.
We support Newspapers in Education
Copyright 1999 by Pecos Enterprise
---