NEWS PAGES
News
Sports
Lifestyle
Sports Scores
Texas Lotto
SPECIAL SECTIONS
Forum
Monthly
Living off the Land
Annual
Pecos at Work
Women in Business

ADVERTISING
Commerce
Bookstore
Classified
TRAVEL
Area Papers
West Texas
ARCHIVES
News Archive
News Photos
STAFF
Smokey Briggs
Jon Fulbright
Peggy McCracken
Rosie Flores

|
Daily Newspaper and Travel Guide
for Pecos Country of West Texas
Opinion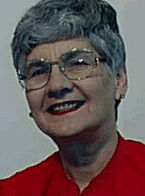 Squarely
Pegged
By Peggy McCracken
<!=====paste copy here==========================>
Tuesday, Jan. 5, 1999
Y2K problem will affect

everyone with computer
Can it be January 5, 1999 already? Just one more year to Y2K. Are you ready?

When I ask people if they are ready for Y2K and they ask, "What is Y2K?" I know they're not ready. For those whose lives do not revolve around computers, Y2K is shorthand for Year 2000. That's when computers that rely on a two-digit year will find themselves at year 00. And the computer is going to think that it is 1900, which doesn't exist in a computer's mind. So it may go belly-up. Or its software may have a hard time calculating ages, interest and other data that rely on dates.

Everyone in the computing world should by now have checked out the BIOS chip on their computer to determine if it will roll over to 2000 at midnight Dec. 31, 1999. And if it will not, then try entering Jan. 1, 2000 and re-booting the computer to see if it will hold the date. That's just the start, of course. It really gets complicated from there on in. Smart people probably will get a new computer and software that will work in the new millennium.

But what about all those machines that control our infrastructure? Like traffic lights. As I traveled to San Antonio over the Christmas weekend, I marveled at the hundreds of vehicles whizzing along, crossing over, turning, stopping and starting without crashing into each other. What makes that possible? Lights that turn green or yellow or red to signal when to start and stop. Most traffic lights are on a timer and some of those may be controlled by a computer. Suppose those computers are not Y2K compliant come Jan. 1, 2000? Will traffic grind to a halt? May be. And it may be that we will all relearn how to rely on hand signals for awhile.

Not only traffic, but all of law enforcement depends on computers. And if the lights go out as some doomsayers predict, officers may be faced with looting and increased crime in all areas. We may find greater restrictions on our freedoms for awhile. Which we will not like, but:

"To complain about the law is to praise wickedness. To obey the law is to fight evil." Proverbs 28:4, Paraphrased New Testament.
Editor's Note: Peggy McCracken is webmaster and reporter for the Enterprise. Her e-mail address is: news@pecos.net.
Our View
New publisher takes over at the Enterprise
People come and go, leaving their imprints on institutions which endure.

Such is the case with the Pecos Enterprise. A stellar group of publishers have taken their turn at the wheel of the newspaper's leadership over the years. Among the notable are Mac McKinnon, now publisher of the Fort Morgan Times in Colorado; Larry Jackson, currently president of the Texas Press Association; Ray Stafford, who is publisher of The Monitor in McAllen, Texas; and O'Farrell Pauley, who runs a business in Texas.

Now the mantle of leadership shifts to York M. (Smokey) Briggs who became publisher of the Pecos Enterprise on Monday. He joins a solid, dedicated staff, many of whom have long histories in the town and at the newspaper. With its struggling economy, Pecos is not an easy location to produce a daily newspaper, and the Pecos Enterprise is therefore all the more fortunate to have their services and their loyalty.

What changes when a new publisher comes on board? The more important question is what does not change. The Pecos Enterprise will continue to attempt in every way to publish a newspaper of integrity, of fairness, and of value to its readers and advertisers. If it is true that one is either a part of the problem or a part of the solution, it is this newspaper's endeavor to serve in the latter capacity.

Smokey Briggs welcomes the challenge to be an effective leader of the newspaper and, along with his wife, Laura, and child, Ruby Leigh, to be solid citizens of this community.
Your View
Former Pecos resident enjoys keeping in touch
Hello there dear Pecos residents,

I am just writing to say thank you for keeping me linked to my hometown. I moved to Wichita, Kansas almost three years ago and every time that someone would come visit, they would bring us a Pecos Enterprise. It put a smile to my face to see names and faces of familiar people.

Well, yesterday while I was searching the web, I decided to do a search on The Pecos Enterprise. To my surprise, I found the address, telephone number and directions on how to get there. I didn't, however, find an email address nor a web address. Well, I was still disturbed about not finding either because when I went back to visit my friendly town back in 1997, I remember that there was a booth at the Fall Fair and above it was a banner with an email address.

Determined to find this, I did another search using a different search engine. *Big smile* I found it! It put a smile on my face and I decided to email you to say thank you. Thank you for letting me stay connected to who I am and where I come from!

Mad about Pecos,
Angel Lozano
Kansas
Jones thanks newspaper for excellent coverage
I wanted to take the time to thank you once again for the fair coverage you gave me and my daughter Stephanie Urbina Jones during the past Congressional election in the 23rd Congressional District.

There are far too few newspapers left - but your paper ranks at the top in regards to being professional and fair. I hope you continue to prosper and that this paper continue to be an example to others.

CHARLIE URBINA JONES <!==========end copy==================>
---
---
Pecos Enterprise
York M. "Smokey" Briggs, Publisher
Peggy McCracken, Webmaster
Division of Buckner News Alliance, Inc.
324 S. Cedar St., Pecos, TX 79772
Phone 915-445-5475, FAX 915-445-4321
e-mail news@pecos.net
Associated Press text, photo, graphic, audio and/or video material shall not be published, broadcast, rewritten for broadcast or publication or redistributed directly or indirectly in any medium.
We support Newspapers in Education
Copyright 1999 by Pecos Enterprise
---