|
Daily Newspaper and Travel Guide
for Pecos Country of West Texas
OPINION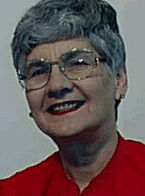 Squarely
Pegged
By Peggy McCracken
<!=====paste copy here==========================>
Tuesday, December 22, 1998
Ogre and the Angel poem
written for children
Just when I was wanting a Christmas column, the little poem below showed up in my e-mail box. Micheal Hardgrove of Wewoka, Okla. offered the poem for use in any way I see fit. So here it is. If you want to let him know you read it, his e-mail address istiwinke@renet.com.
"The Ogre and The Angel"
(Written by Micheal Hardgrove)
Once not long ago on a mountain far away,
A little angel called a little ogre out to play,
The Ogre lived there in a cave, alone and in the dark,
And when the Angel came to play, it blessed the Ogre's heart;
That's why the Angel was surprised to hear the Ogre yell,
"I don't wanna play today! I'm not feeling very well!"
The Angel flew down to the cave and called out once again:
"If you won't come outside, is it all right if I come in?"
"Oh, no!" the Ogre shouted and stepped back from her light;
The Angel knew a thing or two, and she knew this wasn't right;
She waved both hands, and suddenly the darkness left the cave,
(That's because bright magic happens when an angel waves);
When she peeked inside and saw him, she thought that she would cry;
Her friend, the little Ogre, had a big, black eye!
"I just fell down," the Ogre said. "Now make it dark again!"
The Angel said, "You shouldn't tell a fib to your best friend."
The Ogre turned away and said, "What makes ya think I'm fibbin'?
I don't have wings like you do to keep my feet from trippin'!"
"I only asked because I care," she said. "Don't get excited.
If you had only fallen down, you wouldn't try to hide it."
The Ogre said, "Okay, you win," and gave his eye a rub;
"I went down the mountainside and the Grumbles beat me up."
The Angel turned and flew outside, and the Ogre came along;
The Angel said, "It's just not right! In fact, it's very wrong!
I think I'll have a talk with them and ask them to be nice."
The Ogre said, "Oh, no! Not that! You can't talk to these guys!
If they find out I told you, they'll beat me twice as bad!
Promise me you won't go down and make the Grumbles mad!"
"It's okay," said the Angel as she flew toward Grumbletown;
"Hey, wait!" the Ogre hollered as he followed on the ground;
The Grumbles down in Grumbletown were standing in a group,
Outside their caves, around a pot, cooking Junebug Soupó
They didn't see the Ogre or the Angel coming near,
Until the biggest one looked up and said, "Well, lookee here!
That little ogre's back again, and he's got some company!
I'm big and strong. This won't take long. Just save some soup for me!"
The Big One snarled and threw a rock which barely missed the Ogre;
"Angel!" cried the Ogre. "Please! Let's not go any closer!"
All the other Grumbles laughed and yelled the Big One's name;
The Angel said, "Don't be so mean! You all should be ashamed!"
The Big One threw a rock at her, and all the Grumbles hollered;
But then the Angel waved her hands and Grumbletown got smaller...
...And smaller and smaller and smaller until,
Even the great Big One was no bigger than a pill!
The Ogre looked down in surprise and heard the squeaky noises,
That the itsy-bitsy Grumbles made with all their tiny voices;
He said, "You needn't be afraid, but I'll give you all a penny,
If you'll be nice to smaller things, that is, if there are any."
The Ogre turned and walked away back up the mountainside,
As what was left of Grumbletown ran away to hide;
Back up on the mountaintop in his bright-as-daylight cave,
The Ogre and the Angel sat and drank some lemonade;
The Ogre asked the Angel,"Will they always be that size?"
The Angel said, "They'll learn and grow when they want to be nice."
So the Angel helped the Ogre, and he was glad he let her;
They laughed and played again, and pretty soon his eye got better;
And the Ogre learned the lesson that it's never ever naughty,
When ANYONE is hurting you, to go and tell somebody.
The End
The online version, complete text and illustrations,
of "The Ogre and The Angel," is at
http://members.tripod.com/helpthekids.
"Let the little children come unto me, and do not forbid them, for the kingdom of God belongs to such as these." Mark 10:14, NIV
Peggy McCracken is webmaster, reporter and columnist for the Pecos Enterprise. Her e-mail address is news@pecos.net.
Our View
Yes, Virginia there is a Santa Claus
More than 100 years ago, an eight year old named Virginia wrote a letter to an editor. She said her friends questioned the existence of Santa Claus. The editor's response became a classic, and the Pecos Enterprise, which wishes all our readers the best Christmas ever, can think of no better way to salute the season than with this famous reply:
Virginia, your little friends are wrong. They have been affected by the skepticism of a skeptical age. They do not believe except what they see. They think that nothing can be which is not comprehensible by their little minds.
All minds, Virginia, whether they be men's or children's are little. In this great universe of ours man is a mere insect, an ant, in his intellect, as compared with the boundless world about him, as measured by the intelligence capable of grasping the whole of truth and knowledge.
Yes, Viginia, there is a Santa Claus. He exists as certianly as love and generosity and devotion exist, and you know that they abound and give to your life its highest beauty and joy. Alas! how dreary would be the world if there were no Santa Claus! It would be as dreary as if there were no Virginias. There would be no childlike faith then, no poetry, no romance to make tolerable this existence. We should have no enjoyment, except in sense and sight. The enternal light with which childhood fills the world would be extinguished.
Not believe in Santa Claus! You might as well not believe in fairies! You might get your papa to hire men to watch in all the Chimneys on Christmas eve to catch Santa Claus, but even if they did not see Santa Claus coming down, what would that prove? Nobody sees Santa Claus, but that is no sign that there is no Santa Claus. The most real things in the world are those that neither childen nor men can see.
Did you ever see fairies dancing on the lawn? Of course not, but that's no proof that they are not there. Nobody can conceive or imagine all the wonders there are unseen and unseeable in the world.
You tear apart the baby's rattle and see what makes the noise inside, but there is a veil covering the unseen world which not the strongest man, not even the united strength of all the strongest men that ever lived, could tear apart.
Only faith, fancy, poetry, love, romance, can push aside that curtain and view and picture the supernal beauty and glory beyond. Is it all real? Ah, Virginia, in all this world there is nothing else so real and abiding.
No Santa Claus! Thank God he lives, and he lives forever. A thousand years from now, Virginia, nay, ten times ten thousand years from now, he will continue to make glad the heart of childhold.
Your View
On behalf of the United States Immigration Service, the staff of the Pecos INS Office and the governments of Honduras, Nicaragua and Guatemala, I would like to thank you and the community of Pecos for the donations made to help the victims of Hurricane Mitch.
Rosie Flores of your staff was instrumental in publicizing this effort and coordinating a drop off point for donations in your office. With her assistance and the generosity of the people of Pecos, we collected 1,350 pounds of food, water, clothes and medical supplies.
I delivered these items to the consulates of Honduras, Nicaragua and Guatemala in Houston on Dec. 9. These consulates will now forward these much needed supplies to their respective countries.
Once again, we extend our most sincere appreciation for the donations and wish everyone a happy and prosperous holiday season.
FELIX CHAVEZ
Pecos INS office
Couple spent interesting time in Pecos last spring
My husband and I visited Pecos last spring, each having lived there at different times in the 40's. It was an interesting and sentimental time for us.
Everyone was so hospitable and we farmed it was an interesting time seeing all the changes.
We were especially grateful to the museum and Freda Blahosky who was able to answer our questions. Pecos has a lot to offer there.
Sincerely,
Julia Hall Yelsits
Family requests cards for dad's memory book
In 1952, Pecos became the home of Anthon and Emma Jean Woods, who moved from Oklahoma to your more healthful area to continue his farming career. They lived in Pecos, raising cotton, cantaloupe and five children, until about 1982, when a move from the area was a requirement due to family circumstances.
This year, on Dec. 20, Anthon will turn 80 years old (yes, it's true I checked his passport to be sure of the birth year). How special it is to have lived long enough to see the advances made in this old world - from immunization shots to organ transplants - from horse and buggy to space travel - from still photos to television to videos on the internet.
Because of the holiday season and the health of so many friends and relatives which hinders travel for a personal celebration, the family would like to have anyone who remembers his, or the children, to share their memories. A short note of remembrance of the time you met him, a special memory you have of him, an event that changed your life in some way, perhaps something that was done for you by this very caring man, something funny that happened to both of you, or - well, you get the idea. We have begun a "Memory Book" to which all letters will be added, so that Dad can reminiscence at his leisure.
Because of the shortness of time, we can take advantage of the electronic advances in this world by use of fax machine, and e-mail. Of course, "snail mail," i.e. the post office, is still an option. Please direct your letters and/or cards to the following addresses: Fax number: 806-358-3129; e-mail:rstephens@netjava.com regular mail: Jeanne Woods Stephenson, 12407 Bell Street, Amarillo, Tx. 79118.
Thank you,
JEANNE STEPHENSON <!==========end copy==================>
---
---
Pecos Enterprise
Ned Cantwell, Publisher
Peggy McCracken, Webmaster
Division of Buckner News Alliance, Inc.
324 S. Cedar St., Pecos, TX 79772
Phone 915-445-5475, FAX 915-445-4321
e-mail news@pecos.net
Associated Press text, photo, graphic, audio and/or video material shall not be published, broadcast, rewritten for broadcast or publication or redistributed directly or indirectly in any medium.

Copyright 1997 by Pecos Enterprise
We support Newspapers in Education
---