|
Daily Newspaper and Travel Guide
for Pecos Country of West Texas
OPINION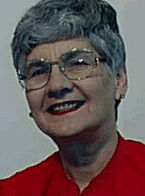 Squarely
Pegged
By Peggy McCracken
December 15, 1998
McMurtry far out
on time and distance
Pulitzer Prize-winning writer Larry McMurtry has donated his manuscripts to Rice University's Fondren Library. That is, some of his manuscripts. "Lonesome Dove" is not included in the list released by the university last week.

"Lonesome Dove" is my all-time favorite book and movie. But I found some other McMurtry works less than palatable.

First, I tried to watch "Streets of Laredo" on TV and found it dull as dishwater, compared to "Lonesome Dove." Then I borrowed the book from Reeves County Library, hoping it would be better. It was worse.

My sister, Gail, and I agreed that McMurtry's sense of time and distance in West Texas was less than accurate, to put it kindly. I had noticed that in "Lonesome Dove," because much of the action was around Quitaque and Flomot, where I grew up. "Streets of Laredo" had some scenes around Quitaque too, but most were closer to my adopted home in the desert and along the Rio Grande. It was so far out I found myself wanting to give McMurtry some geography lessons. He would have people traveling hundreds of miles in a few hours - horseback or on foot. No way, Jose.

So I won't be going to Houston to read McMurtry's writings, which include "Texasville," "Flim Flam: Essays on Hollywood," "Anything for Billy," "Some Can Whistle," "Buffalo Girls," "The Evening Star," "The Late Child," "Dead Man's Walk," "Comanche Moon," "Terms of Endearment" and an unpublished work titled "The Dairy Queen."

McMurtry got some awards for his work before "Lonesome Dove," but I don't think I will check out any of them. Now that I have gotten acquainted with Willa Cather's work, I may stick with her for awhile.

It is so interesting to browse the shelves at Reeves County Library on Saturday mornings. I have found some absorbing biographies, a few works of fiction that kept me turning the pages, and some classics that I could live without. Most of them hold my interest for awhile, but I have taken more than one back long before I read to the end.

Except for Cather. I re-checked her and am just about finished with the five or so works of fiction in this one volume. She writes about the prairies of Nebraska, which I have never seen, but I can identify with the country people and their ups and downs. And they all came from countries that I have taken an interest in since visiting Europe and having friends travel to Siberia.

Reading is so much more satisfying than watching television. With TV, you have to take what you get, with commercials sandwiched in between. Or little snippets of program sandwiched in between commercials. When I read, I get into the story and lt nothing distract me for as long as I choose.

It's really a pity that McMurtry's sequels and prequels to "Lonesome Dove" do not live up to the promise of the Pulitzer winner. I could get lost in my favorite era and location, living with the colorful characters who settled this wild country. But I'll have to settle for such prosaic tales as Patrick Dearen's "Cowboys of the Pecos," a collection of tales by real cowboys, some of whom I met or read about. Their descriptions of the Pecos River and the desert it cuts through are realistic and totally believable.

"The words of the wise are like goads, their collected sayings like firmly embedded nails — given by one shepherd." Eccl. 12:11, NIV.

EDITOR'S NOTE: Peggy McCracken is the webmaster of the Pecos Enterprise. She can be e-mailed at: news@pecos.net
Our View
Computer donation to schools wonderful gift
Newsweek magazine recently did a cover story on the increasing volume of Christmas gifts being purchased on-line via the internet.

The story pointed out that more and more Americans are avoiding mall mania by sitting at home and pecking away at their computers. Scores of companies offer complete selections.

Without leaving home, the consumer can order and have delivered gifts as simple as a toy or as complicated as an automobile.

We don't think we are ready for "www.christmas.com" to replace "Merry Christmas," but the on-line shopping trend puts an exclamation point on the fact that computers are becoming more and more important to our lives.

With that in mind, we heartily congratulate Texas-New Mexico Power Company for its recent donation of eight desktop computers to the Pecos-Barstow-Toyah school district.

Getting kids computer-friendly is no longer a luxury. It is essential to their education, every bit as necessary as pencil and notebook. Trouble is, most homes can afford to provide their kids with pencil and notebook, but many cannot provide computers. It stands to reason, then, that if kids are to have an even chance to compete in life, our schools have to provide ample computer education.

To Texas-New Mexico Power and others who have aided in this effort, the community offers its thanks. We hope others will join in the program to make all our students computer literate.
Your Views
Education dilemma needs to be resolved
To The Editor,
Everyday, we read about our education dilemma. No one in charge, however, defines the problem, except to blame a lack of money.

Let's get serious - money cannot improve education until public education has a clear purpose. It doesn't. This absence of clarity causes many students to suffer despair, drop out and turn to crime. Consequently, our greatest education problem is crime - not grades.

Regarding dropouts: why does our education system have only one diploma - one chance: the `high school diploma?' Many students cannot fulfill those requirements. Instead of offering an alternative, such as a `customer service diploma' or an `office skills diploma,' society kicks them out the door and hopes they disappear.

They don't. Many return to fill our prisons - most prisoners are school dropouts.

According to the "World Almanac and Book of Facts," ten states with the highest graduation rates, averaging 85 percent, have a burglary-robbery incidence of 688 per hundred thousand population. Ten states with the lowest graduation rates, averaging 60 percent, have a burglary-robbery incidence of 1530 per hundred thousand. Texas's graduation rate is shown as 59.7 percent.

Can education results be improved? Certainly - easily - if we focus on the right target.

Will education be improved? Absolutely not! Not until education and political leaders design an education system with a purpose for all students.

History suggests they will not - voluntarily. Why? Bureaucracies are more inclined to defend their positions than to adjust to new ideas. Education is one of those defensive bureaucracies.

WILL CLARK
63772 Diamondhead Dr., N.
Diamondhead, MS
228-255-5019 (anytime)
E-mail: Will01@aol.com
Former coach apologizes to boxers
To The Editor:
My name is Jaime Marquez, former coach and trainer of the Pecos Rattle Snake Boxing Club. I would like to apologize to my club members and their parents for letting them down.

We had a very good season and I was and am still proud of all my kids. They worked hard and showed lots of spirit. I hope you all don't think any less of me, because of my current situation. Again, I would like to apologize and say to them "always think positive, never give up." Try your best in school and always try to be the best you can be.

I would like to express a special thanks to my assistant coach, Fernando Nunez, for all his work and time he put into the club. And to all those who donated to the club. Also I would like to thank Roy Juarez and Fred Martin from the Pecos War Birds for their help. And againd I would like to apologize if I did let anyone down.

Hope everyone has a Merry Christmas and a Happy New Year.

God Bless you all!

JAIME MARQUEZ
Former Pecosite seeks reunion information
I attended Pecos High School in 1966-1968 I would have graduated in 1970 but I married and moved away. I would like to get information on the H.S. reunion for the 1970 class if I could. My name is Kathy (Lukins) Stringer.

Please e-mail me at kathy@rpcabilene.com or I can be reached at 915/677-2888 (work #) from 8 am to 5pm - Mon - Fri. Thank you.

KATHY STRINGER

<!=====paste copy here==========================><!==========end copy==================>
---
---
Pecos Enterprise
Ned Cantwell, Publisher
Peggy McCracken, Webmaster
Division of Buckner News Alliance, Inc.
324 S. Cedar St., Pecos, TX 79772
Phone 915-445-5475, FAX 915-445-4321
e-mail news@pecos.net
Associated Press text, photo, graphic, audio and/or video material shall not be published, broadcast, rewritten for broadcast or publication or redistributed directly or indirectly in any medium.
Copyright 1997 by Pecos Enterprise
We support Newspapers in Education
---