|
Daily Newspaper and Travel Guide
for Pecos Country of West Texas
OPINION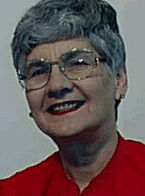 Squarely
Pegged
By Peggy McCracken
<!=====paste copy here==========================>
December 8, 1998
Lights make bright
holiday season
'Tis the season to be jolly! Christmas lights all over town herald the birth of Jesus, and carols waft on the cold, cold air.
After the annual living nativity at West Park Baptist Church Sunday night, I took a circuitous route home to view some of the lights. It seems a lot of neighborhoods are lighted this year for the first time. Some of the most spectacular displays are in older, run-down neighborhoods.
Then, of course, there are the usual displays such as the Leo Elliott home on West Fourth Street. Leo added to his display every year for a long time, but I couldn't detect anything new this year. Maybe he ran out of space to put lights.
The three homes that were open Friday night for the Chamber of Commerce Women's Division "tour of homes" are all brightly lighted outside as well as inside. I missed the tour, but enjoyed the outside displays.
Have you noticed the new strings of light that hang down on just about every other decorated house, making a broad band of light all along the eaves? They look so delicate that I wonder how they will withstand these West Texas winds.
For the past several days, a truck with cherry picker has been parked at the Reeves County Courthouse, where someone is replacing bulbs or re-stringing lights in the trees. I've wondered all year how those bulbs were faring and how many would survive from one Christmas to the next.
And don't the street-light decorations look nice? They welcome travelers as well as cheering local residents and reminding us that the big Day is only two weeks and three days away.
Have you done your Christmas shopping? It's hard for me to get started before Christmas Eve. I did place one order via the Internet, and it was so easy I may do them all that way. If I do any more shopping, that is. My kids have agreed to meet me in San Antonio for a niece's wedding the day after Christmas, and that will be our gifts to each other. By the time we pay travel and lodging expenses, there won't be much left for gifts, anyway.
So many are hurting this Christmas season. The best gift may be to provide some relief to those who are unemployed, sick or elderly. Outside our own country, the flood victims in Central America need all the help we can give them. I just received an e-mail from a friend in Honduras who said that life is so hard there he is trying to find a job in Texas. Wish I had one to give him for Christmas.
"...the LORD has anointed me to preach good news to the poor. He has sent me to bind up the brokenhearted..." Isaiah 61:1
EDITOR'S NOTE: Peggy McCracken is the webmaster of the Pecos Enterprise. She can be e-mailed at: news@pecos.net
Our View
Petty infighting slows the community's progress
As we wade into the thick of the season of warmth and harmony, the community of Pecos would do well to consider that as a theme for the new year. Warmth and harmony. Such a resolution would do wonders for our town.

Little happens in this city without a struggle. We have an amazing ability to make things look tough.

No better example exists than the recent squabble over the appointment of a fire chief. Why should that be so difficult? Pecos City Council finally appointed a new chief last week, but only after a controversial, tortuos process.

A smoothly-running fire department is essential to the safety of our citizens and their property. Tales of volunteers lurking in parking lots to avoid riding to a call with the chief are disheartening at best.

There is more. If we are to have any success at all in the new effort to lure more jobs to Pecos, it will depend on total commitment and cooperation of all sectors backing the economic development program.

Then, there is the situation where two groups, in effect, compete for dollars to fund Christmas programs for kids. While they may not be at odds with one another, they would be more effective if they combined their efforts and pulled on a single rope.

There is a well-known cartoon of two mules, ties tailed together, pulling in opposite directions, each looking over his shoulder at the other with a look that says, "it's your fault."

Pecos progress is hampered by pettying infighting and ingrained politics. We need to start pulling together.
Your View
Designated driver idea curbs drunk driving
With the holidays fast upon us, 'tis the season for celebration at holiday parties with family, friends and co-workers. While those of us at Rio Pecos Sales Company know the importance of celebrating responsibly, the holiday party designated driver is this season's hero.
Americans recognize designated drivers as an important group of people. A recent poll shows that more than 90 percent of the public endorse the designated driver concept as an excellent or good way to curb drunk driving. And 109 million American adults say they have been a designated driver or haver been driven home by one.
Drunk driving deaths are the lowest in 16 years. The U.S. Department of Transportation recently released the 1997 drunk driving statistics showing that drunk driving fatalities have decreased 39 percent since the government began tracking these numbers in 1982. Designated drivers certainly deserve some of the credit for this downward trend. Obviously there is still room for improvement, and we can't be satisfied until the number is zero.
Remember that by choosing a designated driver this holiday season, everybody has a good time, gets home safely, and everybody wins.
Sincerely,
Mike Dunagan
Vice-President-Sales
Board of education should be represented by voters
Even we who believe in local control of education have to admit that there are certain decisions involving all Texas schools which must be made at the state board level. The question is who should be on that state board of education?
Texas Senator Bill Ratliff is about ready to submit to the legislature his proposed rewrite of the Texas Constitution. Sen. Ratliff's idea is that the state board of education should not be elected by the voters of Texas but should be appointed by the governor.
The next question we should ask then is who influences a governor? It certainly is not "the little guy." Typically the two groups who influence any governor are his wealthy campaign contributors and the special-interest lobbyists.
Now let met get this straight. Under Sen. Ratliff's plan, the decisions which impact every public school student and educator in this state would be made by state board members who are beholden to the governor who is beholden to wealthy contributors and lobbyists.
Maybe we Texans should give this a little more thought.
Donna Garner
Hewitt, Tx.
<!==========end copy==================>
---
---
Pecos Enterprise
Ned Cantwell, Publisher
Peggy McCracken, Webmaster
Division of Buckner News Alliance, Inc.
324 S. Cedar St., Pecos, TX 79772
Phone 915-445-5475, FAX 915-445-4321
e-mail news@pecos.net
Associated Press text, photo, graphic, audio and/or video material shall not be published, broadcast, rewritten for broadcast or publication or redistributed directly or indirectly in any medium.

Copyright 1997 by Pecos Enterprise
We support Newspapers in Education
---