|
Daily Newspaper and Travel Guide for Pecos Country
of West Texas
OPINION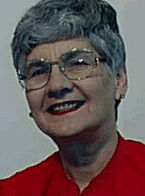 Squarely
Pegged
By Peggy McCracken
<!=====paste copy here==========================>
Tuesday, November 24, 1998
Count your blessings
this holiday season

Last night I dreamed I was abandoned in a Dallas mall when
my sister-in-law ducked into an elevator and disappeared. I
couldn't even find my way out of the mall! How would I get
out of Dallas?

Picture a woman who carries no cash, whose cellular phone
won't work in Dallas - even if the battery has not run down
- and who is country green.

In the dream, I located a mall map but could find no
directions on it to the entrance. You know how in a dream
you try and try to grasp something you need, but it eludes
you? Well, I felt so helpless. Then I stumbled onto the
entrance! And right across the street was the building where
my sister-in-law worked.

I entered the building and took a creaky elevator to what
seemed like the hundredth floor. There I found a large
cleaning crew, but no sister-in-law. They said she had come
in but had left again. This building seemed to be vacant
except for the floor I was on. Disappointed and feeling
absolutely bereft, I got on the elevator to go back outside,
not knowing where to go from there.

Then I woke up, but continued mulling over the
circumstances, trying to figure a way out. Finally I decided
the best thing to do would be to take a taxi to Love Field
and fly home. But on further reflection, how would I pay for
the taxi? Do they take credit cards?

Finally I told myself to quit worrying about something that
was never going to happen. But it did give me something to
be thankful for this holiday season.

1. I live in a small town where I could safely walk home if
need be.

2. I have a home to go to.

3. The United States is a safe country to live in.

4. My sister-in-law is too nice to abandon me in Dallas.

5. My husband is always there, providing security.

6. God is watching over me wherever I go.

And another thing. With two turkey dinners under the belt
already, I am looking forward to Thursday's Thanksgiving
feast. See you at the dinner table.
"The righteous cry out, and the LORD hears them; he delivers
them from all their troubles." Psalm 34:17, NIV.

EDITOR'S NOTE: Peggy McCracken is the Webmaster of the Pecos
Enterprise. She can be e-mailed at news@pecos.net
OUR VIEW
Work has just begun on Pecos job hunt

Pecos voters overwhelmingly passed a recent ballot measure
which siphons significant dollars from the city coffers and
targets the funds to the Pecos Economic Development Corp. In
so doing, they didn't solve a thing.

Wednesday, the city council approved articles of
incorporation for the economic development board and
appointed a slate of directors to serve on the board. In so
doing, the council solved not a thing.

In each case, though, the voters and the council recognized
the greatest challenge facing this community, the need to
develop more jobs. And the voters and the council took the
first baby steps toward solution: setting in motion the
machinery which will work toward pulling Pecos up by her
bootstraps.

It is an awesome task. During the council meeting Wednesday,
there was discussion that the paid, professional economic
director would be the workhorse, with the volunteer board
serving mostly as his or her supervisors.

We would take issue with that. It can't work that way. If
our new approach to job development does nothing else, it
should establish a team which can spring to action when some
company or institution expresses interest in our town. There
needs to be an expert on land, an expert on housing, an
expert on financing, an expert on the labor pool, an expert
on tax benefits. And the team needs to be willing to travel.

The new economic development board will develop its
strategy. That is its job. The job of the community is to be
ready to serve in whatever way is needed. And our job, too,
is to reign in our expectations.

We have just begun the journey. There are many miles to walk.
YOUR VIEW
Local heroes should be recognized publicly

To The Editor:
This great country of our has had many heroes. Many are
publicly praised but most are unheralded heroes. I am
privileged to know and to have worked with a group of
unselfish and caring heroes.

They worked for minimum wage with few paid holidays and no
paid sick leave or paid vacations. They did their own
building, painting, moving, cleaning, educational expenses,
workshop expenses, buying most of their supplies, money
making projects and still had time to effectively and
lovingly give their all to the children in their care.

Unpaid overtime and many Saturdays were spent to keep things
running smoothly. Plan sheets and bulletin boards were
changed monthly. These included activities in art, music,
language, social skills, math, nutrition and science taught
in children's learning games. The children in their care had
the best of the best.

After eighteen years, the Learning Center, formerly the
First Baptist Church Child Development Center, closed its
doors. There was no retirement party. There was no public
show of appreciation. After hundreds of hours caring for
hundreds of children, it was just over.

I want to publicly recognize Vita Levario, Mary Navarrete,
Rita Gonzales, Ann Arenivas, Velma Bradley, Kim Ewing,
Janice Hester, Lana Hall, Susie Arenivas, Frankie Grammer
and Paula Connor.

If you should see any of these ladies you might give them a
pat on their back. That, and their good memories, are all
they left with.

Reita Prewit
Pecos, Tx.
Low-level combat training flights offer update

To The Editor:
The following is taken from the September 25th issue of the
Wall Street Journal from a letter to the editor written by
Tony Weissgarbar, Lt. Col. USAF, Retired. I am quoting it to
emphasize the reality of what the proposed low-level combat
training flights will be like in the West Texas area if
these plans are not stopped.

"In response to "On the Lone Prairie, a Rancher Sees Peril
in an Air Force Plan," page one, Sept. 15: I have empathy
for the 70-year-old rancher, Buster Welch, who is concerned
about the Air Force's plans to have pilots practice
low-level flying over his 80,000 acre spread. I am a
70-year-old retired Air Force pilot who flew low-level into
the Hanoi area in 1965.

Mr. Welch, in order for the pilots to fly low-level into
enemy territory, they must practice real low-level flying. I
am not talking about 300 feet above the ground. I'm talking
about 50 to 100 feet above the ground at 600-mph plus! It's
unrealistic and worthless to practice low-level flying
higher than 250 feet. Pilots must penetrate at a much lower
altitude to avoid radar detection. Naturally, the lower they
fly the more complicated their navagation becomes, because
the ground is going by in a blur. And they cannot practice
at 300 feet in peacetime and overnight go down to 75 feet on
a combat mission. They have to practice at 50 to 100 feet..."

The necessity for low-level flights is controversial in this
age of modern weaponry. The one thing we know for certain is
that there is a more reasonable place to train our pilots
than over private property in the pristine area of the
Trans-Pecos.

The Southern New Mexican plaintiffs had a good day in court
last November 6th in Albuquerque. For more information,
contact the Trans-Pecos Protection Group at 915-364-2323.

Kay Kelley
Alpine, Tx. <!==========end copy==================>
---
---
Pecos Enterprise
Ned Cantwell, Publisher
Peggy McCracken, Webmaster
Division of Buckner News Alliance, Inc.
324 S. Cedar St., Pecos, TX 79772
Phone 915-445-5475, FAX 915-445-4321
e-mail news@pecos.net
Associated Press text, photo, graphic, audio and/or video material shall not be published, broadcast, rewritten for broadcast or publication or redistributed directly or indirectly in any medium.


Copyright 1997 by Pecos Enterprise
We support Newspapers in Education
---