|
Daily Newspaper and Travel Guide for Reeves County
Trans Pecos, Big Bend of West Texas
OPINION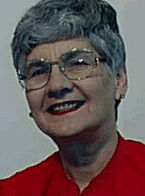 <!=====paste copy here==========================>
Squarely
Pegged
By Peggy McCracken
Tuesday, November 17, 1998
County library houses
many wonderful treasures

Reeves County Library is off the beaten path, so many of us
ignore the treasures it houses.

Since last December when my television broke, I have been
holing up in my bedroom every evening and reading. First I
perused 29 computer books and judged them for the Ben
Franklin Awards. Next came a dozen or so Guideposts
condensed books that I hadn't had time to read. Then I
re-read a few classics, such as "Lonesome Dove."

That's when I decided it was time to go to the library and
check out something different. One of my first choices was
"Streets of Laredo," a sequel to "Lonesome Dove." It was a
dud. But since the nice ladies at the library let me check
out three books at a time, I had a couple of others to
occupy me until my next Saturday visit.

At first, I read only fiction, something I have read little
of in the last 30 years. Then I decided I should vary my
choices for a broader experience. Now I choose one fiction,
one biography and one classic.

So far, most of the classics have been pretty boring, but
I'll have to admit each one teaches me something. That's the
mark of a classic, I guess. Its stories are just as relevant
today as they were when they were written.

Some of the books are out of date and need to be burned to
make room on the shelves for newer versions. That's a
problem in any collection, but especially in a library
operated by a governmental entity. You gotta get permission
to get rid of anything.

My own library gets clogged with stuff. Over the past three
weeks, I have weeded out and hauled to the dumpster year-old
catalogs, outdated computer magazines (six months old),
consumer reports and a variety of other media. Not the
National Geographics, though. I just can't throw them away
until a leaky roof lets them get wet, or some other calamity
hits. Don't ask me why. I seldom read one all the way
through. But aren't the pictures nice?

Being without a television has been good for me. For one
thing, it relieves the stress of surfing in an attempt to
find something - anything - interesting to watch. I used to
keep at least three shows going at one time, clicking the
remote as soon as a commercial came on one channel to watch
another. With a book, I can read as long as I want to, put
it aside for awhile, then come back to it in my own good
time.

I guess, if this column has a point, it would be - use your
public library. Even if you prefer to surf the 'Net, you can
do that at the library, too.
"What has been will be again, what has been done will be
done again; there is nothing new under the sun." Eccl. 1:9,
NIV

EDITOR'S NOTE: Peggy McCracken is the Webmaster of the Pecos
Enterprise and she can be e-mailed at: news@pecos.net
OUR VIEW
West Texas weekly closes its doors

You love them. Sometimes you hate them. But when it is all
said and done, you usually decide you don't want to live
without them.

We realize we have just described half of the husbands in
Pecos, but that is not what we are talking about. What we
are talking about is newspapers.
We read with sadness Peggy McCracken's recent Pecos
Enterprise story about the closing of the newspaper in
Sanderson.

Higher costs and formidable transportation obstacles finally
tipped the scales. Longtime publisher Albert Gilbreath, a
man whose passion for newspapering made his decision all the
more sad, came to the realization that it just wasn't worth
it anymore.

Gilbreath had been toiling at the Sanderson Times for the
better part of 60 years, since 1947 as its publisher. The
paper was founded in 1908.

The closure of big city papers, as afternoon dailies shut up
shop and leave the market to their morning competition, is
regrettable. But those large cities still have at least one
voice.

When a rural newspaper folds, it is usually the only public
voice the community has. Sanderson folks will still get
their news through the Fort Stockton newspaper in a special
section, but it will never be the same.

Editors such as the Albert Gilbreaths of this world serve a
unique purpose. They rant and rave and preach and applaud,
and they give the readers someone to rant at, to rave at, to
preach at, and, occasionally, applaud.

Thanks, Al, for a job well done.
YOUR VIEWS
Cemetery clean-up deserves recognition

To The Editor:
On Saturday, Oct. 24, while visiting with my parents, I saw
people of all ages cleaning the cemetery located in town. I
am sure these people felt pride about what they were doing
and what they had accomplished. The next day, while my
mother and I were visiting my nephew's grave, we felt
gratitude for all the people who took the time to do this
great deed.

I just want to take the time to say thank you to all the
people who took the time to do this. You did a wonderful
job. It made the town I am so proud of, look wonderful. I
called Pecos my home for so many years and it is still good
to know that there are so many caring people still left in
Pecos.

Sharon Jernigan
San Angelo, Tx.
Public should know when prisoners escape

To The Editor:
The recent escape from the local prison, I'm sure, won't be
the last. Fortunately, other than the prisoners, no one else
was harmed. But, as with most, if not all, of the previous
escapes the public was not informed or alerted until hours
after the escape occurred. I can think of no reason why the
authorities should feel it necessary to keep an escape
secret. On the contrary the public should be notified
immediately so that they might be on the alert for the
escapees as well as taking added precautions to protect
themselves.

Happily, no harm has come to anyone in town, to my
knowledge, from any of the recent or previous escapes, but
now that the local prison is rated a "maximum security"
facility allowing for the incarceration of dangerous felons,
it would seem prudent for the L.E.C. officials to institute
a policy of alerting the community immediately whenever an
escape occurs.

Sincerely,
Mike A. Burkholder
Something is terribly wrong with our country

To The Editor:
These mid-term elections were certainly a surprise and
probably none were more surprised than the democrats. That
the anti-human Charles Schumer won a seat in the Senate has
to raise questions of electoral fraud.

Will our new congress attempt to undo some of the massive
damage that has been inflicted on us by the Clinton
administration? More than 250 executive orders have been
issued by Clinton since he has been in office.

Last year our Commander in Chief did away with the policy of
mutually assured destruction, that has kept the world from
nuclear war, by issuing an executive order declaring that in
a nuclear attack the United States will absorb the first and
second strikes before retaliating. He has also taken the
launch codes away from our submarines. Our enemies must be
delighted.

It should be obvious, even to the neuron deficient, that the
United States must be reduced to at least third world status
in order for the United Nations to take over as the
"Defenders of Freedom." A title held by this nation since
WWII.

Bombing the United States back to the stone age would suit
their agenda but why do that when we can be persuaded to do
it to ourselves. Just convince the populace that we must
shut down our industry in order to save the earth from
global warming.

In order to protect endangered species the Clinton
administration and environmentalists have set their sights
on dams. Constructed for flood control, electric power
generation, and irrigation for farming, the dams must be
dismantled. In one such case in Washington State Federal
officials say it would make life better for the salmon.

Think about it. We have dropped our defense against nuclear
strikes, we are shutting down our industry, we are removing
dams that produce power and enable us to feed ourselves by
irrigating farm land and most of us don't suspect that
something is terribly wrong.

R.L. Rich
Pecos, Tx.
CRITIC'S CORNER
How to raise a family and a career

Children and career don't mix. Or do they?

Lisa M. Roberts put her experience in operating a home
business while raising four children to good use by writing
a parent's guide to home business.
In "How to Raise a Family and a Career Under One Roof,"
Roberts details how to plan for and grow a home-based
business just like you would a family. She includes child
care, husband care and house care in Section 1; starting and
managing the business in Section 2 and integrating business
with social activities in Section 3.

Although she rambles a little, Roberts demonstrates
knowledge of her subject and a desire to share what she has
learned the hard way.

Available in paperback at $15.95 from Bookhaven Press, P.O. Box 1243,
Dept. 971, Moon Township, PA 15108, Phone 412-262-5578; or
through the Amazon.combookstore.

-Peggy McCracken <!==========end copy==================>
---
---
Pecos Enterprise
Ned Cantwell, Publisher
Peggy McCracken, Webmaster
Division of Buckner News Alliance, Inc.
324 S. Cedar St., Pecos, TX 79772
Phone 915-445-5475, FAX 915-445-4321
e-mail news@pecos.net
Associated Press text, photo, graphic, audio and/or video material shall not be published, broadcast, rewritten for broadcast or publication or redistributed directly or indirectly in any medium.


Copyright 1997 by Pecos Enterprise
We support Newspapers in Education
---