Daily Newspaper and Travel Guide
for Pecos Country of West Texas
Opinion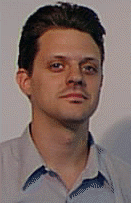 <!==========paste copy here=============>
Tuesday, July 7, 1998
LOOSE FISH
By Greg Harman
Not cloned alone,
"wonder twins" enter stage
Two years ago Dolly, the first successful clone from the gene of an adult animal, strutted sheepishly across the world stage. Some cheered with eyes glazed in wonder, citing the agricultural wealth the birth heralded. Others took to tossing the overly-ripe fruit of futuristic fears at the British sheep.
The debate over Dolly, and what this Scottish scientist's breakthrough may spell for a future in human cloning, offered enough of an emotive charge to lure even the most timid of folk into the fray. I think everyone from the His Holiness the Pope to Little Ivy Elementary School has issued position papers on the science of human cloning.
Now, peeking at the world through as-yet unnamed eyes, twin calves engineered by the same process as Dolly have gingerly plopped onto the scene.
Those worried by the practice of cloning may rest assured: There is no stopping progress. Animals will continue to be engineered for heftier weights, pharmaceutical use, and higher IQ's. Be at ease populace, science has never raised questions it didn't attempt to answer I between the blackboard and the test tube are but a few baby steps I human cloning is closer than we think.
There is much to look forward to in this genetic revolution: an army of cloned workers to displace those of us already struggling to remain above the pernicious curve in an era of downsizing; headless humans for organ harvest may save the lives of unidentified South American children who have until now been victimized for wealthy Americans (I believe this still falls under rumor category); and watch for the unfolding identity crises of those unable to cope with the new creation. Clones are not only from unwed parents (gasp), but, born from a single cell, many will be tempted to ask, "Is it human?" I can see hear the segregation chants now.
While the stated position of one pro-lifer, circulated on the Internet by the Baptists for Life, Inc., is as high-minded as you would expect from an organization obsessed with the higher ethics of reproductive issues (Pro-life Baptists will "uphold the sanctity of life . . . despite the manner of conception," the author chimes), but the author can't help but ask, "Is this even conception?"
Given the tremendous capacity of our race to discriminate (and even murder) over everything from religious preference to hair color, what role could cloned humans expect to play in contemporary society?
Dolly and the bovine "wonder twins" were created from a single cell of adult animals - for those familiar with the movie, this is like Jurassic Park. The DNA is the only vital ingredient now. That and a place to keep the organism warm until it is better equipped for the world.
The Libertarian Party is committed to seeing the continuance of cloning experimentation. Said the party's Chairman Steve Dasbach in February last year, "Politicians should not have the power over the creation of new life." (So it falls that science should?) Libertarians, he said, stood for "reproductive freedom for all Americans - whether they choose the traditional method, artificial insemination, in-vitro fertilization, or cloning."
But he blew it when, in an attempt to poo-poo a base and echoed fear that cloning is like photo-copying people, he claimed that cloning "cannot recreate an individual human being."
It's a little confusing, but Dolly and the unnamed calves are "twins" of the animals whose genes were used to create them. Now, I don't know what Dasback knows about twins, but I can't think of a better example of a "recreated" human being.
Science will always operate at the height of its capacity. Atomic energy will be harnessed for energy and, just to check that it works, let loose briefly over a few islands; cheese will continue to get more orange and spreadable - despite the absence of milk; and Pamela Anderson will be displayed shamelessly on the most popular and intellectually stimulating television drama.
If this doesn't serve to cheer a few of you up, I don't know what to add. We are the benefactors and hapless victims of our own science. But why is it that Dolly got a name, and these "wonder twins" drift as nameless dumb beasts. Will we continue to distance our creations from ourselves, or just lose the wonder?
EDITOR'S NOTE: Greg Harman is a writer for the Pecos Enterprise. He can be e-mailed at: greg@pecos.net
Your View
Reader clarifies origin
of Pecos Lariat band
To The Editor:
I would like to correct an untruth that I have seen several times in the Pecos Enterprise over the last several months.
In several articles about the country western band "Ricochet," I have seen where the writer has stated that the Ricochet band is the old "Lariat" band. I am sorry to say that this is simply not true. The original "Lariat" band members were, and started by, the following members: Delaney Jackson on guitar, Starkey Warren on guitar, Steve Cross on bass, and Rowdy Curry on drums. The band was originally called "Country Plus," then the name was changed to "Lariat" by Delaney Jackson, getting the name from a Ford pickup. Jimmy Bryant did not start the "Lariat" band.
After the band had been together for some time, Rowdy Curry left the band for another job. At this point Jeff Bryant was brought in as drummer. Then, later Jimmy Bryant was brought in as a keyboard player. Junior was then brought in by Jimmy, and paid out of Jimmy's salary. Later as he became better, he was made a full member of the band. At some point after this, Starkey Warren left the band for a better job and Steve Cross left later, also seeking a better paying job.
The band after this point had many different members. I cannot remember the year, but Ed Burlingame took over the management of the Lariat band, furnishing them a truck and bus for traveling. After a few years, Delaney Jackson left the band for a better job, and then after a couple months, "Lariat" disbanded.
During the time that Ed Burlingame was manager, he obtained a copyright on the name "Lariat." All the band members then went their separate ways. After a period of time, Jeff and Junior Bryant are now with "Ricochet." Delaney Jackson is now playing lead guitar and singing backup for Mark Chesnutt.
We have photographs of the original "Lariat" band and none of the Bryants are in them. We also have a record of the early "Lariat" band, where Jimmy and Junior were not yet members. The record is labeled "Pecos Lariat Band, and sung by Starkey Warren, also written by Starkey.
We don't want anyone to get the wrong idea, we like Jeff, Junior and Jimmy very much, and enjoy "Ricochet's" music, but we do not like things being printed in the paper that simply are not true.
JOHN AND DIANN JACKSON
Critic's Corner
Volumes, conversions
made easy in new book
"Math to Build On" is the book I have needed for years as I tried to construct closets, hang doors, pipe gas to a central heater, and many other handyman projects around the house.
For "Math to Build On" is a book for those who build. It starts with the simplest math and progresses through angles, degrees, offsets, area, volume, equal sectors and regular polygons, rolling offsets and the metric system.
Each section has practice problems at the end of each major idea presented. To move quickly through the book, the reader could first try the problems, and if successful, skip that section and move on to the next one.
Anyone who needs help with math, needs a reference for volumes, conversions, areas and basic trigonometry, or wants to help their children with math will find this paperback helpful.
Published by Construction Trades Press, P.O. Box 953, Clinton, N.C., it is available in the U.S. for $24.95. ISBN 09624197-1-0. Offered at a discount through the Pecos Enterprise bookstore at amazon.com
-Peggy McCracken
<!=============end copy===============>
---
---
Pecos Enterprise
Mac McKinnon, Publisher
Peggy McCracken, Webmaster
Division of Buckner News Alliance, Inc.
324 S. Cedar St., Pecos, TX 79772
Phone 915-445-5475, FAX 915-445-4321
e-mail news@pecos.net
Associated Press text, photo, graphic, audio and/or video material shall not be published, broadcast, rewritten for broadcast or publication or redistributed directly or indirectly in any medium.


Copyright 1998 by Pecos Enterprise
---