Daily Newspaper and Travel Guide
for Pecos Country of West Texas
Opinion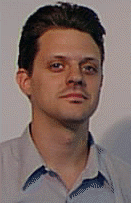 <!==========paste copy here=============>
Wednesday, April 22, 1998
LOOSE FISH
By Greg Harman
The cynic's search
for truth

Take the most outrageous statements of fact: those that
trumpet from the tabloid stands; the incredulous statements
made at 4 o'clock on the a.m. dial; the willful boasts of
afternoon talk show performers. Take all of it. Believe it.
And then tweak it just a bit. Tone it down - but not too
much. Therein (probably) lies the truth.

The truth: bitter enough to sour, hot enough to scald, and
plain enough to be read on the side of a "sugar-substitute"
box.
If it can be dreamed, conceived, by humankind, then it can
be done - and probably in a variety of styles.

Take for instance the long-circulating rumors revolving
around the White House. No, not the supposed sex scandals.
I'm talking about the rumor that Bill Clinton is an alien,
i.e. extra-terrestrial. While almost believable, possible,
some find this claim outrageous. But with a few tweaks we
may arrive at the truth of the matter: Bill Clinton is in
contact with aliens.

Now who would doubt that? And in possession of an
inter-galactic receiver - better known to our kind as Vice
President Al Gore - that shorts in and out due to conflicts
between the "logical sequencer" and the irrational "human
emotion element" this machine (better known to us as the VP)
is constantly attempting to engage: the gaps in his
testimony, the non-sequiturs.

Or take the "pea-brain discovered in Rush Limbaugh's
adequately-proportioned head" claim. Now . . . okay. So you
don't always need to adjust the original claim. Who wouldn't
believe this charge? It could easily be worse than that.
Perhaps the pea is shriveling as we speak.

Sharing these at first bizarre market headlines, though in
smaller type, stripped of any graphics, are the medical
breakthroughs in the world of weight loss. In the diet world
we may tweak at will and always come out on top.

While the argument is often convincingly made that
Nutrasweet is actually a government experiment in
mind-control - a tweak of this statement winds up actually
posted in readable print on every existent Nutrasweet
container. It is, if not anything more, an experiment in
population control.

We've all read, while fuddled in the doldrums of
pre-dinner-alone blues and fiddling with the sparse
furnishings of the wax-covered table top, the warning that
"this product is known to cause cancer in laboratory rats."
Oh, but is it possible to shed a few pounds before the
chemo? Fill'er up!

Now, get ready for the laxative-cum-frying oil: Olestra.
Being promoted nation-wide by models promenading as small
family farmers well-versed in the pure, natural, good. The
public relations campaign is truly top-rate.

I just want to thank the young woman who summed it all up.
Posting on the Internet recently, "I know there is a lot of
hype over the "laxative" effect (of Olean/Olestra), however,
maybe you should look into the results a bit more . . .
Could not a lot of the results be from the body handling a
"new" compound, then from the Olean itself. In other words
it would be conceivable that people will become used to
Olean in the same fashion we become "used" to nutri-sweet!!"

And we can get used to tomatoes grown in toxic sludge. We
can get used to stomach and colon cancers grown in
sugar-free sodas. We can get used to a President who speaks
Venusian. We can get used to commentators who generate their
vicious allegations with withering vegetables. The truth is
a not always a reassurance. Use it sparingly.

EDITOR'S NOTE: Greg Harman is a reporter for the Pecos
Enterprise. He can be e-mailed at greg@pecos.net
Your View
Decision not based on best interest of taxpayers

To the Editor:
Frank Perea in his letter stated, the school board and its
members are elected officials and vote in the best interest
of our students, school and taxpayers. "I believe that to be
a good theory,"

It's a shame that this is not really practiced by one of our
elected board member. "Frank Perea should realize that I
first submitted the bid in September of 1997. Perea stated
that the board refused the bid, "because they had received a
higher bid, but no action has been taken on this mass sale
that he is talking about, almost seven months later the
building is still abandoned! So when will the school board
president decide to have this mass sale of property? In
another ten years? I realize that the taxing entities would
not have made money by selling the building to the Catholic
War Veterans, but if the Catholic War Veterans had acquired
the building, it would be in better shape, which would
improve the image of our city. Improving the building would
also save the taxpayers money, by not having to spend around
three thousand dollars to demolish it.

In the letter to the editor, Perea stated, "that I did not
understand, or want to understand that the decisions not to
sell the building was in the best interest of the
taxpayers." How can I, as a taxpayer understand that tearing
down the Mesquite Lounge an abandoned building is saving the
taxpayers money when it will cost the city around three
thousand dollars. Maybe, just maybe if we had someone else
as school president our school taxes would not have to be
raised.

Rafael Hernandez
School Taxpayer
Critic's Corner
Practicing for your musicians:
you are own teacher

Young musicians can easily understand and follow directions
in the how-to book: "Practicing for Young Musicians: You are
Your Own Teacher."

Author Harvey R. Snitkin, Ph.D., stresses two aspects of
practicing that are often overlooked: 1) success happens
between lessons when you practice, and 2) between lessons
you are your own teacher.

He encourages students to take responsibility for their
progress, develop a friendly relationship with their
instrument and use the time they spend practicing in the
most rewarding way possible.

While musical truths have not changed over the centuries,
practice methods have expanded with technology. Now recorded
music on tape, CD or video can help the young musician learn
how a particular style of music should sound. And the
musician can create and/or listen to compositions on a
computer, printing out the sheet music for a practice
session.

HMS Publications Inc., ISBN 1-888732-00-8, $14.95 paperback.
Available from bookstores or through the Pecos Enteprise
bookstore at www.pecos.net/news/books/pegpicks.htm

Peggy McCracken <!=============end copy===============>
---
---
Pecos Enterprise
Mac McKinnon, Publisher
Peggy McCracken, Webmaster
Division of Buckner News Alliance, Inc.
324 S. Cedar St., Pecos, TX 79772
Phone 915-445-5475, FAX 915-445-4321
e-mail news@pecos.net
Associated Press text, photo, graphic, audio and/or video material shall not be published, broadcast, rewritten for broadcast or publication or redistributed directly or indirectly in any medium.


Copyright 1998 by Pecos Enterprise
---