|
Daily Newspaper and Travel Guide
for Pecos Country of West Texas
Opinion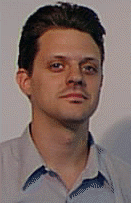 <!==========paste copy here=============>
March 25, 1998
LOOSE FISH
By Greg Harman
When it comes, it comes
Waiting for the virus

Biological weapons, the "poor man's atomic bomb," are the
subject of flashy fears screaming across headlines and
speckling news reports around the globe. The U.S. and
Britain's recent muscling up on Iraq was prompted, in a
large part, by knee-jerk fears over this insidious weaponry.
But these aren't new tools of destruction. They are, in
fact, the oldest and wisest of them all. What came before
the stone tools and the knowledge of the hunt but the
sniffle and hacking of the 'common' cold and various shades
of pneumonia? Back in the '50s and '60s, any government
worth their salt had a biological weapons program searching
for deadlier and deadlier viruses - several of which were
released into the air for testing on what are referred to as
"lesser" primates, whose only real crime had been their poor
table manners and questionable morals. And, sadly, the
bottom line is that these viruses do what they were designed
to do: they work.

When it comes, it comes.

That's my attitude on the topic of a biological weapons
attack. Not if it comes. But, however and whenever it comes:
it simply comes. Meanwhile there is reason to believe that
many of these "killer" viruses are merely unintentional
side-effects of the many bio-weapons programs that have been
hosted in nations all over the world throughout the years -
with our own program ending in 1969. The Russian program
didn't end until a few years ago, inspiring the
newly-unemployed and highly-specialized scientists to scout
out new jobs where the cash was available to fund more
research. A few came here to this country. A few.

When it comes, it comes.

A spiritually-poor man's mantra: resignation. Everyone knows
there hasn't been a military weapon designed that has not
been used eventually. We're not just talkin' madman Saddam
and bad-boy Iraq here either. The most recent New Yorker,
that sometimes heavy-hitting high-brow glossy, has an
incredibly dense analysis of the bio-weapons industry which
spotlights information provided by a high-level Russian
defector who had been a definite higher-up in the bio-weapon
industry there. He offers the reader some thoroughly
chilling insights into what is, and what may be yet, the
face of modern-day "germ" warfare, including a short list
of who has the larger, more advanced bio-weapons labs. Some
mentioned include Russia (though this was disputed by
another source), China, India, Syria, and Israel, as well as
the to-be-expected Libya and Iraq.

The article also quotes Dr. Peter Jahrling, chief scientist
for the United States Army Medical Research Institute for
Infectious Diseases (generally the more conservative voice
in the charged article) as saying, "The truth is, I'm not so
worried about governments anymore. I think genetic
engineering has been reduced to simple enough principles so
that any reasonably equipped group of reasonably good
scientists would be able to construct a credible threat
using genetic engineering."

And terrorists have got a good thing when it comes to
bio-weapons. A few pounds of anthrax, smallpox, ebola,
whatever, could be transported as easily as a piece of
wedding cake. As a report by the Office of Emergency
Preparedness of the Department of Health and Human Services
says, bio-weapons are attractive to terrorists because there
is a generally low degree of risk coupled with
"highly-visible payoffs."

So, it may be as Senate Investigator John Supko said when
questioned over this issue a couple of years ago, "It's not
really a question of 'if,' but rather 'when.'" Perhaps part
of the solution may be, as the November '97 issue of Science
magazine reported, a Department of Defense-funded 5-year,
$38.5 million collaboration between U.S. and Russian
scientists. This may at least keep the Russians, Science
magazine argues, from flocking to less-stable nations, more
apt to sponsor terroristic activities. All this can only beg
an uncomfortable resigned vigilence.

EDITOR'S NOTE: Greg Harman is a reporter for the Pecos
Enterprise whose column appears each Wednesday. He may be
e-mailed at: greg@pecos.net.
Ramblin's
Just another new year

By TUMBLEWEED SMITH
I started this year in a casino owned by the Ojibwe Indians
in Minnesota. When the stroke of midnight came and went,
nobody noticed. Everyone was busy pulling handles on slot
machines or placing bets at gaming tables.

I did see two men at the coat check place shake hands and
wish each other Happy New Year. Otherwise, the beginning of
1998 was very quiet.

The casino is located at Mille Lacs, Minnesota. It is owned
by the Mille Lace Band of the Ojibwe tribe. They also own
another casino at Hincklcy, Minnesota. The band numbers only
about 100 and each member makes well over a million dollars
a year from the casino revenues. Members of the band who
moved away years ago are now trying to move back and prove
their heritage so they can get in on the big money.

We spent most of January first at the Mall of America in
Bloomington, a suburb of Minneapolis. It is the biggest mall
in the world. The mall covers 78 acres and is large enough
to hold 7 Yankee Stadiums or 32 Boeing 747's. It has 30,000
live plants, including 400 huge trees. It has an amusement
park named Camp Snoopy in the center of it with a roller
coaster, ferris wheel and other attractions. Golf Mountain
is an 18 hole miniature golf course complete with 7
waterfalls.

When we were there, the mall was raffling off a 3 bedroom
house that had been built in the mall. The mall, now five
years old, has 400 stores on 4 floors. Twelve thousand
people work there. It attracts 40 million visitors a year
who spend an average of 3 hours at the mall. The mall is
located just two miles from the Twin Cities airport.

We toured the Lego Imagination Center, where you can see
Lego creations 8 feet tall. Then we went to Underwater
World, an aquarium like no other. It is a dry journey
through the sea.

Visitors tour Underwater World on a moving walkway through a
well lighted acrylic tunnel beneath a lakeful of water. You
can look up and around and see the undersides of live
sharks, stingrays, turtles, green moray eels, lobsters,
pike, walleye and dozens of other things that live in the
water. Visitors are given a "Dive Guide" to identify what
they are seeing.

The aquarium contains 8,000 species of underwater life found
in Minnesota cold water lakes, the Mississippi River, the
Gulf of Mexico and the Caribbean.

We dined at the mall's original Rainforest Cafe When I went
to make reservations, I was given a passport with the name
Kookaburra written on it. At 5:34 I was told the wait would
be 30 minutes. The passport contained information about the
restaurant and a menu. At 6:04 on the dot, I heard the
hostess announce "Kookaburra, party of 4.N We sat down and
experienced jungle sounds, thunder, lightning and a rain
shower during the meal.

Texas had more snow than Minnesota over the holiday season.
We took pictures of our Christmas snow to show our friends
in the north. It was their first Brown Christmas in ten
years.
Financial Focus
Avoid yesterday's hot fund

By JIMBOB NcNEIL
FINANCIAL ADVISOR
"Show me the money." That four-word sentence became last
year's catch phrase thanks to the hit movie "Jerry Maguire."

In the movie, the phrase "show me the money" referred to a
football contract. In real life, it could apply to mutual
funds. Everyone wants to see the money-that's why mutual
funds talk about past performance and some brokers recommend
hot funds.

Past performance figures are important because no one can
predict a fund's future performance. After all, if you can't
look at a fund's record, what can you look at?

However, be sure you look far enough back in time, and don't
use past performance as your only criterion in choosing
mutual funds. Too many investors are short-term
performance-chasers. Their investing guideline is finding
the hottest fund on the latest hit parade list.

If this is your yardstick, you'll be interested in a recent
study by Dalbar Inc., an investment research and publishing
firm. Dalbar found that many funds perform extremely well
when they have relatively few investors, but as the
shareholder base balloons, the fund often falters.

This finding was exemplified in an article in Registered
Representative magazine. The article discussed one of
investing guru Peter Lynch's favorite mutual funds, now one
of the biggest funds in the country. According to the
article, Lynch scored his biggest gains from this fund when
it counted less than $1 billion in assets, "including a few
superb years when the fund wasn't even open to the public."

The lessons here are: (1) it's easier to make significant
percentage gains with smaller assets; and (2) the mutual
fund manager who achieved those gains has to stay on the
job. These are important considerations when reviewing a
fund's past performance results.

The Dalbar study also showed that the funds themselves
typically do better than the individual investors, mainly
because investors focus too much on past performance without
understanding that those figures are for the long term. For
example, a fund with a long-term return of, say, 12 percent
annually, may have fared quite differently for an investor
who held it for only two or three years. One investment
professional told Registered Representative magazine it
takes about 20 years to determine if a mutual fund manager
is skillful or just plain lucky.

Investors often jump ship when long-term expectations don't
work out overnight. Dalbar found that this is the reason
many individual investors' results may under-perform their
funds' results. Stock fund investors tend to hold on to
their funds an average of three years. This doesn't allow a
fund to benefit from a complete stock market cycle.

For example, from January 1984 through December 1996, the
S&P 500 Index posted a compound annual return of 16 percent.
Yet Dalbar estimates that investors who bought stock funds
through brokers earned 6.2 percent a year. Those who bought
do-it-yourself funds earned even less -- 6 percent annually
on average. The reason: These investors did not hold their
funds for the full period.

Most professionals agree that the best way to make money in
mutual funds is to select a short list of outstanding fund
groups. Learn everything you can about the funds in that
family, choose those that meet your objectives, and stick
with them. Build a well-diversified mutual fund portfolio
based on your long-term objectives. This is your map to
financial security. Don't invest out of your rearview
mirror, continuously jumping to the most recent hot fund.

If you want a mutual fund to show you the money, buy quality
and hold it for the long term. <!=============end copy===============>
---
---
Pecos Enterprise
Mac McKinnon, Publisher
Peggy McCracken, Webmaster
Division of Buckner News Alliance, Inc.
324 S. Cedar St., Pecos, TX 79772
Phone 915-445-5475, FAX 915-445-4321
e-mail news@pecos.net
Associated Press text, photo, graphic, audio and/or video material shall not be published, broadcast, rewritten for broadcast or publication or redistributed directly or indirectly in any medium.


Copyright 1998 by Pecos Enterprise
---