|
Daily Newspaper and Travel Guide for Reeves County Trans-Pecos, Big Bend of West Texas
OPINION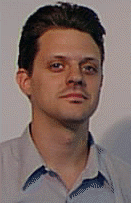 <!========paste copy here==================>
Opinion
Wednesday, December 17, 1997
LOOSE FISH

By Greg Harman
Together for the holidays
So, the holidays are creeping up - making themselves known
in the storefronts, neighborhoods lawns, and government
buildings by the liberal array of lights and tinsel.
Children are growing anxious for "the goods," and parents
look forward for those few days off from work.
Everyone is ready to lounge for a spell, ready to eat and
drink their way through - how does the song go? the seven?
eight? twelve? - days of Christmas.
The focal point of the holiday season has always been one
primarily of family. These are the times that we remember as
out-of-town relatives come to visit, or we load up our
branch of the family tree to travel to other parts of Texas
(let's keep it in the great state). These are the times that
children remember, for sure! Christmas can be an exciting
time.
For those who would rather get out of the house during their
time off from work, instead of simply reclining in front of
the T.V. absorbing all that the industry offers in the
glamour and drama of overly-stimulating hard-sell
commercials, there is plenty to go do.
For those who feel inclined to get out of town and see
something of the land I suggest the national parks to the
north of us (Guadalupe and Carlsbad) and Fort Davis to the
south.
While it may be a tad cold for camping out (though you never
can tell what the weather in Texas is up to), none of these
destinations need to be more than day trips.
State tourism likes to plug Texas as a "whole other country"
- and with the recent row with Republic of Texas adherents
they may be rethinking this advert - but if you drive west
out of Orla for a few miles you'd be likely to agree. The
land opens up out there, charged with magic.
El Capitan comes into view, and its truly something to
experience. While there isn't much to see at Guadalupe
Mountains National Park if you stay in your car, it's nice
to get out and tramp around for a few hours. Then, 35 miles
northeast is Carlsbad Caverns National Park complete with
elevators into the caverns for more elderly relatives.
And, if fishing is your thing, several area lakes are
stocking up. Ascarate Park in El Paso is scheduled to
receive 7,000 trout in December and January; Commanche Park
in Odessa was to receive 6,000 rainbow trout earlier in the
month; and just days before Christmas (if you have plans to
be in the area) the Oakes Street Lake in San Angelo will be
receiving over 8,000 rainbow trout.
Word is that catfish in Possum Kingdom are responding great
to cut bait and frozen shrimp.
Whatever you do with the time off: best wishes to you and
yours this holiday season.
EDITOR'S NOTE: Greg Harman is an Enterprise writer whose
column appears each Wednesday. He can be e-mailed at:
greg@pecos.news
Crititc's Corner
Genealogy in the computer age
Using a computer to research family history can greatly
speed up the process. And the Mormon church offers public
access to their voluminous computer records through one of
their 2,000 family history centers worldwide - and at many
other libraries.
The records are on CD, and may be accessed with software
supplied by the church. It is not available by modem, nor is
that in the plans.
"Genealogy in the Computer Age: Understanding FamilySearch"
is a paperback manual for the software. The three-hole
punched booklet can be purchased from the church or through
bookstores, such as the Pecos Enterprise online bookstore at
www.pecos.net/news.
It details how to access the Ancestral File, the
International Genealogical Index and the U.S. Social
Security Death Index.
Published by: Family History Educators, P.O. Box 510606,
Salt Lake City, Utah 84151-0606 USA.
Peggy McCracken <!=======End Copy=============>
---
---
Pecos Enterprise
Mac McKinnon, Publisher
Peggy McCracken, Webmaster
Division of Buckner News Alliance, Inc.
324 S. Cedar St., Pecos, TX 79772
Phone 915-445-5475, FAX 915-445-4321
e-mail news@pecos.net
Associated Press text, photo, graphic, audio and/or video material shall not be published, broadcast, rewritten for broadcast or publication or redistributed directly or indirectly in any medium.


Copyright 1997 by Pecos Enterprise