NEWS PAGES
News
Sports
Opinion
Lifestyles
Eagles Football
Sports Scores
Texas Lotto
SPECIAL SECTIONS
Living off the Land
Football '97
Golden Years
Visitor's Guide

ADVERTISING
Display Advertising
Bookstore
Classified
TRAVEL
Tourism
Pecos Attractions
Caprock Country
ARCHIVES
Archives 87
Archives 95
Archives 96
Archives 97
AREA NEWSPAPERS
Monahans News
Fort Stockton Pioneer
Alpine Avalanche
Van Horn Advocate
STAFF
Mac McKinnon
Jon Fulbright
Peggy McCracken
Rick Smith
Rosie Flores
Cara Alligood
Greg Harman
FORUM
E-Mail Forum

|
Daily Newspaper and for Reeves County Trans Pecos, Big Bend of West Texas
OPINION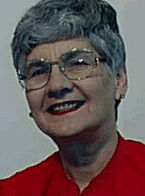 <!=================paste copy here==========================>
Opinion
Tuesday, December 16, 1997
Squarely
Pegged

By Peggy McCracken
E-mailed Christmas cards are the in thing
Multi-media Christmas cards are the in thing among e-mail
nerds this year, and some are pretty cute. I got one last
week from the state department of commerce that played
Jingle Bells over and over while you looked at a Longhorn
inside one of those glass-topped paperweights. "Shake Me,"
said the button under the paperweight. When I clicked on the
button, the paperweight began to shimmy, stirring up "snow"
like the real thing.
Then Rick's brother sent him a "card" that shows Santa's
sleigh approaching from the North Pole while a Christmas
carol plays. Just as you begin to wonder when the sleigh
will land, Rudolph the Red-nosed Reindeer hits the screen
red-nose first, SPLAT!!!
Fran Meek got a cute card from her only cousin, Conrad
Stolzenbach. Ben thought it was so cute, he wanted to share
it with you. Written by Jim and Nita Lee in December, 1972,
this one has been around the world a few times.
'Twas the night before Christmas and all through the casa,
Not a creature was stirring-caramba! Que pasa?
Los ninos were tucked away in their camas,
Some in long underwear, some in pijamas,
While hanging the stockings with mucho cuidado
In hopes that old Santa would feel obligado
To bring all children, both buenos and malos,
A nice batch of dulces and other regalos.
Outside in the yard there arose such a grito
That I jumped to my feet like a frightened cabrito.
I ran to the window and looked out afuera,
And who in the world do you think that it era?
Saint Nick in a sleigh and a big red sombrero
Came dashing along like a crazy bombero.
And pulling his sleigh instead of venados
Were eight little burros approaching volados.
I watched as they came and this quaint little hombre
Was shouting and whistling and calling by nombre:
"Ay Pancho, ay Pepe, ay Cuco, ay Beto,
Ay Chato, ay Chopo, Macuco, y Nieto!"
Then standing erect with his hands on his pecho
He flew to the top of our very own techo.
With his round little belly like a bowl of jalea,
He struggled to squeeze down our old chiminea,
Then huffing and puffing at last in our sala,
With soot smeared all over his red suit de gala,
He filled all the stockings with lovely regalos-
For none of the ninos had been very malos.
Then chuckling aloud, seeming very contento,
He turned like a flash and was gone like the viento.
And I heard him exclaim, and this is verdad,
Merry Christmas to all, and Feliz Navidad!
"Glory to God in the highest, and on earth peace to men on
whom his favor rests." Luke 2:14, NIV.
EDITOR'S NOTE: Peggy McCracken in an Enterprise writer and
webmaster whose column appears each Tuesday. Send her a
multi-media card to: news@pecos.net.
---
---
Pecos Enterprise
Mac McKinnon, Publisher
Peggy McCracken, Webmaster
Division of Buckner News Alliance, Inc.
324 S. Cedar St., Pecos, TX 79772
Phone 915-445-5475, FAX 915-445-4321
e-mail news@pecos.net
Associated Press text, photo, graphic, audio and/or video material shall not be published, broadcast, rewritten for broadcast or publication or redistributed directly or indirectly in any medium.


Copyright 1997 by Pecos Enterprise
We support
---