|
Daily Newspaper and for Reeves County Trans Pecos, Big Bend of West Texas
OPINION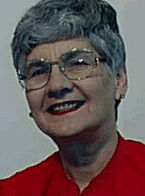 <!=================paste copy here==========================>
Opinion
Tuesday, December 9, 1997
Squarely
Pegged

By Peggy McCracken
Mission to Mexico
fresh a year later
Rey Carreon and I had the privilege Sunday night to report
to North Temple Baptist Church on our mission trip to
Sahuayo, Mexico. Although it was a year in September since
we preached, sang and knocked on doors in that two-week
crusade, it seems like yesterday.
As I loaded slides into the projector, each one reminded me
of the people we met, ate with, prayed with, worshiped with
and walked the streets with, telling the Good News that
Jesus died to pay the wages for their sins.
It was a well-planned talk. I carefully sorted the slides by
topic: contrasting big buildings and traffic in Mexico City
with humble homes, narrow streets and narrower sidewalks in
rural Sahuayo; showing the various means of transportation;
comparing the spare, brick-walled, bare concrete floor
Baptist church building with our carpeted sanctuaries; and
introducing church leaders, converts and sinners we sought
to convert.
Arriving 15 minutes before showtime, I found Kathy Hurley
ready to provide a screen, table and extension cord for the
projector. While I retrieved the cord and remote slide
selector from the bottom of the projector, I let it slip and
my carefully-arranged slides tumbled to the floor!
Youngsters scrambled to pick up the slides for me, so there
was no chance of getting them back in the same order.
Professionals carry on with the show in the face of any
disaster, though. I surprised Rey by making him narrator as
I pushed the selector buttons and added a comment here and
there.
Rey was the leader of our team, which consisted of guys from
Mexico City, Honduras and Guadalajara - and me - so he
should have been the spokesman, don't you think? In my haste
to get the slides back in the holder, I put one of Rey
upside down and another on its side. No, I didn't do it on
purpose. But it added a little humor to what could have been
a fiasco.
Would you go again? asked North Temple pastor Mac McCormick.
Sure, I would love to. If that same church invited us back,
we'd probably both go in a minute if we had the funds. Rey's
wife, Teresa, would also enjoy the trip, and he'd like to
take the three girls. That would be neat. I know they would
love the people as much as we did.
One of the ladies who fed us so graciously has died since we
were there. Four of the young singles coupled up to form two
new families. I'm sure there have been more babies added to
the mix, and I hope new spiritual babies as well. The church
was looking for a pastor, but still had not found one the
last time I talked to them. They worked so well together to
get the job done, they were making progress anyway.
I really would like to know about Lety, the woman I pinned
my name tag to and dubbed her the church pianist. Did she
follow through with lessons on her electronic keyboard? Are
she and her husband, Gilberto, teaching ensembles how to
sing parts? Has she replaced the well-worn accompaniment
hymnal she loaned me to use at the piano? Have they given
little Cesia a brother or sister to play with?
Since floods ravaged that part of Mexico, Rey and I have
been concerned about our friends, wondering if the mountains
were washed into the valleys. We know that, whatever the
circumstances, God can minister to their needs through
prayer, but we'd still like to see for ourselves.
"Hope deferred makes the heart sick, but a longing fulfilled
is a tree of life." Proverbs 13:12, NIV.
EDITOR'S NOTE: Peggy McCracken is an Enterprise writer and
webmaster whose column appears on Tuesday. Send your
comments by e-mail to news@pecos.net.
Our View
Tour of homes real treat for everyone in Pecos
If you missed the 1997 Christmas Tour of Homes Friday night,
you missed a real treat.
It was presented by the Women's Division of the Pecos
Chamber of Commerce in cooperation with homeowners and local
merchants.
The four homes opened for public tour to see Christmas
decorations were those of Mr. and Mrs. Bill Allen, No. 6
Briarwood Circle; Mr. and Mrs. Larry Sanders, 1705
Jefferson; Mr. and Mrs. Brent Shaw, 1800 Missouri and the
Weatherby House, 423 Oleander.
All of the homes were beautifully decorated and a joy to see
during this special season. It was obvious that a lot of
work was put into the decorations and planning for this
event.
Additional decorations for the homes were provided by
Bryan's Nursery, The Ceramic Shop, Fonville Jewelers, Four
Seasons Flower Shop and Taylor's Flowers.
The ticket for the tour costing $12 which is used by the
Women's Division for their many projects was also very
special as it was in the form of a booklet with information
on each of the homes. Special thanks was given to a number
of people and firms involved including the Enterprise's
Rosie Flores and Cara Alligood.
Also helping out in addition to the homeowners were Marilyn
Oden, Armstrong Realty, Pecos Valley Country Club, West of
the Pecos Museum, First National Bank, Security State Bank,
KIUN Radio, Reeves County Reserve Deputies and Reeves County
Explorers Troop #600. The latter two groups helped provide
tour guides for the homes.
Also on hand as a tour guide was Gail Taylor, Golden Girl of
the Old West.
It was a great evening that was concluded with a Merchants
Bazaar at the Pecos Valley Country Club.
This event was years in the making and we hope it becomes a
yearly tradition, one which will grow now that everyone has
an idea of what it is. Thanks to all those involved,
particularly the ladies of the Women's Division of the
Chamber.
Your View
Young men honored in November issue
To The Editor:
I felt I should acknowledge your issue of Nov. 11 honoring
all those young men.
I am English, and know many young Americans, who came over
to help win the war with Germany.
I always feel what a terrible waste.
I thank you for the space you spared for those who fell for
their beliefs.
Cora J. Martin
Ulster, Pa.
---
---
Pecos Enterprise
Mac McKinnon, Publisher
Peggy McCracken, Webmaster
Division of Buckner News Alliance, Inc.
324 S. Cedar St., Pecos, TX 79772
Phone 915-445-5475, FAX 915-445-4321
e-mail news@pecos.net
Associated Press text, photo, graphic, audio and/or video material shall not be published, broadcast, rewritten for broadcast or publication or redistributed directly or indirectly in any medium.


Copyright 1997 by Pecos Enterprise
We support
---