|
Daily Newspaper and for Reeves County Trans Pecos, Big Bend of West Texas
Use "FIND" option on toolbar to search for a specific word or string. <!=================paste copy here==========================>
Thursday, December 4, 1997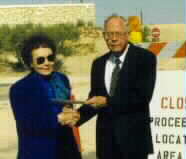 West Texas banks give $25,000 for Sandhills
West Texas area banks have donated $25,000 to the $160,000 campaign to enhance Monahans Sandhills State Park.
The early Christmas gift came from a bank holding company whose properties include First State Bank of Monahans, Kermit State Bank and the Bank of the West in Odessa.
First State Bank President Charles Wade, above right, made the presentation to Kitty Dunagan, chair of the Friends of Monahans Sandhills State Park, in front of the park reception center's parking lot where work already is in progress.
The gift pushes the total collected so far to $134,000, $26,000 short of the fund drive's goal.
"We are optimistic that we will be able to reach our goal by the end of the year," said Dunagan as she thanked Wade and the area banks.
"West Texas Banks are pleased to have a part in putting the Monahans Sandhills State Park on a sound financial basis for the future," said Wade as he presented the gift to Dunagan.
Money from the fund drive is being combined with state funds for renovation and enhancement of the park and its museum/interpretive center.
Work already is in progress and the center's park offices have moved temporarily to the Section House in the park until its completion. Officials note those visiting the park should turn right on the road immediately after the entrance and just before the center's parking area to go toward the Section House.
Wade says directors of area banks voted unanimously to make the gift to the Sandhills.
Continues Wade: "Tourists dollars are one of the best contributions to the local economy because these rarely require large investments in schools, roads or other services normally required to service new businesses.
Pat Finley retiring
Ward County Clerk Pat Finley says she is retiring. Even if it is the Christmas season, we should all feel a little somber. Finley is one of those elected officials anyone can use as a good example of why democracy is the best, allbeit not perfect, form of government the mind of man has yet devised.
Pat Finley did her job and she has done it well. She has been in office since 1979 and she feels it is time to stop and smell the roses for a little while. She deserves that. She has served the people and she has served them well.
But Pat Finley's kind of retirement looks like it could be tiring. She plans to keep working in the community, the church, the library, the Ward County Archives and then pull a stint or two with the hospital auxiliary.
On further consideration, that's the kind of retirement you would expect from a county clerk who once was chosen the most outstanding county clerk in Texas by her fellow county and court clerks. That was in 1990 and 1991.
Pat, we don't want to see you go but we understand why you have decided to take a rest.
After all, as you have noted, you really might need to "get my house and closets clean." But we'd bet your house and closets are as pristine as the offices and records of the Ward County Clerk.
Thank you, Pat V. Finley.
No one could replace you as county clerk. It would not be right to expect that of who ever your successor might be.
Jo Ann Roark first candidate to file
Clerk Jo Ann Roark of the 143rd Judicial District was the first
candiate to file for the Democratic Primary in Ward County.
Roark filed the formal documents Wednesday morning with Triva Oxedine,
elections officer for Ward County Democrats.
Candidates for the primary elections have until Jan. 2 to file with
either party election officers.
Political season officially begins in County
Pat V. Finley, who has been Ward County Clerk nearly two decades and
who once was named by her peers the most oustanding county clerk in
Texas, does not plan to seek re-election.
Precinct 2 County Commissioner Bill Welch also says he will retire from
elective office.
Both are Democrats.
Finley says it is time for her to surrender her office "and get my house
and closets clean." The county clerk says she wants to do volunteer work
in the community, church, hospital auxiliaary, library and the archives.
"I'd like to travel some and spend more time 'just not hurrying'," says
Finley.
Welch also looks forard to time away from the courthouse.
"I'm going to retire," Welch says.
I'm turning 65 and my wife's prepariang to retire at her job. lMy wife's
worked all her life. It's time to take it easy. "I'm not going to seek
re-election."
Those decisions by incumbents to retire were the major developments of
the pre-Christmas start of the 1998 political season in Ward County and
the state of Texas. In local elections, the Democratic Party has been
supreme in Ward County for more than a century. The only known potential
Republican candidate for local office is Candido Gutierrez of Monahans,
who has said he will seek the GOP nomination for County Judge where he
most likely will face incumbent and Democrat Sam G. Massey, who seeks
re-election.
By Tuesday, Dec. 2, two potential county clerk candidates - Finley's
Chief Deputy Judy L. Greer, who has served with FInley since she took
office, and another veteran clerk, Natrell Cain, who has been in the
office since Jan. 20, 1986,, filed their campaign treasurer documents, a
necessary pr4erequisite to filing with political party election officers
for the March 10 primary.
Finley's pending retirement marks the end of a career in elective office
that began in 1979.
Says Finley: "As I look back, I have seen many changes since I started working for Ward County: Walter Harwell was the County Judge, followed by Carl D. )Toon) Estes; E.A. King, Chester Taggart, Richard Sitz and currently, Sam G. Massey.
"The jail was on the third floor of the Courthouse and Blackie McNerlin
was the Sheriff. The jury room also was in existence, complete with beds
and lavatories used when juries were sequestered. A part of the present
County Clerk's office was the "colored men's" restroom when I went to
work here.
"All the record books were in the entrance area of the office and we
were recording in Deed Volume 189. Today, we are in the 660s (of Deed
Volumes) and our part of the North wing of the courthouse is about
filled to capacity."
Finely says she is "extremely proud of the condition of those records.
Many landmen have commented that we have very good, clean, legible
records."
She thanks the citizens.
"The people of Ward County have been so very good to me," declares
Finley. "I have thoroughly enjoyed the work I do and the people I serve."
But she is ready to leave.
Says the County Clerk: "When I went to work for Ward County, our
daughter was three years old. Now, my grandchildren are 13 and 15. It is
time for me to retire."
What are her plans?
"After I retire (and get my house and closets clean) I would like to do
volunteer work in the community, in my church, hospital auxiliary,
library and the archives. I'd like to travel some and spend some time
'just not hurrying'."
Candidates file campaign treasurer
Candidates for party nominations to Ward County offices at stake in the
1998 elections first must file their campaign treasurer declarations
with the county clerk, reminds Ward County Clerk Pat V. FInley.
Only after this is done, says FInley, can the candidates file for either
Democratic or Republican party nominations.
So far, the county clerk reports, the following potential candidates
have filed the required campaign treasurer declarations.
Court Clerk
143rd Judicial District
Jo Ann Roark, incumbent, of Monahans.
County Judge
Candido Gutierrez of Monahans.
Sam G. Massey, incumbent, of Wickett.
County Treasurer
Nell Berry, incumbent, of Monahans.
Carolyn Cunningham of Monahans did not declare her specific canidacy
when she filed the campaign treasurer's documents. But she told The
Monahans News she plans to seek the office of County Treasurer.
County Commissioner Pct. 4
Ricky McCurdy of Monahans.
Charles D. Carrasco of Monahans.
County Commissioner Pct. 2
Henry Cutbirth of Monahans.
Pearson Cooper of Monahans.
Kathy Fausett of Monahans.
Justice of the Peace Pct. 2
Ronold L. Ray of Monahans, incumbent.
Justice of the Peace Pct. 1
Gene Baker of Pyote.
Ward County Clerk
Judy L. Greer of Monahans.
Natrell Cain of Monahans.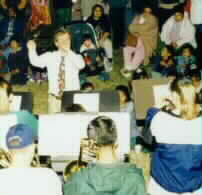 Yuletide tradition in the park
In Hill Park across from the courthouse in Monahans, the Monoahans High School band plays at the traditional start of the Christmas season in Ward County. Citizens gathered in the park on the pre-Thanksgiving weekend.
City Christmas tinsel
Last weekend, a special projects team from The Monahans News toured
several communities in Texas, New Mexico, Oklahoma and Missouri. This
special projects team considered even venturing into Kansas for further
research but rejected the idea which anyone who has ever been to Kansas
will understand.
The focus of this study was City Christmas Tinsel, the stuff that
Chambers of Commerce and City Government staff members hang around their
towns during the Christmas Season to encourage people to spend money and
leave them with the bubbling spirit of Christmas.
Here is the result of this special fact finding trip. The City Christmas
Tinsel of Monahans is no worse, and in many cases a bit better, than
that of many of the communities visited in this whirlwind tour. It does
appear many of the light standard and street Christmas Decorations may
have come from the same warehouse where it is possible some kind of
group buying may have gotten a little better price. One team member
wondered if the same salesman who sold the rainmaker scam to Corpus
Christi in 1980 might have gone into City Christmas Tinsel and
Decorations the next year.
---
---
Pecos Enterprise
Mac McKinnon, Publisher
Peggy McCracken, Webmaster
Division of Buckner News Alliance, Inc.
324 S. Cedar St., Pecos, TX 79772
Phone 915-445-5475, FAX 915-445-4321
e-mail news@pecos.net
Associated Press text, photo, graphic, audio and/or video material shall not be published, broadcast, rewritten for broadcast or publication or redistributed directly or indirectly in any medium.


Copyright 1997 by Pecos Enterprise
We support
---