|
Daily Newspaper and for Reeves County Trans Pecos, Big Bend of West Texas
OPINION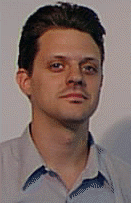 <!=================paste copy here==========================>
Opinion
Wednesday, December 3, 1997
Loose Fish

By Greg Harman
All that pessimism,and more
A birthday: a day to pause and remember all your other lousy
birthdays. A day to consider the grave, the judgment and the
extra regions of weight drifting about your gut. A birthday
is a day when many attempt to hoist themselves into the
center of everyone's attention and are left the morning
following, disgruntled, wondering why they don't inhabit the
center of the universe 24-7.
Today is a pessimist's twenty-seventh birthday-mine. Though
I know I'm still young (relatively), but
h-e-double-hockey-sticks, I've known those who have died a
lot younger.
So, as I gauge my birthday reaction, I am led to think about
what it means to be a pessimist. And I thank all the wilting
flowers that my negative views on life aren't in any way
hindered by a general depression that follows me and
intertwines with all that I do (not surprising, considering
my middle name literally means: dweller by black waters).
But for all the times I've attempted to "overcome" my
negative outlook, I believe it has served me more than it
has hurt. Pessimism has a place, in politics, religion, in
everything. Here are some of the benefits I have noticed
from a pessimistic outlook.
Pessimism means you never have to believe a thing anybody
says: you know human nature to be as low as the dirt
underneath the rocks under which the underbelly of the slug
slides over before it is shaken with salt.
Pessimism means you are genuinely surprised when someone
does something nice for you-and you're ready for them when
they attempt to collect on the "favor."
Pessimism is the verbal warning about the long-term impact
of factory farming, the use of non-renewable resources and
retro-fashions (perhaps my children will one day be
imitating the 90's imitation of the 60's imitation of 1930's
fashion).
Pessimism is never having to say you're sorry, only "what
else did you expect?"
Even in the shadow of the high Corinthian arches of
religious expression pessimism has some claims to boast of.
We've got Doubting Thomas: without whom we would have never
had the dramatic rendering of the human finger entering the
wounds of the resurrected Christ.
Pessimists can boast of the colorful story of Jonah: who was
certain that nothing good would ever come of anything in
Ninevah. By this negative viewpoint, Jonah illustrated
several endearing facts about human nature by issuing his
cosmic "I don't think so."
Even the Buddha was one of us. When he realized that life
was nothing but suffering he sat down under that broad tree
and refused to move until he reached his enlightened repose
that gave the sculptors of gigantic human forms so much
inspiration.
This negative stance on current human events lends us such
positive imaginings as the possibility of uncovering a few
hundred pounds of anthrax virus in thousands of miles of
Iraqi desert; human beings ever being reconciled with a
technology approaching a state of advancement where it's
feasible that the science of cloning and Artificial
Intelligence may do away with our own inefficient and
erratic methods of reproduction, education and employment;
and the impregnability of Wall Street and the Dow Jones
Industrial Average, rolling comfortably at the 8,000 mark,
from international quakes.
Pessimists, however, have a difficult time being impressed
with "what is." All the good news in the world would never
boll a firmly-rooted pessimist over. No matter how good it
gets, a pessimist will only watch from afar, muttering "wait
and see."
So, from time to time I try to switch things up a bit and
realize how good things really are . . . then something
happens to startle me to my senses and I realize that it's
the real world I'm living in, after all.
Editor's Note: Greg Harman is an Enterprise writer whose
column appears each Wednesday. He can be e-mailed at:
greg@pecos.net
Your View
Damaged fence irks Pecos resident
To the Editor:
Four months ago (August) I reported to City Hall that the
garbage collection truck had accidentally damaged by back
yard fence by dropping the trash dumpster on the gate. Mr.
Garcia at City Hall directed me to Wes-Tex Waste, who do the
trash pick-up in Pecos. I called Wes-Texas Waste a couple of
times, their 800 number is advertised on the city dumpsters.
They said I had to talk to the local manager here. I called
him but he just gave me the run-around. My son called
Wes-Texas Waste but they wouldn't even let him talk to the
manager.
I talked to Mr. Gil who heads the health and sanitation
departments. A few days later he went to my place of
employment and left a message for me. He very sarcastically
said that Wes-Texas Waste does not repair fences. I figure
if they don't repair fences they shouldn't damage them or
they should hire more capable truck drivers.
From there I called City Manager, Mr. Neal. He was more
co-operative when I explained the situation. He sent some
city employees to my house to assess the damage so the fence
could be repaired. I called him again after more than three
weeks had passed and Mr. Neal said they were still looking
into it.
Four months have passed and nothing has been done and I have
not heard from City Hall nor from Wes-Texas Waste, but let
me overlook my water bill for a couple of months and you can
bet my water will be shut off.
City Government!!!
A Taxpayer and Son
Mrs. Socorro Mendoza
Jaime Mendoza
Your View
Alcohol sales to minors irritates one reader
To The Editor:
I was very pleased to see that an investigation had been
conducted regarding the sale of alcohol to minors (Pecos
Enterprise, Dec. 1, 1997).
For years my minor children have been able to purchase
alcohol. I asked them where they are able to get it but of
course they won't tell me. But it was pretty common
knowledge some of the businesses that were doing it. I
wondered why, when people seem to know it's going on, that
something wasn't being done about it. It's against the law!
So, I was thrilled to see that an investigation had been
conducted. But as far as I can determine nothing is still
being done about it. According to the article, law
enforcement officers witnessed 12 different businesses
breaking the law. The article said that these cases will be
filed at a later date.
Why isn't something being done now? I want names of
businesses that would sell alcohol to minors.
Do they realize the agony they put parents through by
allowing minors accesibility to alcohol?
I know that the minors buying the alcohol are not innocent.
But if it wasn't so easy for them to get, maybe some of them
wouldn't get it. If even one child is kept from easy
availibility to alcohol, it will be worth the effort.
A Concerned Parent,
Name Withheld by Request
---
---
Pecos Enterprise
Mac McKinnon, Publisher
Peggy McCracken, Webmaster
Division of Buckner News Alliance, Inc.
324 S. Cedar St., Pecos, TX 79772
Phone 915-445-5475, FAX 915-445-4321
e-mail news@pecos.net
Associated Press text, photo, graphic, audio and/or video material shall not be published, broadcast, rewritten for broadcast or publication or redistributed directly or indirectly in any medium.


Copyright 1997 by Pecos Enterprise
We support
---