|
Daily Newspaper and for Reeves County Trans Pecos, Big Bend of West Texas
OPINION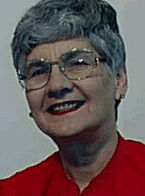 <!=================paste copy here==========================>
Opinion
Tuesday, December 2, 1997
Squarely Pegged
By Peggy McCracken
Digital camera has its pros and cons
Digital cameras are THE hot item on Santa's list this
Christmas. Computer buffs are expected to be requesting them
by the boxcar load. If Santa grants their wish, will they be
happy or sad?
A digital camera is one that requires no film. Images are
recorded as numbers (digits) on the camera's computer chip
and transferred to a computer or printer. Once in the
computer, the image can be cropped, "tweaked" to improve the
colors, posterized, solarized, warped, softened, sharpened
and a variety of other operations the particular software
supports.
I have used a simple digital camera for a year, mostly to
add interest to our web pages, which has really worked out
great. I have also used it for family photos, with mixed
results.
If you are thinking of going the digital route, you may want
to consider just what they will - and won't - do.
Pro: No film to buy or process. Con: Photo paper and ink are
expensive.
Pro: Instant photos to post on the Internet or send by
e-mail. Con: Images are easily erased from the camera and/or
computer disk, and you have no negative to make another.
(Always copy image to another file before printing or
manipulating it.)
Pro: Unlimited copies can be printed from one exposure. Con:
Enlargements may be distorted, and printing takes time.
Pro: Point-and-shoot camera is easy to operate. Con: Fixed
focus lens does not allow for creative photography. (More
expensive models do have interchangable lenses).
Photo quality varies as much with digital cameras as it does
with the old-fashioned film kind. Computer magazines and web
sites have reviews of various brands and models, and I
would recommend lots of research before you decide.
You'll want to know about the camera's resolution (number of
dots per square inch), storage (number of images you can
make without downloading and starting over), type of lens or
lenses (are they interchangable?), type of flash (can you
turn it off or force flash?), hardware and software included
(does it have a cable or other connection to upload images
to the computer or printer? does it provide software to
manipulate images?).
Digital cameras are being improved all the time, and the
prices are dropping. But they still cost a lot more than a
film camera delivering the same quality photos. For example,
my digital retails for $500, and I paid $50 for the
excellent point-and-shoot Kodak it replaced.
For those who need ditigal images, there are alternatives.
One is to have your film processor digitize them for you.
They charge $3 to $5 per roll.
Another is to scan the printed photos into your computer.
You can use a flat-bed scanner, a negative scanner, or even
a scan cartridge for your bubble jet printer. (My new
printer has an optional scan cartridge that works great. You
take out the ink cartridge, install the scan cartridge and
feed the photo through the printer like a sheet of paper.)
For Christmas, I am using both images from my digital camera
and prints scanned in with the cartridge to produce T-shirt
transfers for my family. Using my computer, I am adding text
to the images to give them an even more personal touch. It
will cost more than a store-bought shirt, but I think it
will be worth both the cost and the considerable time
invested.
"The Lord is with me; he is my helper." Psalm 118:7, NIV.
EDITOR'S NOTE: Peggy McCracken is an Enterprise writer and
webmaster whose column appears each Tuesday. She welcomes
e-mail comments at news@pecos.net.
---
---
Pecos Enterprise
Mac McKinnon, Publisher
Peggy McCracken, Webmaster
Division of Buckner News Alliance, Inc.
324 S. Cedar St., Pecos, TX 79772
Phone 915-445-5475, FAX 915-445-4321
e-mail news@pecos.net
Associated Press text, photo, graphic, audio and/or video material shall not be published, broadcast, rewritten for broadcast or publication or redistributed directly or indirectly in any medium.


Copyright 1997 by Pecos Enterprise
We support
---