|
Daily Newspaper and for Reeves County Trans Pecos, Big Bend of West Texas
OPINION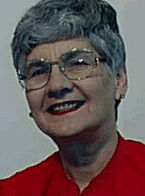 <!=================paste copy here==========================>
Opinion
Tuesday, November 11, 1997
Squarely Pegged

By Peggy McCracken
Are you online?
That's become the question of the hour around the newsroom.
Reporters need/want access to the Internet to do research. Editors
want to download weather maps, comics, graphics for the editorial
page and columns. Web programmers need information from a variety
of sites and search engines and to upload today's Enterprise pages
for our online readers. Everyone wants to read their e-mail and
send out their own missives with no need for stamps or
long-distance charges.
It's almost as bad as trying to get a free telephone line, send a
fax or make copies. All the high-tech machinery that is supposed
to make life easier just adds to the stress.
I just read a review of Internet search engines and e-mail
blockers. Both are a necessity in this age of instant information.
The best search engines index every word on a site so users can
locate data with a click of the mouse. Since we have posted local
news from 1995 to present (plus the 1987 Saragosa tornado) in our
archives, a good search engine could locate a story with your name
in it. We often hear from people who stumbled across our site with
just such a search. And last week someone mentioned a photo of
councilman Ricky Herrera that turned up with a search on the name
"Herrera."
E-mail is another matter. Anyone who has an e-mail address is sure
to get more junk mail than love letters. Software producers are
offering a variety of programs that can block unsolicited e-mail.
Of course, that's also going to block Hi! Peggy notes from old
friends like George Toone.
George can't see the text on a screen, but he has software that
can read it aloud to him. And when he talks into the computer's
microphone, it types his message - much more accurately than
George can type.
In case you don't know George, he is from Saragosa but now
counsels college students in Abilene. And if you do know him, drop
him an e-mail note at gtoone@westex.net - he'll be tickled to
hear from you. Don't bother attaching a photo, though. His
software is limited to text.
Photos can be a problem on the web because they require long
downloading times. I back out of lots of sites because they have
more graphics than information. It is so aggravating to wait what
seems like eternity for a page to appear on the screen, only to
find colorful nonsense and links to other pages that take forever
to appear.
One big problem we've had lately is downloading programs. Slow
Internet traffic has made receiving a small 2.5MB file almost
impossible. And nowadays, nearly everyone sells their software
over the Internet. You download it free of charge, use it for 30
days, then pay for it and get an "unlock" key that makes it your
own. But if you can't download it in the first place, it's not
going to do you much good.
Gurus in the computer telephony world are working on digital
lines, cables and satellites that will solve some of the
transmission speed problems. Wonder how long it will take them to
reach Pecos? Maybe in the next century.
Meanwhile, the world is just a mouse click away from our desert
oasis. If you really want to reach out and touch someone, online
is the way to go.
"The Lord will watch over your coming and going both now and
forevermore." Psalm 121:8, NIV.
EDITOR'S NOTE: Peggy McCracken is an Enterprise write and
webmaster whose column appears each Tuesday. She welcomes e-mail
at news@pecos.net
Critic's Corner
Book gives beginners a guide to start a business
Home is the office in the online business world. With a computer
and modem, anyone can start up a business and link it to the world
through the Internet.
In "121 Internet Businesses You Can Start From Home," Ron E.
Gielgun gives a beginner guide to starting a business online. He
describes how to do business on the Internet, outlines the basics
of the online world, tells you how to connect, how to design your
site and how to promote it.
Internet businesses range from a parenting center for young
children to a virtual cemetery. You might be a candle
manufacturer, herb grower, writer, cook, mortgage loan broker,
rubber stamp manufacturer - or just about anything you can
imagine. Some sites act only as links to other sites with similar
information.
If you want to sell directly over the Internet, choose something
small and easy to ship. Give the customer a choice of paying
directly online with a credit card, by telephone or by mail.
Gielgun tells you how much you will likely have to invest, how
many employees you may need, what competition to expect and
whether the site has international potential.
The paperback edition is published by Actium Publishing Inc. and
is available in bookstores at $19.95 or through the Enterprise
Bookstore at a discount.
PEGGY McCRACKEN
---
---
Pecos Enterprise
Mac McKinnon, Publisher
Peggy McCracken, Webmaster
Division of Buckner News Alliance, Inc.
324 S. Cedar St., Pecos, TX 79772
Phone 915-445-5475, FAX 915-445-4321
e-mail news@pecos.net
Associated Press text, photo, graphic, audio and/or video material shall not be published, broadcast, rewritten for broadcast or publication or redistributed directly or indirectly in any medium.


Copyright 1997 by Pecos Enterprise
We support
---