NEWS PAGES
News
Sports
Opinion
Lifestyles
Eagles Football
Sports Scores
Texas Lotto
SPECIAL SECTIONS
Living off the Land
Football '97
Golden Years
Visitor's Guide

ADVERTISING
Display Advertising
Bookstore
Classified
TRAVEL
Tourism
Pecos Attractions
Caprock Country
ARCHIVES
Archives 87
Archives 95
Archives 96
Archives 97
AREA NEWSPAPERS
Monahans News
Fort Stockton Pioneer
Alpine Avalanche
Van Horn Advocate
STAFF
Mac McKinnon
Jon Fulbright
Peggy McCracken
Rick Smith
Rosie Flores
Cara Alligood
Greg Harman
FORUM
E-Mail Forum

|
Daily Newspaper and for Reeves County Trans Pecos, Big Bend of West Texas
OPINION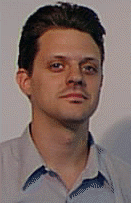 <!=================paste copy here==========================>
Opinion
Wednesday, November 5, 1997
Loose Fish

By Greg Harman
Should the smog remain the same
The trend to a deregulated electric industry could become one of
the most promising moves in recent history. It only follows that
after the railroad, telecommunications, trucking, cable and
aviation dereg's that electricity should step up to the block.
Potential benefits of a deregulated electric environment includes
the customer's ability to choose their energy producers and
realize reduced rates from a newly competitive market.
The President recently stated that opening competition in this
market should save U.S. consumers up to $20 billion dollars a
year. Course, I don't know where he got those figures but I like
the optimism. Although, as with all the other deregulated markets,
not everyone will benefit equally, and if certain issues are not
strongly addressed then many may be hurt during the shuffle.
The electric utilities are arguing up and down the halls of power
(and dishing out exorbitant sums of money to support these
lobbying efforts) that they are entitled to a payback for their
overspending and mismanagement of recent years. They are
attempting to wrestle a massive "bailout," that through
securitization would be footed by American taxpayers, from
legislators. Not only would this bailout consist of an enormous
amount of money (according to one source, it would constitute one
of the largest transfers of wealth in history: at the utilities
estimate of $200-300 billion dollars) but it would effectively
squelch any possibility of a truly level playing field of open
competition.
It is very probable that should the electric companies receive
reimbursement of their so-called "stranded costs" the larger, and
less efficient, companies would be able to gobble up the smaller
more efficient power companies, indulge in the cheaper, more
wasteful power sources, and eliminate the fledgling sustainable
energy generators. This is not looking like a brave new world.
High standards must be instituted into this new deregulated
environment.
All the while renewable energies are being overlooked. Texas,
particularly West Texas, is in a supreme position to benefit from
renewable energies provided by the gusty winds and hot sun. In
fact, if this deregulation provides for the future of renewables,
Texas may be well on the way to becoming the largest producer of
wind power in the nation.
Culberson County, which knows a thing or two about wind, is the
home of 112 wind turbines. Such turbines at one time were all but
written off as ineffective and costly, but the new technologies at
use may prove Texas winds to be a contender. In fact, wind power
is now growing at rates which far outshine the traditional fossil
fuels. Should the demand develop for more energy derived from
renewables such as wind, the companies responsible for the
Culberson turbines have pledged to bring that number up to 750
turbines I enough to power 75,000 homes.
It's worth a look. A good hard one. The wind industry continues
building better and better utility scale turbines, with contracts
being signed at .4 cents per kilowatt hour I which is competitive
with fossil fuels and cheaper than nuclear. And it's all right
here. A boom in the wind and sun market right here in West Texas
could definitely give a solid boost to the economy and provide a
good many jobs as well. It has been estimated that wind energy
produced in West Texas could easily provide for 10 percent of the
nation's energy needs. Now, that's something to look into.
Editor's Note: Greg Harman is a Pecos Enterprise staff writer whose column
appears on Wednesdays. He can be reached by e-mail: greg@pecos.net.
---
---
Pecos Enterprise
Mac McKinnon, Publisher
Peggy McCracken, Webmaster
Division of Buckner News Alliance, Inc.
324 S. Cedar St., Pecos, TX 79772
Phone 915-445-5475, FAX 915-445-4321
e-mail news@pecos.net
Associated Press text, photo, graphic, audio and/or video material shall not be published, broadcast, rewritten for broadcast or publication or redistributed directly or indirectly in any medium.


Copyright 1997 by Pecos Enterprise
We support
---