|
Daily Newspaper and for Reeves County Trans Pecos, Big Bend of West Texas
OPINION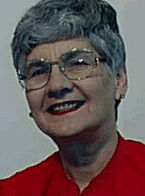 <!=================paste copy here==========================>
Opinion
Tuesday, November 4, 1997
Squarely Peggy

By Peggy McCracken
Suggestions needed to spruce up Pecos
Glancing over the pile of press releases, photos, newspapers,
announcements, calendars, assignments and assorted junk on Jon
Fulbright's desk, I noticed results from the Ladies Classic bowling
league for Oct. 27.
Some pretty good scores, ladies. When you roll a scratch 200 or better,
you are up there among the pros.
It's too bad our bowlers have to drive to Monahans for league
competition. Or for just fun bowling with the family. What does Monahans
have that can support a bowling alley and other businesses that Pecos
can't seem to sustain? Yes, we did have a bowling alley once. And a
skating rink. And a theater. And even a mini mall. What happened?
You could argue that everyone goes to Odessa or Midland to shop. Well,
Monahans is closer to Odessa than Pecos is. Why don't all their bowlers
drive to Odessa? How come they have several supermarkets? Their dance
hall/private club even draws Pecos folks regularly. What is the
differece?
I'm not posing these questions because I know the answers already. I
really would like to know. Here Pecos sits in the middle of nowhere with
a potential draw from smaller towns like Alpine, Fort Davis, Presidio,
and Marfa. What do we offer them? Lots of people from the 10 surrounding
counties come to Pecos for federal court. How much money do they spend
while they are here?
City Manager Kenneth Neal told me he is trying to attract grant money
here to "turn the lights of Pecos back on." I'm not much for begging,
but I'm glad someone is taking positive steps to do something.
One thing that keeps cropping up is that people who own the vacant
buildings downtown - and all over town, for that matter - want a premium
price for their real estate. It probably did cost them a premium price,
but it's not likely they can unload it for what it cost.
Another problem is the high taxes. A vacant building may have a low
appraisal value because of its condition. But once a buyer fixes it up
for occupancy, the appraisal value goes back up - and with it the taxes.
We have to find a way to get the tax rate down for all entities! And
that will take more than talk.
Hooray for volunteers who spruced up downtown buildings with paint and
pottery. And I've noticed city employees cutting weeds and clearing lots
now that summer is over. That's a big plus. Can you think of other ways
to contribute to a brighter look - and outlook - for your hometown?
"Look upon my suffering and deliver me, for I have not forgotten your
law." Psalm 119:153, NIV.
EDITOR'S NOTE: Peggy McCracken is an Enterprise writer and webmaster
whose column appears each Tuesday. E-mail her at news@pecos.net
Critic's Corner
Book depicts first-hand experience on slavery
If anything serves to dispel the myth that slaves in Texas were somehow
treated better than in other states then this is it.
The Slave Narratives of Texas, a compendium born of the 1930's Federal
Writer's Project and inspired by John B. Cade's thirst for oral history,
transports the reader into the world of the bought and sold.
There is a great gulf between reading textbook facts on the slave trade
and hearing the recollections of those who actually endured the bondage
and abuse-especially when it comes to understanding the tragic
inhumanity of the institution. Within the pages of Narratives the reader
finds horrific accounts told in the former slave's own words on how
these people found their way to the auction block and into Texas. Once
there, the narratives range from memories of "Massa," runaway stories,
day to day occurrences, and freedom.
Anyone interested in the history of Texas with a penchant for acquiring
their information directly from the source will find a wealth within
this volume detailing the many struggles and sufferings endured by so
many for so long. Also, the goodly amount of photographs lend visible
witness to the ex-slave's reminiscences and bring their stories to life.
The Slave Narratives of Texas was edited by Ron Tyler and Lawrence R.
Murphy and is published by State House Press. You can purchase this book
through the Pecos Enterprise online Bookstore by accessing
../ads/bookstor.htm
GREG HARMAN
Your View
Red Ribbon Week honors DEA agent killed
To The Editor:
Agent Enrique Camarena was the DEA agent that Red Ribbon Week was made
to honor.
Enrique "Kike" was the name he liked to be called. Enrique was the son
of Mr. and Mrs. Camarena, a husband, a father, a brother, a cousin and a
good friend to many.
Enrique was captured by a drug lord in Mexico. He was slowly tortured
for three days. Every visable body part was cut up until his eyes were
removed. This was to be a message to our agents fighting our war against
drugs.
After this ugly murder the satanist came out to praise the way he was
sacrificed. This is why connecting Halloween to Red Ribbon Week is
offensive.
The people came out in support and wore a red ribbon and tied red
ribbons on their trees to honor Enrique. It was in the same manner we
tied yellow ribbons for our servicemen when they went to war. Red was to
stand for the blood that was shed.
Red Ribbon Week honors Enrique and all the men and women who have been
wounded and killed as serving us fighting this war.
Please let us honor Enrique Camarena and our task force who continues to
fight for us. Red Ribbon is to honor and educate our children about the
dangers of drugs.
ADRIANE PEREZ
---
---
Pecos Enterprise
Mac McKinnon, Publisher
Peggy McCracken, Webmaster
Division of Buckner News Alliance, Inc.
324 S. Cedar St., Pecos, TX 79772
Phone 915-445-5475, FAX 915-445-4321
e-mail news@pecos.net
Associated Press text, photo, graphic, audio and/or video material shall not be published, broadcast, rewritten for broadcast or publication or redistributed directly or indirectly in any medium.


Copyright 1997 by Pecos Enterprise
We support
---