NEWS PAGES
News
Sports
Opinion
Lifestyles
Eagles Football
Sports Scores
Texas Lotto
SPECIAL SECTIONS
Living off the Land
Football '97
Golden Years
Visitor's Guide

ADVERTISING
Display Advertising
Bookstore
Classified
TRAVEL
Tourism
Pecos Attractions
Caprock Country
ARCHIVES
Archives 87
Archives 95
Archives 96
Archives 97
AREA NEWSPAPERS
Monahans News
Fort Stockton Pioneer
Alpine Avalanche
Van Horn Advocate
STAFF
Mac McKinnon
Jon Fulbright
Peggy McCracken
Rick Smith
Rosie Flores
Cara Alligood
Greg Harman
FORUM
E-Mail Forum

|
Daily Newspaper and for Reeves County Trans Pecos, Big Bend of West Texas
OPINION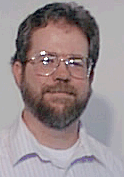 <!=================paste copy here==========================>
Opinion
Monday, November 3, 1997
The Way I See It

By Rick Smith
Halloween week news
Monday
A week of torture, I mean tests

Pecos High School students faced a week full of tests last week. (Was it
part of the horror of Halloween?) Six-weeks tests, TAAS tests and SAT
tests, all in one week. I feel sorry for them, it makes me shudder just
to think about it. Test is a four-letter word for most high school
students. I know I always dreaded them when I was in school, usually
because I hadn't studied enough.
Tuesday
Color pic

You may have noticed the color picture on the front page of section B
Tuesday. That was a major cause of excitement at the Enterprise. We hope
to start running more color pictures. If you would like to see more
color in the newspaper give us a call, write a letter or e-mail us to
let us know.
Wednesday
They made a difference

The students from Lamar Middle School, members of the Modern Study Club
and the other volunteers who helped paint the backs of buildings
downtown deserve a lot of thanks. They truly made a difference and set a
good example.
Thursday
Working together again

County, city and school officials seem to be working together toward
placing a juvenile officer in our schools. There are two good elements
in this. One, it's great to see another example of our community leaders
working together rather than bickering amongst themselves. It's a sign
of a maturing community.

Two, placing a qualified juvenile officer in the school district can
be very beneficial. School district juvenile officers can do much more
than just police the schools. A good juvenile officer usually has many
faces, counselor, mediator, confidant and policeman.
Whoever is chosen for the job will have their hands full, that's for
sure.
Friday
Scary Halloween is fun

The biggest local news Friday was Halloween. It's good to see children
having fun.

Some people want to make a big deal out of Halloween being an evil
holiday. I think people that get upset about kids dressing up and
playing at scaring each other don't have enough to do in their lives.
Fantasizing, playing games and dressing up are all part of being a
child. Those that want to do away with Halloween would also do away with
scary movies, books and comics. A little scary stuff is fun for everyone
with a love of life.

Editors Note: Rick Smith is the City Editor of the Enterprise whose column
appears each Friday. He can be e-mailed at: ricks@pecos.net



---
---
Pecos Enterprise
Mac McKinnon, Publisher
Peggy McCracken, Webmaster
Division of Buckner News Alliance, Inc.
324 S. Cedar St., Pecos, TX 79772
Phone 915-445-5475, FAX 915-445-4321
e-mail news@pecos.net
Associated Press text, photo, graphic, audio and/or video material shall not be published, broadcast, rewritten for broadcast or publication or redistributed directly or indirectly in any medium.


Copyright 1997 by Pecos Enterprise
We support
---