|
Daily Newspaper and for Reeves County Trans Pecos, Big Bend of West Texas
OPINION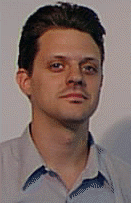 <!=================paste copy here==========================>
Wednesday, October 29, 1997
Loose Fish

By Greg Harman
Pit 9 and the curse
of the Sierra Blanca
As the prospect of digging a shallow grave in Sierra Blanca to house low-level nuclear waste continues to be debated, the actual cost of cleaning up such plots is coming to the attention of many.
Pit 9, Idaho Falls, Idaho: amidst 50-odd other pits full of plutonium by-product, the cleanup of Pit 9 has now come to be priced at as much as $600 million dollars. And that's just for one acre Pit 9, we're not talking about the 57 other pits full of nuclear waste surrounding it.
Lockheed Martin Corp. originally bid the cleanup to the Department of Energy at just under $180 million, but the merger of Lockheed with Martin Marietta Corp. has caused a cost-overrun. The firm, according to a recent article in the Washington Post, has stalled cleanup before it ever began so that it may more effectively lobby Congress and the Department of Energy for a re-negotiated contract.
Even so, the old price of 180 million for a one-acre pit is quite a sum. Now multiply that by 58 plots (all full of nuclear waste, and all needing repair) and that's the bare minimum price of cleanup in Idaho.
Now consider George Bush's fight to secure the low-level nuclear dump here in scenic West Texas. Despite the location's earthquake activity, heavy erosion, and close proximity to the Mexican border (all of which, according to TNRCC's own guidelines, should rule the Sierra Blanca site illegal) the deal would still be a sour one. The compact agreement signed by Texas, Maine and Vermont, strands Texas with any and all financial responsibilities regarding the dump. The compact states that "No non-host party state"-that means Texas and only Texas-"will be liable for any harm or damage from the siting, operation, maintenance, or long-term care relating to compact facility."
Allow me to indulge in a few more dollar figures. Of the six existing nuclear waste dumps in the U.S. all have experienced dangerous levels of leakage but, disregarding the health risk (let's follow Bush on this one), look at the figures: we've seen Idaho Fall's figures easily working its way up to the billion dollar mark; Maxey Flats, Kentucky, has an estimated clean-up of $100 million (to be paid by taxpayers and waste generators); and Sheffield, Illinois, has a clean-up bill of about $500 million. So, chances are pretty good that the $100 million Connecticut has promised Texas, should the compact be ratified by Congress, will turn right around to clean-up costs before too long.
Understand that the compact does not stop with Maine and Vermont. The compact in its present form would allow Texas to enter into contracts with any other states for their nuclear waste. Several other dumps around the country are in the planning stages, but only so many dumps of this sort are viable economically, so the sooner the site is approved at Sierra Blanca the more waste from various parts of country may be pouring into West Texas and those thousands of acres of state land surrounding the proposed site will be looking better and better to certain state officials.
Meanwhile, representatives from the Waste Isolation Pilot Plant in New Mexico were at the recent Reeves County Fall Fair hoping to instill public confidence in nuclear waste containment systems by displaying their formidable-looking transport trucks. But how do you adequately present the opposing forces of time and earth, forces which build and level mountains? Just look at the end result of these other dumps listed, all it takes is a little hind sight to find that facilities such as the one proposed for Sierra Blanca are not profitable environmentally, financially, or ethically.
Editor's Note: Greg Harman is an Enterprise Reporter whose column appears each Wednesday.
Critic's Corner
Old city directories help in family search
City directories are the best source of information for genealogical research, said Robert W. Martin in "My Sixteen, A Self-Help Guide to Finding your 16 Great-great Grandparents."
Martin describes his search for links to his past in such an interesting way that the reader is drawn along on a fascinating journey while learning the ins and outs of genealogical research.
Starting with scant information on grandparents he never knew, Martin used death certificates to locate their graves and their parents names; marriage licenses to add names to his search list; and old city directories to link names to addresses and other family members.
In just a short time, he had some information on four generations of ancestors, with leads to their homelands in many countries. Immigration and passeger arrival documents helped determine when they came to the United States. And immigrants who sought naturalization can be further traced through declaration of intention documents filed with the INS. Martin also used the census, birth records, Social Security death index and computers for his research.
The softcover book is available at $17.95 from Land Yacht Press, P.O. Box 210262, Nashville TN 37221-0262. It may be ordered through Amazon.com's online bookstore at www.pecos.net/news/bookstor.htm. ISBN 0965051307.
PEGGY McCRACKEN
"Laura's star" depicts friendship, loneliness
A new book has just been published that is excellent for children. Actually it has a good story that adults would do well to heed.
It's entitled, "Laura's Star," written and beautifully illustrated in full color in this hard cover book by Klaus Baumgart.
Officially, the book is for ages 3-7 but my 8-year-old read it and enjoyed it immensely. It's 32 pages costing $16.95 with laminated boards and silver foil.
The story is about Laura, who is often lonely and longs for a friend of her own. One night, she is leaning out of her window and sees a falling star.
Quickly she runs downstairs, and picks up the injured star from the pavement.
She mends its broken tip and tenderly puts it on the pillow beside her. She tells it all her secrets and knows she has found a friend at last. But, when she wakes up in the morning, the star is gone.
This poignant tale of friendship and unselfishness is further enhanced by soft, gentle illustrations and the vibrant metallic star that shines throughout the book. It's a picture book that may well become a classic favorite.
It's published by Little Tiger Press and can be found at your favorite book store or by ordering online from Amazon Press through the Pecos Enterprise website at www.pecos.net/news at discount prices.
MAC McKINNON
---
---
Pecos Enterprise
Mac McKinnon, Publisher
Peggy McCracken, Webmaster
Division of Buckner News Alliance, Inc.
324 S. Cedar St., Pecos, TX 79772
Phone 915-445-5475, FAX 915-445-4321
e-mail news@pecos.net
Associated Press text, photo, graphic, audio and/or video material shall not be published, broadcast, rewritten for broadcast or publication or redistributed directly or indirectly in any medium.


Copyright 1997 by Pecos Enterprise
We support
---