|
Daily Newspaper and for Reeves County Trans Pecos, Big Bend of West Texas
OPINION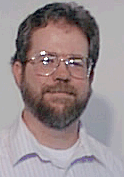 <!=================paste copy here==========================>
Opinion
Tuesday, October 28, 1997
The Way I See It

By Rick Smith
Some are too easily offended
Monday
No new juvenile detention facility
Pecos and Reeves County officials learned last Monday that Pecos will not be among those considered for the Texas Youth Commission's new juvenile detention center. However, Pecos is a winner from having gained the experience of the community pulling together to work for this project. Members from many sectors of the Pecos and Reeves Co. community came together in a manner that will no doubt prove to be an asset in the future, if everyone continues to work together.
Tuesday
Loosen up
Apparently the most interesting item of last Tuesday's Pecos Enterprise was the photograph at the top of the front page. I used a little computer enhancement to give the picture a "fisheye lens" effect. The enhancement was an experiment to see what it would look like. Apparently some of those pictured did not like the effect because it did not take long before the complaints were telephoned in.
I'm sorry if I offended anyone, I was just trying something new.
Wednesday
Looking for more money
City officials began a search through their department budgets to see how they can trim down the overall city budget to find more money for salaries. No doubt there are city employees who deserve an increase in pay. I'm sure they will come up with some ideas on how to move things around to get some raises passed out.
Thursday
People in public are fair game
At a recent city council member a citizen about to give a report to the council got upset because our reporter was going to take his picture. The cold hard truth is that if you are in public you are fair game for news cameras. People that are camera shy have no business attending a public meeting or being involved in public affairs.
Friday
A step in the right direction
The fact that more than 50 community leaders attended the conflict resolution seminar at Pecos High School indicates that our public officials are sincere about bringing the community together to progress into the future. Very low tolerance should be shown toward those in positions of responsibility in Pecos or Reeves County who cause dissention and do not work at uniting the community.
Editor's Note: Rick Smith is an enterprise writer whose column appears each Monday. He can be e-mailed at: ricks@pecos.net
Our View
Ambulance Service needs cash to survive
It has recently come to light that the Pecos Ambulance Service is having trouble collecting for calls they make.
Part of that problem could be that apparently some people assume this is a free service, such as the police and fire departments.
However, that is not the case. People who use the ambulance service should pay their bills. They are billed and it should not be necessary as is now being done to turn bills over to a collector.
The financial health of our ambulance service is very important. Sure, the city, county and hospital help fund the service but it would help if people would pay their bills so there could be some extra money to buy the many things that the ambulance service needs in providing us emergency help.
Pecos and this area is blessed with having some of the finest, most dedicated and well-trained personnel involved in the ambulance service. Should you need an ambulance, Pecos is a good place to be in order to make sure you are provided with the finest of care between the site of the emergency and the hospital. And they do this out of the goodness of their heart as they are paid very little for their dedication, knowledge and hard work.
We realize that some people simply don't have the money to pay for this service and that is fine as the service has never been nor will ever be offered simply on the basis of a person's ability to pay.
But, if you get an ambulance bill, it is necessary and very important to pay it, even it you have to pay it out.
Our View
Book portrays one wise man's life
Little is known about the wise men who travelled great distances to find the long awaited Messiah at the time of his birth. The Christmas story records three, but there were probably more.
A story that presents a possible situation on the life of one of those wise men is presented in a new book entitled, "The Gift," by Jan Haley and published by Focus Publishing. It's beautifully illustrated in hardback and costs $17.95.
The books portrays what could have been one wise man's life and the story of his son, Japeth, who was waiting for his father's return from a trip to see the Messiah.
A press release with the book notes that the wise men were educated men of their day, whose occupation was to study things sacred. They were probably from Persia and Jews had lived among them for 70 years. It would be no surprise that they would know something about the hope of Isreal for a coming Messiah.
As Japeth marks the long days of his father's absence, he finds that his feelings of loneliness have turned to jealousy. His point of view changes when he encounters King Herod's soldiers along the road. They are searching for the Wise Men who failed to report back to the king with the whereabouts of the baby Jesus. Japeth realizes the poetntial danger in his father's mission.
Publication of the book comes at an excellent time just before Christmas and is recommended reading for the entire family.
It can be purchased from Amazon Books online with the Pecos Enterprise, www.peocs.net/news or at your favorite book store.
MAC McKINNON
---
---
Pecos Enterprise
Mac McKinnon, Publisher
Peggy McCracken, Webmaster
Division of Buckner News Alliance, Inc.
324 S. Cedar St., Pecos, TX 79772
Phone 915-445-5475, FAX 915-445-4321
e-mail news@pecos.net
Associated Press text, photo, graphic, audio and/or video material shall not be published, broadcast, rewritten for broadcast or publication or redistributed directly or indirectly in any medium.


Copyright 1997 by Pecos Enterprise
We support
---