|
Daily Newspaper and for Reeves County Trans Pecos, Big Bend of West Texas
OPINION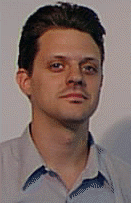 <!=================paste copy here==========================>
Wednesday, October 22, 1997
Loose Fish

By Greg Harman
Myth of imminent cure comes back to haunt us
Generally when one considers the idea of myth, it draws conceptions of an ancient world to mind. But in another context myth has come to mean an idea held for obscure (or, far-out) reasons. There is a modern day myth at work within society today prodding us on to greater and greater (by this I mean not better, but bigger) growth. It is known as the "myth of imminent cure."
Industry operates according to this myth. Under the assumption that, firstly: all growth is, by definition, good growth; and secondly: any possible problems generated by this unbridled growth will be solved by more growth. Industry seems to operate under a tragic assumption, or myth: If we continue to build, sell and invent-then the negative by-products of our building, selling, and inventing will eventually be eliminated by our own invention.
A prime example of this misdirected faith can be understood in the recent controversies revolving around the proposed disposal of waste in Texas and Nevada from nuclear power plants.
I was pleased to find that citizens all over Texas were making their voices heard regarding this issue. Letters were published recently in The Big Bend Sentinel and the Texas Observer in response to the proposed nuclear waste facility in Sierra Blanca. The waste facility (i.e. dump) would store the by-product of one of our most "efficient" energy providers, and come all the way from Maine and Vermont. Here's a novel idea which may inspire us to find a way to produce energy without life-threatening waste: let those who benefit from nuclear power house their own waste. Sure we got'em in Texas too, and we should house our share. But can you imagine states the size of Vermont scrambling to find facilities within their own borders to dispose of the waste product from the power from which they benefit? Surely its citizens would be up in arms and things would change pretty quick.
One letter in the Sentinel included an observation that perfectly illustrates the myth of imminent cure. It's embodied in House Bill 1270. According to the letter, this bill would allow high-level nuclear waste to be transported to Yucca Mountain, Nevada, "a site not yet determined to be appropriate for permanent storage of such waste."
Consumers put their faith in the myth of imminent cure every time they fail to question the industry practices going on around them, and passively accept the handful of non-options offered to them as viable options, believing that a solution will come, magically, from the hallowed halls of "progress." Instead of demanding that industry work to create non-threatening energy sources and products, citizens continue to fall in line with the big industry belief that continued growth will excavate its own solutions from the growing rubble of waste it creates. How many young tobacco smokers continue in their behavior guided by the belief that medical science will soon discover a cure for lung cancer? (Remember the "lung brush" illustrated on Saturday Night Live?)
Politicians put the myth of imminent cure into practice when they follow their own wishful thinking that says that opening new markets in developing economies and fighting for free trade will hand-in-hand lead to some form of global democracy. Just listen to those who argue for keeping China in a Most Favored Nation status. The argument must go something like: "Unbridled Capitalism will beat out Communistic ideology. Just keep waving those golden arches." Mmmmm. Tastes just like Lazy-boy hedonism!
Clinton is scheduled to meet with Chinese President Jiang Zemin in Washington on Oct. 28. How harsh may we expect the President to get with Zemin over limitations imposed on civil rights in newly acquired Hong Kong? Not very. The presidency is still trying to maintain a strong economic relationship with China, partially in the hope that the communication revolution, as well as a mass of consumer goodies, will win the communists over to a more tolerant society.
Meanwhile this is the same China that, in June of 1989, used its own military to wound and kill thousands of its own citizens in Tiananmen Square while they demonstrated for democracy; and it is the same China that continues to jail and torture its people for holding dissenting views and for participating in non-sanctioned religions. What is the U.S. response? Well, Westinghouse and GE are pushing for permission from the president (that it looks like they're gonna get) to sell U.S. nuclear technologies to China because, gosh darn, all the approved governments just aren't buying as many missiles as they were during the Cold War.
Editor's Note: Greg Harman is an Enterprise writer whose column appears each Wednesday. He can be e-mailed at: greg@pecos.net
Our View
"Cat Hymns" good book for the whole family
There's a new book out that should come under the category of "What'll they Think of Next." It's entitled "Cat Hymns" with lyrics by Stephen & Patti Thompson, illustrated by Bruce Bigelow and arranged by Cindy Murphy.
The books consists of hymns that we would imagine cats would sing to the tune of familiar songs, mostly religious such as the doxology (catology). Included in the book is a CD with all the hymns included in the book.
The 32-page hardback full-color book was published by Quail Ridge Press and available for $19.95 at most books stores or can be ordered from Amazon Books on-line via the Pecos Enterprise, www.pecos.net/news or by calling Quail Ridge Press at 601-825-2063.
A portion of the proceeds benefit the Humane Society and the ASPCA.
Most of the 22 tunes are familiar, the words are captivating and the "cats of character" are hysterical. Some of those members of the "cats of character" are Wee Little Kittens, the Catler Brothers, Catarotti, Yin and Yang singing such calssic hymns as "Shall We Gather At The Doghouse," "What A Friend We Have in Catnip," and many more of that nature.
It's a fun book to read, then sing and listening to the CD is hysterical. It's recommended reading and listening for the whole family.
MAC McKINNON
---
---
Pecos Enterprise
Mac McKinnon, Publisher
Peggy McCracken, Webmaster
Division of Buckner News Alliance, Inc.
324 S. Cedar St., Pecos, TX 79772
Phone 915-445-5475, FAX 915-445-4321
e-mail news@pecos.net
Associated Press text, photo, graphic, audio and/or video material shall not be published, broadcast, rewritten for broadcast or publication or redistributed directly or indirectly in any medium.


Copyright 1997 by Pecos Enterprise
We support
---