|
Daily Newspaper and for Reeves County Trans Pecos, Big Bend of West Texas
OPINION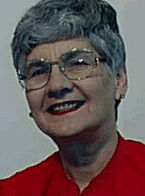 <!=================paste copy here==========================>
Tuesday, October 21, 1997
Squarely
Pegged

By Peggy McCracken
It's not too soon
to think about Christmas
Halloween isn't even here yet, and already Christmas merchandise is on the shelves. It's hard for me to get the Christmas spirit while summer is hanging on, but it is a good idea to start gathering up those gifts.
In that same vein, it's time to think about the Christmas Bazaar held each year at the civic center in November. And then the Christmas parade comes up in December. Those who plan to display their wares at the bazaar should be getting them ready. And it
will take some time to prepare for a parade, so it's not too early to decide on a float.
The girls at the district clerk's office are promoting a Christmas Lights parade. That would be something unusual and interesting. One problem with that might be the need to wait until after dark to start. It's cold that time of year after dark.
I may be remiss to mention Halloween and Christmas in the same column, since they have opposing purposes. Halloween is the day Satan reigns wrong, and Christmas celebrates the birth of Christ, who defeated Satan on the cross 2,000 years ago.
Christians are getting a lot of flak for boycotting Halloween fun. And it is mostly fun, albeit the mischevious kind. There probably are more wholesome ways to have fun than dressing in a scary costume, going from door to door begging for treats and thre
atening tricks if they are not forthcoming.
Maybe it's good that Thanksgiving follows Halloween, then Christmas gives us a chance to do good for others by giving gifts.
At any rate, early planning will make the holidays more fun and less stressful. The bazaar is Saturday, Nov. 15, and the parade is Dec. 11 (Thursday) at 5:30 p.m.
"Glory to God in the highest, and on earth peace to men on whom his favor rests." Luke 2:14, NIV.
Editor's Note: Peggy McCracken is a staff writer and webmaster whose column appears on Tuesday. Her e-mail address is news@pecos.net.
Our View
Pecos not on short list for the detention center
Pecos and Reeves County did not make the short list for the construction of a proposed state juvenile detention center. However, it wasn't for lack of effort that we weren't chosen. It's been a long time since we've seen local officials work as hard and
diligently on making such a proposal.
We need to keep this cooperative effort going as such diligence will pay off somewhere down the road.
Everyone involved including city and county officials should be thanked for their work. The ground work will already be in place when another opportunity comes knocking at our door.
---
---
Pecos Enterprise
Mac McKinnon, Publisher
Peggy McCracken, Webmaster
Division of Buckner News Alliance, Inc.
324 S. Cedar St., Pecos, TX 79772
Phone 915-445-5475, FAX 915-445-4321
e-mail news@pecos.net
Associated Press text, photo, graphic, audio and/or video material shall not be published, broadcast, rewritten for broadcast or publication or redistributed directly or indirectly in any medium.


Copyright 1997 by Pecos Enterprise
We support
---