PECOS ENTERPRISE
Daily Newspaper and Tourism Guide
for Trans Pecos, Big Bend, Far West Texas
Tourism|__|News|__|Sports|__|Scores|__|Lifestyles|
Golden Years|__|Living off the Land|__|Subscribe Enterprise|
Advertising|__|Alpine Avalanche|__|Monahans News|__|E-Forum|__|Lotto
Links|__|Photos|__|Archives|__|Classified|__|ENTERPRISE HOME PAGE
Van Horn Advocate
Opinion
Wednesday, October 15, 1997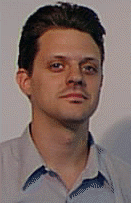 Loose Fish

By Greg Harman
Fighting, flying, and Franklin's mystery


Skip to next story
As violent crime creeps into the portfolios of younger and younger
offenders many wonder what these new demographics may mean. Crusading
groups attempt to pin the blame on the entertainment industry. But is
this merely an easy way to scapegoat a much more difficult problem? It
is true that children are very susceptible, as these advocates for
entertainment reform claim. It is also true that children are incredible
learners (I suppose another way of saying "susceptible").
We now know that youngsters, before they ever mumble their first jumble
of vowels and consonants, causing theatrics on the part of their
parents, already understand much more than we ever suspected before. The
ability to learn and adapt is strong with homo sapiens, as well as with
all animals. So, are children not learning good values at home, many
wonder. What are they learning?
Recently, while flying on a relatively small prop plane and looking out
the window I was amazed at something. It wasn't the overwhelming scene
of mountainous clouds looming beneath my feet that awed me. . .it was
the curious lack of awe that surprised me.
I have had the opportunity to fly several times in my life so far, but
this time was different. I looked out at the voluminous cloud banks
beneath us, the golden rays of sunlight filtering through and exposing
patches of green below, and all the glory of a heavenly realm that for
centuries has eluded humankind and didn't feel a thing. I was not amazed
at what was happening, but it truly is an amazing, and recent,
development.
Throughout history we have been obsessed with flight. We have attributed
supernatural power to the birds of the air, to the spheres of light, the
Sun and Moon, told and retold stories of celestial visitors (angels)
entering into and influencing the mortal plane until they were finally
recorded in print. We, as a people, have been in awe of the world above
us.
So now we are endowed, by jumps in technological understanding and
radical feats of engineering, with the power of flight. We fly planes,
hot-air balloons, hang glide, parachute from on high. . .and how often
are we overwhelmed by the tremendous beauty of it all? How often do we
even consider it at all?
Violent crime is also a crime generated by a lack of awe. Humans are
also tremendous feats of engineering and design. How many of us ever
really wonder about the greatness--not just the opposable thumb, that
does make working around the house a whole lot easier--of the human
body. We unconsciously keep the pump circulating blood, dream, remember,
hope. All of these faculties really are "awesome," or awe-inspiring, to
think about.
But people take up a gun, or hammer, knife, whatever, and wage war on
each other, here in the States and elsewhere. There is so much we don't
understand about the human body, much less the depths of personhood,
that people perpetuating violence probably never consider before they
discard a human life. Where do they learn this disregard of the mystery
of existence?
It struck me again at work this morning when someone turned on the
overhead lights. We use electricity all the time, but we still don't
know what it is. It's something we take for granted. Progress is such
that it constantly pushes us onward and outward. We plummet into outer
space, searching for other life forms, other elements, new worlds to
colonize--while at home our world is in shambles.
Where is our awe?
Editor's Note: Greg Harman is a Pecos Enterprise writer and his column appears on Wednesday. He can be reached by e-mail: greg@pecos.net.
Your Views
Pecos High School band deserves recognition

Skip to next story
Letter to the Editor:

I would like to express my appreciation to the Pecos High School Band
for the excellent half time show they put on during the homecoming game.
Their new uniforms made them look very professional. They sounded great.
And all their hard work and dedication showed during their performance.

They showed great school spirit both while in the stands during the game
and at halftime during the show. I feel the high school band should be
recognized more than what they are.

They are a special group of kids that take time away from their free
time to have early band, late band and extra band practices to represent
Pecos the best they know how. Band requires a lot of dedication and hard
work of each individual in it. Mr Clarey's wife also works very hard
with the band for their accomplishments. Mrs. Clarey strives along with
the band students to the best they can be.

Hats off the Pecos High School and band good luck in the coming marching
contests you will be competing in for our school!NAME WITHHELD BY REQUEST
Everybody should take part in city clean-up

Return to top
To the Editor:

I live in Barstow and drive into Pecos almost every day to work, to
shop, or to go to church. Each time that I drive into town I am saddened
by the vacant buildings, the trash all over the streets and especially
the graffiti found spray-painted on many of the buildings. It appears as
if the citizens of this community have no pride in where they live and I
am sure that it appears that way to visitors and newcomers as well. We
are always talking about how someone should do something and how no one
ever does. It reminds me of a story that I heard again recently:

This is a story about four people named Everybody, Somebody, Nobody and
Anybody. There was an important job to be done and Everybody was sure
that Somebody would do it. Anybody could have done it, but Nobody did
it. Somebody got angry because it was Everybody's job. Everybody thought
Anybody could do it but Nobody realized that Everybody wouldn't do it.
It ended up that Everybody blamed Somebody when Nobody did what Anybody
could have done.

It seems as though we are all afraid that we will have to do more than
someone else. We talk about what needs to be done but don't make a move
to do anything. Well, I for one, am tired of seeing my hometown
deteriorate into a refuse pile. I challenge anyone who feels the same
way I do to contact me to roganzie a "Clean-up Pecos" campaign. Our
Taekwon-Do Club is going to be the first to start painting over the
graffiti in this town. Anyone who wishes to donate paint for this
project, please do. I also wish to challenge all of the civic
organizations and church youth groups to take an "active" part and join
in to clean up our home. This is our home. Thank you for your
consideration.

Sincerely,
Steve Cross

Pecos Enterprise
Mac McKinnon, Publisher
Division of Buckner News Alliance, Inc.
324 S. Cedar St., Pecos, TX 79772
Phone 915-445-5475, FAX 915-445-4321
e-mail: news@pecos.net
Associated Press text, photo, graphic, audio and/or video material shall not be published, broadcast, rewritten for broadcast or publication or redistributed directly or indirectly in any medium. Neither these AP Materials nor any portion thereof may be stored in a computer except for personal and non-commercial use. The AP will not be held liable for any delays, inaccuracies, errors or omissions therefrom or in the transmission or delivery of all or any part thereof or for any damages arising from any of the foregoing.

Copyright 1997 by Pecos Enterprise
We support Newspapers in Education