PECOS ENTERPRISE
Daily Newspaper and Tourism Guide
for Trans Pecos, Big Bend, Far West Texas
Tourism|__|News|__|Sports|__|Scores|__|Lifestyles|
Golden Years|__|Living off the Land|__|Subscribe Enterprise|
Advertising|__|Alpine Avalanche|__|Monahans News|__|E-Forum|__|Lotto
Links|__|Photos|__|Archives|__|Classified|__|ENTERPRISE HOME PAGE
Van Horn Advocate
Opinion
Wednesday, October 1, 1997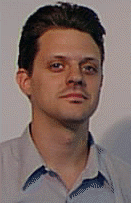 Loose Fish

By Greg Harman
Bush in bad company
with Reverend Moon

Skip to next story
As campaign contribution scandals fall over Washington like smog-laden
rains, Al Gore's highly polished image (though, like other polished
items, rarely shown off to the general public) has been fairly
tarnished. The complexity of campaign finance laws, one of the very
resounding demands for reform, stifle the search for any wrong-doing.
But some contribution sources are so obviously wrong, that they should
send off sirens even in the hardest of heads. One major player in the
political realm that tends to toss big money around, and given the
recent Asian money fandangle has received little attention, is the
Reverend Sun Myung Moon.
Moon is a self-declared messiah. Truth be told, he claims to be "the"
Messiah.
The fact that Moon has been actively seeking to influence international
economies is no secret. His own organization says it best. In The Master
Speaks, an internal publication of the Unification Church, Moon
declared, "If we can manipulate seven nations at least, then we can get
hold of the whole world. . .We must approach from every angle of life;
otherwise, we cannot absorb the whole population of the world. We must
besiege them." If the claims weren't in deadly earnest, it would be
almost comic.
But a report issued by the U.S. House of Representatives' Committee on
International Relations records, "Moon has mapped out strategies for
gaining control and influence over economic, political, cultural,
academic, media and religious institutions. The efforts of the Moon
Organization are to be concentrated on key nations."
A prediction for the 2000 race: should Bush Jr. choose to seek the
Republican nomination (as many expect he will) a sizable sum of the
money fueling his campaign may have its own ethically-challenged roots.
In November of 1996, former president George Bush joined Reverend Moon
in Buenos Aires to give a speech in front of 900 guests celebrating the
opening of Moon's new newspaper, Tiempos del Mundo. What Bush was paid
for speaking can only be estimated, but according to a recent report by
Robert Parry in I.F. Magazine, the fees for Bush's appearances Buenos
Aires could have run as high as $500,000, and "[s]ources close to the
Unification Church have put the total Bush-Moon package in the millions."
Joshua Brenner, who spent four and a half years in the Unification
Church, has opened a web site in the Internet dedicated to educating the
public about the dangers of Reverend Moon. He warns that "getting his
picture taken with famous people, especially political leaders, has been
Moon's primary strategy to gain social acceptance and political
influence. Unfortunately, it works," he says.
Another ex-Moonie, Steven Hassan, has issued an open letter to George
Bush in response to Bush's numerous appearances at Moon events. The
following is excerpted from that letter to George Bush.
"Please do not give respectability to a self-proclaimed Messiah (an
ex-felon) who thinks that an "automatic theocracy" should be used to
govern the world. . .Please consider the thousands of families whose
lives have been severely hurt by the Moon organization.
"Please Mr. President, don't betray our country's belief that freedom of
religion requires freedom of mind (informed consent, free will and
ethical responsibility). If Moonies want to believe that Moon is the
Messiah, that is their right. If Moon uses deception and mind control to
MAKE people believe he is the Messiah, then he undermines the spirit of
our law. In fact Moon believes that democracy is evil, and seeks to take
over our way of life."
Chances are George Bush will never read this editorial, but that's O.K.
because he has probably seen the letter already by now.
Editor's Note: Greg Harman is an Enterprise writer whose column appears each Wednesday.He can be reached by e-mail: greg@pecos.net.
Your Views

Skip to next story
Band uniforms should be used at each performance

To The Editor:

I am writing to express my disappointment with the Pecos High School
band.

I have been to the first home game and the game against Monahans and was
very sad at the fact that the band students are not required to wear
their uniforms. I realize that the band will be (has) purchasing
(purchased) new uniforms, but I feel that everyone in the band should
look like a high school band student (as they ALWAYS have), including
the drum majors. Regardless of personal conflicts or opinions, the same
protocol should be followed by each and every band director - to show
our Pride In Pecos (PIP). In my opinion, a longer half-time show AND
playing more, well-prepared music would be much more enjoyable to the
parents of the band students and the football fans.

I feel that band has always been an enjoyable part of high school for
those who really appreciate it, and that it should remain that way.

A former PHS band student and drum major.REBECCA H. DOMINGUEZ
Critic's Corner
Return to top
Book tells of different ways things are perceived
In Peaking Out: How My Mind Broke Free from the Delusions in
Psychiatry, by Al Siebert, Ph.D., (as told to Sam Kimball, Ph.D)
Siebert tells of his experience in psychiatry from the inside out.
Siebert received his Ph.D. in clinical psychology from the University of
Michigan and was awarded a fellowship for post-doctoral training at the
prestigious Menninger Foundation. He experienced several of what he
called "peak experiences" and looked at life differently than most other
people. He wound up being labeled as mentally ill; his fellowship was
canceled, and he was locked in the back ward of a mental hospital.
This book describes the events that took place between March 10 and
Sept. 30, 1965 and offers an intriguing look at the different ways in
which people perceive things, and at how easily one man lost his freedom
for a period of time.
Peaking Out, ISBN 0-944227-10-4, $19.95 plus $2.00
postage and handling, is available from Practical Psychology Press, P.O.
Box 535, Portland, OR 97207, or 1-800-504-3295.
By Cara Alligood
Pecos Enterprise
Mac McKinnon, Publisher
Division of Buckner News Alliance, Inc.
324 S. Cedar St., Pecos, TX 79772
Phone 915-445-5475, FAX 915-445-4321
e-mail: news@pecos.net
Associated Press text, photo, graphic, audio and/or video material shall not be published, broadcast, rewritten for broadcast or publication or redistributed directly or indirectly in any medium. Neither these AP Materials nor any portion thereof may be stored in a computer except for personal and non-commercial use. The AP will not be held liable for any delays, inaccuracies, errors or omissions therefrom or in the transmission or delivery of all or any part thereof or for any damages arising from any of the foregoing.
Copyright 1997 by Pecos Enterprise
We support Newspapers in Education