PECOS ENTERPRISE
Daily Newspaper and Tourism Guide
for Trans Pecos, Big Bend, Far West Texas
Tourism|__|News|__|Sports|__|Scores|__|Lifestyles|
Golden Years|__|Living off the Land|__|Subscribe Enterprise|
Advertising|__|Alpine Avalanche|__|Monahans News|__|E-Forum|__|Lotto
Links|__|Photos|__|Archives|__|Classified|__|ENTERPRISE HOME PAGE
Van Horn Advocate
Opinion
Wednesday, Sept. 24, 1997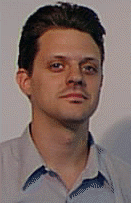 Loose Fish

By Greg Harman
Why the national
endowment of the arts?

Skip to next item
"An advanced civilization must not limit its efforts to science and
technology alone but must give full value and support to the other great
branches of scholarly and cultural activity in order to achieve a better
understanding of the past, a better analysis of the present, and a
better view of the future."
--Congress noted in 1965, upon formation of the National Endowment of
the Arts.
The National Endowment of the Arts recently went through another series
of whirlwind congressional hearings. An amendment presented by Jesse
Helms (R-NC) and John Ashcroft (R-MO) to eliminate the NEA entirely was
defeated with a vote of 77 to 23. Another amendment that sought to cut
the NEA's funding by 1/3 and transfer those funds to other agencies was
defeated with similar numbers. And yet another (all three of these were
presented last Wednesday) would have eliminated the NEA, sending 99% of
its funds to state governors for arts purposes and the remaining 1% to
the U.S. Treasury for administration.
The very next day our own Kay Bailey Hutchison was on the attack with
another proposed amendment that would reconfigure the NEA's budget. One
is led to think of a school of sharks following the blood.
North Carolina's Helms has been central to the assault on the NEA from
the beginning--ever since he declared Robert Mapplethorpe's photography
obscene. He has been joined by the Christian Coalition, who in their
1997 Congressional Scorecard state that the coalition supported the
resolution to eliminate all federal funding for the National Endowment
of the Arts. And what was their rationale? In the same "scorecard," the
coalition states that it "opposes taxpayer funding of pornography."
Most of us are aware of the NEA only through Helm's slander campaign. We
are led to believe many things. What is the NEA? What does it do?
The NEA is a federal agency that provides funding for not-for-profit
arts organizations all over the country, urban and rural. Not-for-profit
means that the organizations are more interested in providing a service
for the public than "cashing in" on success. These services include
children's museums, folk festivals, symphonies, and at-risk youth
projects. They are any number of things.
The National Endowment of the Arts provides grants to artists of
exceptional ability is all fields: writers, photographers, performers
and visual artists. Since the creation of the NEA, they have provided
grants for over 110,000 individuals. Less than 40 were considered
"controversial."
In sheer economics, the NEA is a power house. It helps to provide 1.3
million jobs in the U.S., generates $3.4 billion to the federal
Treasury, and contributes $37 billion overall to the U.S. economy each
year.
You probably never heard Helms mention these figures in his headlong
quest to extinguish the endowment.
So it makes money, is that the end all to value? Why do we, as a people,
continue to make, enjoy, and cultivate the arts? What is its value?
Art is a public record. Probably the most public--we find out about our
history (and ourselves) through music, cinema, and literature. The arts
feed our culture and allow us to find common links with our community.
Art reflects life. What Helms saw in those photographs, whether or not
one considers it pornography, was a record of our culture. His argument
is really with our culture (or this one reflection of it) than with the
artist; if he were honest with himself he may even reach this conclusion
himself.
Vaclav Havel, the current President of Czechoslovakia, is considered one
of the most outspoken critics of the toppled Socialist regime. While
under Socialist rule Havel was forced to hide his manuscripts in a tree
to avoid persecution. Havel spent three years in prison because of his
dissent from the authoritarian government.
During the period before the democratic revolution he himself helped to
inspire, Havel wrote a lengthy letter to then President Gustav Husak. In
it he demonstrates the fate of a culture deprived of its art.
The "devastation the culture had reached" included "hundreds of
prohibited books . . . theatres . . . cutting off of the intellectual
community." Havel saw the clamp down on the arts as the death of his
culture. He stated in his letter to the then president: "[This]
situation can only lead towards the gradual erosion of all moral
standards, the breakdown of all criteria of decency, and widespread
destruction of confidence in the meaning of any such values as truth . .
. sincerity, altruism, dignity, and honor."
Quite a different approach than Helms has taken. And for those who think
the NEA costs them too much in taxes (38 cents per person, per year), I
wonder what we may suffer in nation rid of it?
Editor's Note: Greg Harman is an Enterprise writer whose column appears each Wednesday. He can be reached through e-mail: greg@pecos.net.
Your Views
Former Pecos resident
wants to hear from friends

Skip to next item
To the Editor:
Cecil Kingston has moved and is happy to be near her sister, but she is
homesick. She would like Pecos friends to write to her at: Cecil
Kingston, Box 989, Robert Lee, Tx., 76945.Jessie Allen
Case dismissal was good news for reader
To the Editor:
Some really good news in last Friday's Pecos Enterprise reporting on the
dismissal of the flimsy, baseless, "contrived" witness tampering
indictment against Jim Ed Miller - which was so aggressively prosecuted
by former District Attorney John Stickels.
All of the observations expressed by thinking-citizens at the time
(August 1996) proved to be accurate. Such descriptions of the charges
and trial proceedings as: "bogus, sham, charade, railroad job, kangaroo
court, travesty, etc."...
One has to wonder what (or who?) motivated Mr. Stickels to do such an
about-face towards the end of a term of office notable for an obvious lack of aggressive prosecution of, for example, narcotics cases.
His performance was so weak in that area that The Permian Basin
Anti-Drug Task Force ceased bringing cases to his jurisdiction for
trial. They saw too many of their basically sound cases dismissed
without being tried.
Pecos is well-rid of Mr. Stickels and the question arises, "Does Austin
need him when it already has Ronnie Earle??"
R.W. BATES, JR.
Editor's Note: A libel suit was filed last year by 143rd
District Attorney John Stickels against the Permian Basin Drug Task
Force and its commander Tom Finley over comments made by Finley in a
letter released to area news outlets in May, 1996. The dispute arose
after Stickels contended the Task Force had no authority to make drug
arrests outside of its home county (Ector). A request for dismissal by
the task force's lawyer was rejected this past June in district court,
and is currently under appeal before the 8th Circuit Court in El Paso.
Miller was found guilty by a jury in 1995 of attempting to tamper with
a witness, but that verdict was later thrown out on appeal. Stickels
left office in December of last year, and new 143rd District Attorney
Randall Reynolds later announced he was dropping charges against Miller,
general manager of the Red Bluff Water and Power Control District.
Reynolds said the statute under which Miller was indicted was faulty (it has since been amended) and that, "The facts and the record do not support a conviction as
alleged in the pending indictment."
Ronnie Earle is the Travis County District Attorney who unsuccessfully
prosecuted former Texas Attorney General Jim Mattox and U.S. Sen. Kay
Bailey Hutchison for misusing their offices to conduct political
activities.
Pecos Enterprise
Mac McKinnon, Publisher
Division of Buckner News Alliance, Inc.
324 S. Cedar St., Pecos, TX 79772
Phone 915-445-5475, FAX 915-445-4321
e-mail: news@pecos.net
Associated Press text, photo, graphic, audio and/or video material shall not be published, broadcast, rewritten for broadcast or publication or redistributed directly or indirectly in any medium. Neither these AP Materials nor any portion thereof may be stored in a computer except for personal and non-commercial use. The AP will not be held liable for any delays, inaccuracies, errors or omissions therefrom or in the transmission or delivery of all or any part thereof or for any damages arising from any of the foregoing.
Copyright 1997 by Pecos Enterprise
We support Newspapers in Education