PECOS ENTERPRISE
Daily Newspaper and Tourism Guide
for Trans Pecos, Big Bend, Far West Texas
Tourism|__|News|__|Sports|__|Scores|__|Lifestyles|
Golden Years|__|Living off the Land|__|Subscribe Enterprise|
Advertising|__|Alpine Avalanche|__|Monahans News|__|E-Forum|__|Lotto
Links|__|Photos|__|Archives|__|Classified|__|ENTERPRISE HOME PAGE
Van Horn Advocate
Opinion
Monday, Sept. 15, 1997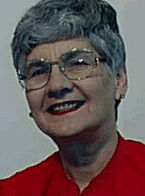 SQUARELY PEGGED

By
Peggy McCracken
Monster truck mania
tugs at grandmother

Skip to next item
Bigfoot was just a legendary animal to me until last week. That's when
I watched a monster truck show on TV. Yes, this great-grandmother
deliberately tuned in to a show where trucks with giant wheels and
distinct personalities raced each other over the tops of cars, up and
down man-made hills and around sharp turns.
My reason for watching? When I got off the plane in St. Louis during my
recent vacation, two of the lovingest little boys I ever saw grabbed me
around the knees and hugged me tight, adopting me as their grandmother.
Later, we went swimming in their real grandparents' swimming pool. And
those grandparents, Bob and Marilyn Chandler, are the owners of Bigfoot,
the grandfather of monster trucks.
My daughter, Peggy II, lived across the street from the Chandler's
daughter for about nine years, and she took care of their kids this
summer. Thus the airport greeting and swimming party in the beautiful
backyard of the Chandler's semi-country home.
Peggy II told me how Bob Chandler developed Bigfoot and the ensuing
monster truck mania. "He wondered what would happen if he put big tires
on a truck," she said. "So he tried it." When he got the itch to drive
his monster truck over a bunch of cars, he went to the junkyard and got
some bodies, parked them in a line and drove over them. Later, he
organized the first monster truck show, and the business took off.
Now you can see Bigfoot replicas all over St. Louis (and I suppose in
Pecos). I noticed a video display of Bigfoot in Union Station, the old
railroad station that St. Louisians turned into a tourism mall with
restaurants, shops and a fudge-making display that draws the audience
into the performance.
Did I enjoy the monster truck show? No, that's not my bag. But anything
is more interesting when you have some personal knowledge of the people
involved. I didn't meet Bob and Marilyn, but I've heard so much about
them, they seem a part of the family. And, since we share two precious
little boys as grandchildren, they are, in a way.
The show did remind me of a demolition derby I went to see as a
teenager with another adopted family, Troy and Pauline Kell. My sisters
and I babysat the Kell's three boys, and they took us with them on
special occasions. This trip was to Amarillo - maybe especially to see
the races. During the race, the cars bumped each other, trying to
disable the competition. I don't remember much else about it except that
we bought tamales from a street vendor, my first, and I loved them. And
on the way home, I smoked my first (and last) cigar and got sick.
"If your law had not been my delight, I would have perished in my
afflication." Psalm 119:92, NIV.
Editor's Note: Peggy McCracken is an Enterprise writer and webmaster whose column appears each Tuesday.
Your Views
Volunteers in Pecos provides excellent service

Return to top
To the Editor:

Contrary to what a recent headline on your editorial page stated, Pecos
has a very adequate and fine ambulance service.

The eighteen women and men who serve with Pecos Volunteer Ambulance
Service are highly trained and very dedicated to providing the best
possible care to the patients we serve!

The citizens of this community have provided us with three ambulances
and the necessary equipment to serve the community with a top notch
ambulance service.

Most of our personnel all have other jobs, and thanks to the
understanding of their employers are allowed to emergencies when calls
come in. We carry pagers and respond to the Ambulance Hall immediately
when a call comes in.

We have ambulances available to respond to emergency calls throughout
Reeves and western Ward counties ANYTIME 24-hours a day, 365 days a
year! Although Pecos Volunteer Ambulance Service does not handle
hospital-to-hospital transfers, we have done our best to provide Reeves
County Hospital with an ambulance when their transfer ambulance is out
of order IF this does not leave the community without adequate emergency
ambulance coverage. I feel strongly that there must ALWAYS be at least 2
ambulances available to respond to emergency calls. There have been a
few times when one of our 3 units was down for repairs. In those few
instances, we were not able to assist the hospital with an ambulance.

The citizens of this community are very fortunate to have a quality
ambulance service that is available to respond to an emergency call any
time.

We thank you, the citizens of this community, for your support! We thank
the Town of Pecos City Council, Reeves County Hospital District, and
Ward County for its continued funding and support of our service!

We will continue to be there for each of you!

BILL RANDALL COLE
Chief
Pecos Volunteer Ambulance Service

Pecos Enterprise
Mac McKinnon, Publisher
Division of Buckner News Alliance, Inc.
324 S. Cedar St., Pecos, TX 79772
Phone 915-445-5475, FAX 915-445-4321
e-mail: news@pecos.net
Associated Press text, photo, graphic, audio and/or video material shall not be published, broadcast, rewritten for broadcast or publication or redistributed directly or indirectly in any medium. Neither these AP Materials nor any portion thereof may be stored in a computer except for personal and non-commercial use. The AP will not be held liable for any delays, inaccuracies, errors or omissions therefrom or in the transmission or delivery of all or any part thereof or for any damages arising from any of the foregoing.

Copyright 1997 by Pecos Enterprise
We support Newspapers in Education