PECOS ENTERPRISE
Daily Newspaper and Tourism Guide
for Trans Pecos, Big Bend, Far West Texas
Tourism|__|News|__|Sports|__|Scores|__|Lifestyles|
Golden Years|__|Living off the Land|__|Subscribe Enterprise|
Advertising|__|Alpine Avalanche|__|Monahans News|__|E-Forum|__|Lotto
Links|__|Photos|__|Archives|__|Classified|__|ENTERPRISE HOME PAGE
Van Horn Advocate
Opinion
Tuesday, Aug. 19, 1997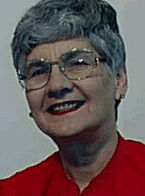 SQUARELY
PEGGED

By
Peggy McCracken
Look for the good
before ban on the bad

Skip to next item
Which is worse, pornography or censorship?
Pornography feeds the base instincts we all possess, and dwelling on it
can certainly warp the personality. Kids surfing the web can find all
types of pornography, I am told. And concerned parents want the
government or somebody to regulate the Internet so explicit pictures and
graphic words are not allowed.
It hasn't been long since a hue and cry went up protesting the National
Endowment for the Arts spending money on art that shows too much of the
human body. And book burning and banning has always been popular.
Is that what we want in a free society? I think you will find that
pornography and other unsavory products that pander to human weakness
are all around us. But did you know I have never seen a "dirty" photo or
words I wouldn't want my grandkids reading on the Internet?
Probably the local library has "racy" books, but I've never noticed one
on the shelves. And if I had, nobody could force me to read it. I have
read girlie magazines, and even reviewed "Playboy" for an assignment in
speech class while at Odessa College. They are not fit for anyone to
read, and I don't recommend it, however.
Liquor by the drink, by the bottle and in the can is on every corner,
but I don't have to drink it just because it is there. I don't enjoy
picking up empty containers from my "God's Little Half Acre" and my
church parking lot. But there are more styrofoam soft-drink cups than
beer cans.
From my court news beat, I have learned that drugs to alter the mind
are flooding into the country. Your neighbors and mine may be selling
them to anyone with a fistful of cash. Do I have to buy it? No.
Poet Adrienne Rich said in 1985: "As a society in turmoil, we are going
to see more, and more various, attempts to simulate order through
repression; and art is a historical target for such efforts."
We make a lot of noise here at the newspaper about the First Amendment
to the U.S. Constitution, which guarantees free speech, press, assembly
and petition for redress of grievances. That doesn't apply just to
newspapers; it is for everyone.
Let's spend our time promoting the good, and the bad will take care of
itself.
"...whatever is true, whatever is noble, whatever is right, whatever is
pure, whatever is lovely, whatever is admirable - if anything is
excellent or praiseworthy - think about such things." Phil 4:8, NIV.
Editor's Note: Peggy McCracken is an Enterprise writer and website manager whose column appears each Tuesday.
OUR VIEW
Illiteracy war must be fought together

Return to top
Life is limited when you cannot read.
People who can't curl up with a good book are missing one of life's
great pleasures. Those who can't read job applications or respond to
written questions face severe career limitations. Not being able to read
instruction sheet, road signs or warning labels can be downright
dangerous.

We live in an age of information. It's impossible to keep up with all of
it, even with the right tools. Never before has the ability to read been
so important. The nation has declared war on illiteracy and the battle
will be a long one.

This newspaper is proud to be a part of the war. Through the efforts of
local merchants, organizations and the Pecos Enterprise, we will once
again have the Newspaper in Education program in Pecos schools. As a
result, several thousand newspapers will be going into local schools
each week.

To be sure, it will take more than distributing and using newspapers in
schools to win this war.

Everyone has a stake in the illiteracy issue. You can't blame all of
America's problems on the inability on part of the population to grasp
the printed word, but illiteracy does figure into the equation. We can't
hope to compete with the rest of the world if we become a nation of
lilliterates.

Who is to blame for our shameful lack of reading skills? Schools that
allow functional illiterates to graduate, parents who don't encourage
their children to read, a society that promotes instant gratification
from low effort and children who pick the television or a video game
over a textbook or other reading material, to name a few.

It's not hard to point the finger of blame and shame. The greater
challenge and the important one is find a cure for the illness. It is a
war that we all must wage together.

Pecos Enterprise
Mac McKinnon, Publisher
Division of Buckner News Alliance, Inc.
324 S. Cedar St., Pecos, TX 79772
Phone 915-445-5475, FAX 915-445-4321
e-mail: news@pecos.net
Associated Press text, photo, graphic, audio and/or video material shall not be published, broadcast, rewritten for broadcast or publication or redistributed directly or indirectly in any medium. Neither these AP Materials nor any portion thereof may be stored in a computer except for personal and non-commercial use. The AP will not be held liable for any delays, inaccuracies, errors or omissions therefrom or in the transmission or delivery of all or any part thereof or for any damages arising from any of the foregoing.

Copyright 1997 by Pecos Enterprise
We support Newspapers in Education