PECOS ENTERPRISE
Daily Newspaper and Tourism Guide
for Trans Pecos, Big Bend, Far West Texas
Tourism|__|News|__|Sports|__|Scores|__|Lifestyles|
Golden Years|__|Living off the Land|__|Subscribe Enterprise|
Advertising|__|Alpine Avalanche|__|Monahans News|__|E-Forum|__|Lotto
Links|__|Photos|__|Archives|__|Classified|__|ENTERPRISE HOME PAGE
Van Horn Advocate
Opinion
Tuesday, August 12, 1997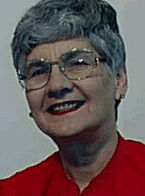 SQUARELY
PEGGED
By
Peggy McCracken
Keeping on moving
hard to do some weeks
Return to top
This was the week that was.
Looking for a column topic at the last minute, I picked up the "Entertainer" from Friday's paper, and there it was. The headline on a story about TV shows for the coming week said just what I was feeling.
All week, I put one foot in front of the other very slowly and deliberately, wincing at every step. Unable to concentrate because of some bug that laid me low, I stayed at home in bed most of the week - sleeping, reading or watching TV.
Not being a TV fan, I had no idea what kind of programs would be on during the day. And in an unusual lapse for him, my faithful husband had failed to rescue the Entertainer section before I threw away the stack of papers on our dining table. So I had to wing it.
I was surprised to find some classic movies on during the afternoon and enjoyed watching a couple of them. Most of the time, I located a second and maybe third channel with a pretty good program, so during commercials I switched from one to the other.
Mostly, though, I read. Went through the pile of books and magazines beside my bed and disposed of them. Then dug under the bed for some more magazines, read and disposed of them. Opened a new condensed book that came in the mail and started reading one of the four offerings in it. It is boring, so it works well for a "go to sleep" read when my mind doesn't want to shut off.
Every once in awhile, I gathered my feeble energies and completed some little task around the house and yard that I had put off due to time constraints. One of those was taking my box fan outside and blowing the dust out of it, then vacuuming my bedroom thoroughly. I know dust was aggravating my itching eyes.
Friday was my first full day at work all week long. And the last two hours were sheer torture. Only a full agenda that required moving one foot in front of the other kept me going to the end.
It's like that some weeks. But moving those feet, doing just one more little task, helps us forget the aches and pains. Just completing a task improves the outlook tremendously. And having "the week that was" every once in awhile reminds us to be thankful for all the days we feel good and can churn out the work.
"Those who hope in the Lord will renew their strength. They will soar on wings like eagles; they will run and not grow weary, they will walk and not be faint." Isaiah 40:31, NIV.
Peggy McCracken is an Enterprise writer and website manager whose column appears each Tuesday.

Pecos Enterprise
Mac McKinnon, Publisher
Division of Buckner News Alliance, Inc.
324 S. Cedar St., Pecos, TX 79772
Phone 915-445-5475, FAX 915-445-4321
e-mail: news@pecos.net
Associated Press text, photo, graphic, audio and/or video material shall not be published, broadcast, rewritten for broadcast or publication or redistributed directly or indirectly in any medium. Neither these AP Materials nor any portion thereof may be stored in a computer except for personal and non-commercial use. The AP will not be held liable for any delays, inaccuracies, errors or omissions therefrom or in the transmission or delivery of all or any part thereof or for any damages arising from any of the foregoing.
Copyright 1997 by Pecos Enterprise
We support Newspapers in Education