PECOS ENTERPRISE
Daily Newspaper and Tourism Guide
for Trans Pecos, Big Bend, Far West Texas
Tourism|__|News|__|Sports|__|Scores|__|Lifestyles|
Golden Years|__|Living off the Land|__|Subscribe Enterprise|
Advertising|__|Alpine Avalanche|__|Monahans News|__|E-Forum|__|Lotto
Links|__|Photos|__|Archives|__|Classified|__|ENTERPRISE HOME PAGE
OPINION
July 8, 1997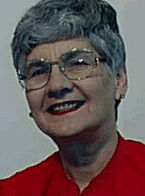 SQUARELY
PEGGED

By Peggy McCracken
Unique town can sell
itself and unique items

Skip to next item
Bouquets of roses to the Modern Study Club members who are painting
murals on abandoned buildings downtown. The pottery and plants gracing
the old drugstore at Oak and Third Streets make such a difference! I had
been eyeing that mess and wondering what could be done to make it look
better. The ladies provided the perfect answer with their paint brushes.
Yes, paint is still peeling along the top half of the wall. But you
don't notice it now, because your eyes are feasting on the colorful pots.
I am especially interested in the town being spruced up, because I have
launched a tourism site on the Internet that should attract more
travelers to this area. I don't want to be responsible for bringing
someone into town only to have them be disappointed in the tumble-down
business district.
One of the attractions on the tourism pages is crafts and souvenirs,
items tourists are looking for when they stroll around the town. Sherry
Marshall has such beautiful ceramics in the window at the former
Buster's Barn on Oak Street. She told me that a group from California
swarmed the store when they saw the Southwest items on display. For the
Southwest colors of mostly aqua and pink, they traded lots of green.
Not only tourists, but collectors from all over the world are
interested in anything depicting the Southwest, especially cowboy stuff.
Pecos Bill dolls and lapel pins sell well at The Mesquite Shop, said
Marilyn Oden. West of the Pecos Museum is offering the lapel pins for
sale on the Internet, and I'll bet they get lots of orders.
Unique souvenir items that can be shipped without too much expense
could bring revenue to this little city through Internet sales. We make
it easy for the customer by adding an order form to the page. All they
have to do is fill it in, add their credit card number and click on the
"submit" button. Immediately, an E-mail message appears in our E-mail
box (or that of the business), detailing what is being ordered and the
means to pay for it.
Some people don't trust the Internet with their credit card numbers.
Those can pick up the telephone to give us the number. We've become
spoiled to easy shopping, and I believe this method takes just about all
the pain out of it.
Wouldn't it be neat if our crafters could supply a world market with
those unique items that tell who we are?
"Do not say, `Why are the old days better than these?' For it is not
wise to ask such questions." Eccl. 7:10, NIV.
EDITOR'S NOTE: Peggy McCracken is an Enterprise writer and website manager whose column appears each Tuesday.
Guest Commentary
Public and press need open records

Return to top
Among more than 5,000 bills filed during the 75th session of the Texas
Legislature, about 200 attempted to close some aspect of government to
public access.

Sadly, this effort is not unusual. Virtually every session of the
Legislature produces scores of bills that would close various records
and meetings.

Just as sadly, the perennial enemies of open government are
tax-supported groups set up to serve the public. Most notable among them
in 1997 were the Texas Municipal League, the University of Texas Board
of Regents, the Texas Association of School Boards and the Texas
District and County Attorneys Association. Obviously, both the public
and press have an interlocking and compelling interest in keeping
government open.

That is why last November, the Texas Daily Newspaper Association and
the Texas Press Association formed a joint Legislative Advisory
Committee.

The committee's purpose was to identify and fight any bill that keeps
Texans out of state and local government meetings or restricts access to
public records. Over the past several legislative sessions, the Texas
Municipal League has established itself as the most active opponent of
open government in Texas.

In the 1995 session, TML opposed the Public Information Act (HB 1718)
by Sylvester Turner, D-Houston. This session, it opposed the "staff
briefings'' bill (SB 308) by Jeff Wentworth, R-San Antonio. On March 10,
TML sent out a memo to members urging opposition to SB 308.

TML also fought for one of the worst open records bills of the session
- SB 960 by Will Hartnett, R-Irving. It would have removed some
computer-generated information and records from the state's cost-copy
guidelines. The bill failed. In addition, TML supported what was perhaps
the worst threat to open government - HB 399 by Toby Goodman,
R-Arlington, a bill which removes accident reports from police logs.
Gov. George W. Bush vetoed one version of the bill in stand-alone form,
but it was attached as an amendment to another bill and became law.

HB 399 illustrates the problem of attempting to track the
open-government impact-of some 5,000 bills as they are debated, amended
and re-amended in a short time-frame. Almost every session, some
damaging legislation slips through.

Here is a summary of the fate of a few key open government bills:

SB 308, by Wentworth, died on point of order. The bill's intent was to
close a loophole in the Texas Open Meetings Act that allows staff
members to brief government bodies behind closed doors. Opponents of
this open government measure in its original form included the UT
regents, TML and the Texas Association of School Boards.

Before the bill died, both UT and the TASB attached amendments to
exempt them from the bill.

SB 1101, the Holmes vs. Morales bill, by Wentworth. This bill was a
response to a 1996 Texas Supreme Court ruling, and it would have
reopened access to some investigative flies. The bill died in its
original form and was later attached as an amendment to HB 951 and
passed, but in a much diluted form. Now, the public may see only
information Texas district attorneys deem to be open, a small
improvement.

SB 1850, the privatization bill, by Ken Armbrister, D-Victoria. It
would have provided at least some accountability for public dollars
spent on former state functions that are privatized. Unfortunately, the
bill died in the House Calendars Committee.

HB 531, by John Shields, R-San Antonio. This bill would have permitted
the Texas Department of Insurance to expunge records of violations
committed by an insurance agent if the agent remained clean for six
years. The bill was attached as an amendment to another bill in the
House and Craig Eiland, D-Galveston, wisely killed the amendment in
committee.

HB 3162, by Kim Brimer, R-Arlington. This bill, filed on behalf of the
Texas Railroad Commission, would have allowed the RRC to ignore copy
cost guidelines on requests for oil and gas log information. The bill
died after newspapers ran stories and editorials explaining it.

HB 951, by Sylvester Turner, D-Houston. This bill was passed and
recently was signed by Gov. Bush. The bill allows for e-mail and
facsimile requests for information from public bodies. The bill also
contains language seeking to correct the Holmes vs. Morales problems.

During the recently ended session, newspapers succeeded in passing some
good legislation and in defeating some terrible bills that would have
made officials less accountable to the people they serve.

Much work remains, however. As each new session of the Legislature
proves, maintaining open government in Texas requires constant
vigilance. The enemies of open government are strong, well organized,
patient and persistent. Those who favor open government must be equally
committed.

-Dolph Tillotson
Editor and Publisher
The Galveston County Daily News

-Roy McQueen
Publisher
Snyder Daily News
Co-Chairs, TDNA / TPA Legislative Advisory Committee

Pecos Enterprise
Mac McKinnon, Publisher
Division of Buckner News Alliance, Inc.
324 S. Cedar St., Pecos, TX 79772
Phone 915-445-5475, FAX 915-445-4321
e-mail: news@bitstreet.com
Associated Press text, photo, graphic, audio and/or video material shall not be published, broadcast, rewritten for broadcast or publication or redistributed directly or indirectly in any medium. Neither these AP Materials nor any portion thereof may be stored in a computer except for personal and non-commercial use. The AP will not be held liable for any delays, inaccuracies, errors or omissions therefrom or in the transmission or delivery of all or any part thereof or for any damages arising from any of the foregoing.

Copyright 1997 by Pecos Enterprise
We support Newspapers in Education