Daily Newspaper for Reeves County, Trans Pecos, Big Bend, Far West Texas
Sports|Opinion|Main Menu|Archives Menu|Classified|Advertising|Monahans|
Opinion
Tuesday, June 10, 1997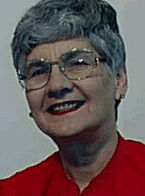 SQUARELY
PEGGED

By
Peggy McCracken
Joy comes
in the morning

Skip to next item
Do you ever wake up at 3 in the morning with a brilliant idea or the
answer to a problem you wrestled with yesterday? I do, and I've often
wondered about the process that brings the solution to the surface.
Sleep researchers think they have found the answer. The brain, they
say, uses "down time" to process information that it soaked up during
the day. I find that theory easy to accept, because the brain is the
ultimate computer, and a computer has to have time to process and store
information for retrieval later.
The brain accepts input from our five senses: hearing, sight, smell,
taste and touch. Computer input comes through the keyboard, disk,
telephone (modem), direct cable connection with another computer or
device, and barcode reader.
Computer input goes into Random Access Memory (RAM), which I liken to
the brain's short-term memory. Data is held in that memory where it can
be cut, changed, added to or deleted altogether. But for long-term use,
the data must be stored where it can be retrieved later. On a computer,
that means saving to a hard disk, floppy disk, tape drive or other media.
I believe the brain does the same thing. It sorts out the data held in
short-term memory, discards the unimportant stuff and stores what we may
need later. If, as researchers claim, that process happens while we are
asleep, that would explain the brilliant ideas at 3 a.m. By that time,
the brain has had time to discard the chaff, leaving only nuggets of
truth that are easy to access.
Sometimes, of course, those flashes of brillance at 3 a.m. flame out
with the dawn. But more often, the solution to a problem is real. Many
times I have gone to bed defeated because I got mired in computer
jargon. Then the answer comes, and it seems so simple. "Why didn't I
think of that yesterday?" I often wonder. But I know the answer. My
brain was too cluttered with data yesterday to recognize the nugget of
truth.
When a computer's RAM gets full, it refuses to work any longer. Often I
have to stop and reset the computer, completely erasing the data from
the RAM. Brains are no different. After eight hours of input from
composing stories and writing computer programs, my brain is so clogged
with data that I can't think. So while I sleep, the Master Designer
punches the reset button and gives me a fresh start on a new day.
When I awake in the morning, I thank Him for a good night's rest and a
new day. And ask for His Spirit to input the data I need to do a good
job and glorify Him.
"My mouth is filled with your praise, declaring your splendor all day
long." Psalm 71:8, NIV.
Editor's Note: Peggy McCracken is an Enterprise writer and website manager whose column appears each Tuesday.
YOUR VIEWS
Return to top
Mosquito breeding ground needs to be pumped out
Dear Editor:
For what it's worth, I'm glad that the city finally noticed the mosquito
breeding ground just south of the rodeo grounds.
I noticed it months before that, and wondered when anything would be
done about it, however, it is sad to hear that they are going to wait
for it to dry up before they do anything about it. It might dry up in
about six months or longer, providing it doesn't rain anymore, and we
have a lot of windy hot days.
Because you see, the "soil" under that water is the next best thing to
"concrete." It is not going to absorb the water, it will have to
evaporate, which hasn't happened since the work was completed on the
ditch.
In my own opinion, (for what it's worth) the city needs to get a water
pump and pump the water out of the ditch. They will have to get
permission from the property owner of the pasture behind it to possibly
dig a small trench, and pump the water into his pasture.
Otherwise, that water will be there for months to come. Hopefully the
pasture won't have the same problem, and maybe it will get done before
the rodeo.
Name Withheld By Request
Associated Press text, photo, graphic, audio and/or video material shall
not be published, broadcast, rewritten for broadcast or publication or
redistributed directly or indirectly in any medium. Neither these AP
Materials nor any portion thereof may be stored in a computer except for
personal and non-commercial use. The AP will not be held liable for
any delays, inaccuracies, errors or omissions therefrom or in the
transmission or delivery of all or any part thereof or for any damages
arising from any of the foregoing.
_
---
Copyright 1997 by Pecos Enterprise
Division of Buckner News Alliance, Inc.
324 S. Cedar St., Pecos, TX 79772
Phone 915-445-5475, FAX 915-445-4321
e-mail news@bitstreet.com
Return to Top