Daily Newspaper for Reeves County, Trans Pecos, Big Bend, Far West Texas
News|Sports|Main Menu|Archives Menu|Classified|Advertising|Monahans
Opinion
Tuesday, June 3, 1997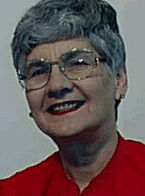 SQUARELY
PEGGED

By
Peggy McCracken
Photo op rescues
dreary Saturday

Skip to next item
Saturday dawned dark and wet, misting rain so soft you didn't notice it
until it started dripping off the house. Definitely not a day to work
outside. And it was even too dreary to work inside. My first impulse was
to go back to bed.
Rejecting that impulse, I chose an option I had set up earlier:
sleeving photos for albums. I have had a card table set up in my office
for months so I could work on that endless project whenever boredom set
in. A dreary Saturday morning certainly qualifies as one of those times.
I have a bright fluorescent light in my office, so that chased away the
dark and cheered me up some. And the challenge to get that table partly
cleared off got my juices flowing.
You may remember an earlier column describing my method of putting
family treasures into albums. In case you missed it or forgot, here are
the basics again.
First, I have large prints made so I can crop them to fit the slots in
the plastic album pages, usually 3½x5 or 3½x4½ inches. I also have some
baseball card size, 2½x2½ and some 3½x3½, plus the standard 5x7 and 8x10.
Professional photographers crop their photos in the camera so that no
waste space appears on the finished print. But we family photogs who
don't have a handy zoom lens have to catch our candid shots as we can.
And most of the time a lot of waste space appears at the top, bottom and
both sides of our creation.
That's where the cropping comes in. I use a paper cutter made for
photographic prints, but scissors will do if you can cut straight. Or
you could use a straight edge and tear them. The paper cutter is handy
because it has a ruler to measure the size and a grid all the way across
to help get the edges straight.
My loose photos were all mixed up together, but as I worked, I
separated them into related groups and sizes. Once they were trimmed, I
fitted them into the sleeves. If I didn't have enough related photos to
finish a page, I set it aside until later. Others will show up as I
continue through all those packages.
Some themes I used were: grandchildren, of course; my mother-in-law's
funeral; friends and their children; myself (I have a bunch taken at the
office and by grandchildren); homecoming; Bob Wills 25th anniversary
celebration; and pets.
One photo I trimmed and sleeved was printed on recycled white paper
from the office. It was a digital mug shot I took of my son, David, when
we were on vacation. Printed up 4x6, it is not the best quality. But it
is cheap. No film, no processing charge, no wait to get it back. We may
have a lot of those in our family albums from now on. Of course, I can
put them on disk and view them on the computer, but there is something
about holding an album and turning the pages with a friend or family
member that a computer can't duplicate.
I framed digital photos of my granddaughter and great-granddaughter
that I took in Midland while on vacation. They hang proudly in my living
room. Again, no cost, just enjoyment.
"The Lord is with me; he is my helper." Proverbs 118:7, NIV
Editors Note: Peggy McCracken is an Enterprise writer and website manager whose column appears each Tuesday.
ZIG ZIGLAR
Attitude makes a difference
in a winning situation

Return to top
In his "Speaker's Source Book," Glen Van Ekeren tells a fascinating
story about Josh O'Reilly and the San Antonio baseball team that was a
member of the Texas Baseball League back in the days when minor league
baseball was really good.

It seems that all nine of his starting players were batting over .300
and everyone figured they were a shoo-in for the league championship,
when suddenly disaster struck. The entire team fell into a slump, and
the bats turned cold. Dissension was rampant in the team, and players
were blaming each other for the difficulties. As a result, this team
consisting entirely of .300 hitters lost 17 of their next 20 games.
Attitudes got even worse, the team lost confidence in itself, and the
players thought almost entirely of losing instead of winning. The dream
of a championship became an elusive target.

Then O'Reilly heard about a traveling evangelist who was "capable of
creating miracles." In a burst of inspiration, O'Reilly grabbed every
baseball bat his team had, placed them in a wheelbarrow and went off to
see the Rev. Slater. When he returned, O'Reilly announced to his team
that each bat had been blessed by Slater and they were now assured
success.

As a result, a miraculous turn-around occurred. The team was re-inspired
and went on to beat Dallas for the championship. For years, baseball
players paid handsome sums of money to get their hands on a "Slater bat."

The irony, of course, is that no one ever knew with certainly whether or
not Slater had even seen those bats. But suppose he had? What on earth
could he have done to a baseball bat? I think you'll agree - nothing.
But what could he do to the minds and attitudes of the players?
Obviously, a great deal. Yes, attitude really does make a difference.
Keep yours right, and I'll see you at the top!

***
"You get better results if you have high expectations. This is true in
science, math, reading, football or band." - Charles Adair, former
superintendent in Harrison, Ark.

Editor's Note: Zig Ziglar is a motivational speaker whose column is
copyrighted and distributed by Creators Syndicate Inc.
«MDNM»
---
Associated Press text, photo, graphic, audio and/or video material shall
not be published, broadcast, rewritten for broadcast or publication or
redistributed directly or indirectly in any medium. Neither these AP
Materials nor any portion thereof may be stored in a computer except for
personal and non-commercial use. The AP will not be held liable for
any delays, inaccuracies, errors or omissions therefrom or in the
transmission or delivery of all or any part thereof or for any damages
arising from any of the foregoing.
_
---
Copyright 1997 by Pecos Enterprise
Division of Buckner News Alliance, Inc.
324 S. Cedar St., Pecos, TX 79772
Phone 915-445-5475, FAX 915-445-4321
e-mail news@bitstreet.com
Return to Home Page