Daily Newspaper for Reeves County, Trans Pecos, Big Bend, Far West Texas
News|Sports|Main Menu|Archives Menu|Classified|Advertising|Monahans
Opinion
Tuesday, May 27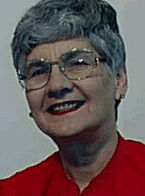 SQUARELY
PEGGED

By
Peggy McCracken
Mr. Mom learns truth
mothers always knew

Skip to next item
Joseph Oberle quit reporting to become Mr. Mom for his 16-month-old
son, Seth. For two years, he struggled with diapers, feeding a picky
eater and chasing after a speedy toddler.
The reason for this switch in gender roles did not surprise me. His
wife had a good job with good pay, while Oberle was a newspaper
reporter. They couldn't afford for her to quit her job, and he didn't
miss his. I had to laugh when I read in his book, Diary of a Mad
Househusband, that the author thought he would do some free-lance
writing while staying home, "doing nothing." Any mother could have told
him he wouldn't have any free time to write.
Keeping house and raising children is a job for professionals. Yet
amateurs are stuck with the job and have to do it the best way they can.
In fact, Oberle gives this advice to other husbands who want to try it:
"Don't try this at home, I'm a professional."
Reading about his struggles reminds me of the "good old days" when I
tried to be a professional Mom. Nothing in my 19 years of school and
work prepared me to take total responsibility for a helpless, fragile
boy who depended on me for every drop of water, bite of food, clean
diaper and cuddling he required. Office work was a picnic compared to
mothering, and I jumped at the chance to return to my old job at CIT
when David was 9 months old. I never felt comfortable leaving him with
anyone else, though, and quit after a short while. Then I studied
shorthand and found a job as a secretary, but that was short lived, too.
I tried to get Leon to stay home and let me work, but I've always been
thankful he refused. I would not take for the summer afternoons we spent
in the swimming pool, the baseball games and attempts to fly a kite.
Oberle tells about taking little Seth to the park, where he promptly
started digging in the dirt. Joining him and harking back to his youth,
Mr. Mom had as much fun as his son did. That is, until he noticed the
smell of cigarette butts and cat feces. Ugh--not something a toddler
needs in his mouth. And all toddlers sooner or later eat some of the
dirt that sticks to their fingers.
One difference in Oberle and a real mom is that he lost his job after
two years when his wife had a second baby. Real Moms stay moms forever.
If you want to read about his odyssey, buy Diary of a Mad Househusband
from Kimm Publishing, P.O. Box 32927, Fridley, MN 55432, $11.95, ISBN
0-9650741-3-7.
"Out of the depths I cry to you, O Lord; O Lord, hear my voice. Let
your ears be attentive to my cry for mercy." Psalm 130:1-2, NIV.
Editor's Note: Peggy McCracken is an Enterprise writer and website manager whose column appears each Tuesday.
YOUR VIEWS
Reader commends staff n special section

Return to top
Dear Editor:
I would just like to commend your entire for a job well done on "The
Memories Remain" section of the <fn11>Pecos Enterprise,<fn9> recalling
the Saragosa Tornado.

This took me all the way back to the 8th grade and allowed me to think
back to that day. I am now 24 years old an given the opportunity to
realize that life is precious!

Once again, thank you for providing the entire community with this
literature...no one will ever forget the many volunteers that helped out
in this tragedy, however you reminded us that we are all one in God's
eyes.

JOE R. CHAVEZ
---
Associated Press text, photo, graphic, audio and/or video material shall
not be published, broadcast, rewritten for broadcast or publication or
redistributed directly or indirectly in any medium. Neither these AP
Materials nor any portion thereof may be stored in a computer except for
personal and non-commercial use. The AP will not be held liable for
any delays, inaccuracies, errors or omissions therefrom or in the
transmission or delivery of all or any part thereof or for any damages
arising from any of the foregoing.
_
---
Copyright 1997 by Pecos Enterprise
Division of Buckner News Alliance, Inc.
324 S. Cedar St., Pecos, TX 79772
Phone 915-445-5475, FAX 915-445-4321
e-mail news@bitstreet.com
Return to Home Page