Daily Newspaper for Reeves County, Trans Pecos, Big Bend, Far West Texas
News|Sports|Main Menu|Archives Menu|Classified|Advertising|Monahans
Opinion
Tuesday, May 20, 1997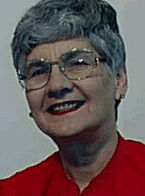 SQUARELY
PEGGED

By
Peggy McCracken
Good follows bad
in Saragosa tragedy

Skip to next item
Interviewing survivors of the Saragosa tornado for a special section we
are publishing Wednesday, I have been reminded of the horror of that
night - and how far I stayed away from it. It is ironic that Jon
Fulbright assigned me the task of writing about press coverage of the
tragedy, because I wasn't even there.
That's right, your No. 1 reporter stayed safely at home with my ear
glued to the police scanner, writing down everything I heard. Of course,
I called the story in to the San Angelo Standard-Times immediately after
hearing Deputy Floyd Estrada call for help because Saragosa Hall had
collapsed on top of a bunch of people. But I let them know right quick I
wasn't going.
Later, my editor called to tell me they were sending a team of
reporters and photographers to Saragosa and ordered me to go to Reeves
County Hospital. No way, I said. I'm not going out in that rain and hail
to talk to hurting people for $1 a column inch.
So while hundreds of reporters from around the country converged on
that hapless little community, I made a chronological record of events.
It was a week later that I finally made the 30-mile trip to see how the
cleanup was going. Weldon Brookshire invited me to ride with him in his
big wrecker, so I interviewed him as he drove. Then I talked to the late
Sheriff Raul Florez and Jon, ate one of the hamburgers their staff
cooked for workers, and interviewed Jose Candelas near the remains of
his grocery store. All the time we talked, he mixed and formed cement
blocks to build a new store, optimistic for the future.
Floyd Estrada tells me that all the people in Saragosa want to forget
the tornado and get on with the future. That's a good attitude to have.
No matter how dark the clouds, there is always a silver lining.
Something better is just down the road.
One of the things that impressed me about the tornado aftermath was the
Texas Baptist Men who brought their disaster unit and cooked meals for
workers, victims and anyone who showed up. They also coordinated the
volunteer house building and helped people decide how to use donated
funds and materials. The multi-purpose center is one result of that
effort.
I recall interviewing the TBM leaders - whose names I can't recall - as
they fielded phone calls, held a ceremony at a new house they had built,
and generally tried to keep the peace. They were amazing. That disaster
work has spread, with many associations throughout Texas forming their
own disaster units. One out of Midland served meals at the Fort Davis
standoff. Sometimes I hang my head when Baptists are fighting among
themselves, but I am proud to stand up and say I am a Texas Baptist when
our men (and their wives) respond immediately to a call for help.
"When the storm has swept by, the wicked are gone, but the righteous
stand firm forever." Proverbs 10:25, NIV.
Editor's Note: Peggy McCracken is an Enterprise writer and website manager whose column
appears each Tuesday.
Board missed the ball on zoning ordinance

Skip to next item
Dear Editor:
On the evening of May 13, 1997, I had the opportunity to attend and
witness a session of the Zoning Board of Adjustments.

Much to my surprise, I saw a reversal of the much dragged out and
dragged on efforts of all other public serving entities within the city
and county flushed down the drain.

The all out common effort has been to promote and ease the way for new
businesses to come to Pecos and help boost our economic situation.

The petition to the board was to grant an exemption and allow a new
bingo and arcade venture to open up in Pecos. The objection of the board
was that "our children" would be adversely influenced.

If our churches have state sanctioned permits to run bingo games and
sell beer on church property, is this not where our children get their
first experience of what is right and what is wrong?

Tax abatements along with long term agreements have been offered by all
taxing entities to promote the influx of badly needed new businesses.
Old properties are being redone and put back on the tax rolls for this
purpose.

Board, I think you missed the ball on this one. You are sending mixed
signals, as opposed to the wishes of the people.

Name Withheld by Request
Reader saddened by lack of food at zoo

Return to top
Dear Editor:
I recently stayed in your great town for several days and was fortunate
enough to find the zoo and a place to park my motor home under the trees
near the children's playground. I enjoyed it very much and especially
all the animals in the zoo!

However, I also felt sad because I'm sure a lot of the animals are not
getting enough to eat as there is a frantic rush to get to the hay and
they stay and eat until its gone and then try to brouse on the very
short grass with no resting in between.

If the city is short on money to feed them they shouldn't keep them but
if that is the case I believe a lot of people would donate to help out!

I also would send a check if this is the problem, if you will let me
know!

Thank you for allowing me to stay in your park and city!

DON WILLIS
North Bend, Ore.
---
Associated Press text, photo, graphic, audio and/or video material shall
not be published, broadcast, rewritten for broadcast or publication or
redistributed directly or indirectly in any medium. Neither these AP
Materials nor any portion thereof may be stored in a computer except for
personal and non-commercial use. The AP will not be held liable for
any delays, inaccuracies, errors or omissions therefrom or in the
transmission or delivery of all or any part thereof or for any damages
arising from any of the foregoing.
_
---
Copyright 1997 by Pecos Enterprise
Division of Buckner News Alliance, Inc.
324 S. Cedar St., Pecos, TX 79772
Phone 915-445-5475, FAX 915-445-4321
e-mail news@bitstreet.com
Return to Home Page